Bell Eyes Military as Potential Customer for New Concept Aircraft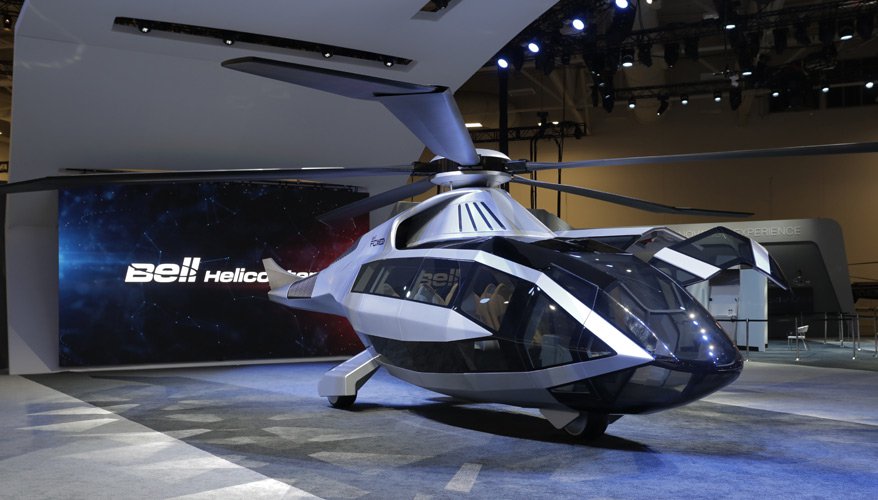 Photo: Bell Helicopter
FORT WORTH, Texas — Bell Helicopter is eyeing military customers for its new rotary-wing aircraft concept, the FCX-001, said a company executive April 11.
"There have been a few folks that are interested in the technology that we're showing," said Scott Drennan, director of innovation at the Fort Worth, Texas-based aviation company. He noted that Bell has spoken with the Army and Marine Corps about the concept, which calls for autonomous systems to aid its lone pilot.
The FCX, a new future experimental concept aircraft that debuted last month at HAI Heli-Expo in Dallas, could be used for scout or fast transport missions, Drennan said. Additionally, it has components that could be useful for the U.S. military, such the autonomy found in the one-seat cockpit.
Pilots in tough situations "have to stay focused on the missions, stay focused on safety, and they have a lot of distractions," he said during a briefing with reporters at Bell's headquarters. "We're hoping that a more autonomous cockpit can help there."
The autonomy package could develop into a fully computerized co-pilot, he said. "This is kind of where we are with this one. You have a computer that's helping the pilot make decisions — do the dumb, dirty, dangerous and dull tasks — and
let the pilot be the mission specialists and the safety specialist."
Levi Bilbrey, senior brand strategist at Bell's strategic communications division, said the aircraft's fuselage is flexile enough to allow for a variety of missions.
"I think you gain a little bit … from the modular cabin," he said. It can be used for both cargo and people moving missions and can save troops time swapping cabin pieces in and out.
The system's morphing blade tips would also be ideal for military applications, Drennan said. They would lessen the sound of the helicopter and would add performance efficiencies.
He also touted the aircraft's anti-torque technology that is embedded in the tail boom. The system can provide better safety, performance and noise reduction for the chopper.
"Anti-torque is one of our strategic priorities on the new innovation team, so we're always looking for new solutions in that area," he said.
Bell is interested in working alongside agencies such as the Air Force Research Laboratory or the Defense Advanced Research Projects Agency on a technology demonstrator using innovation gleaned from the FCX, Drennan said.
"We're open to collaboration with the various research groups, especially those in the military," he said.
Based on conversations with the Defense Department, the Pentagon is more interested in pieces of the FCX, rather than the entire platform, Drennan said. However, he noted that it was a "possibility" military customers could buy the entire aircraft if it became a product Bell offered.
The company began working on the FCX eight months ago, he said. "We wanted to take a page out of the auto industry's box and see how the helicopter industry would react to a concept," he said. "This is not a new product release for Bell, but it's a way that we can show people a slice of our vision for the future of technology on rotorcraft."
Topics: Rotary Wing, Defense Innovation