Marine One Replacement Flying Under Trumps Radar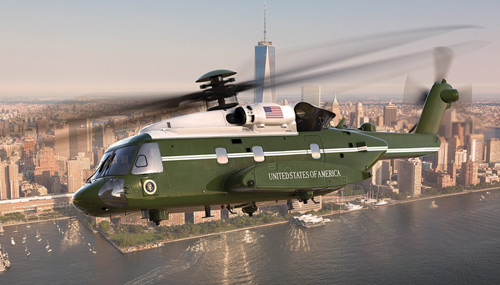 Photo: Marines
fter two major military aviation programs recently took heat from President Donald Trump on Twitter, defense contractors might be more cautious about cost overruns and schedule delays to avoid a public lashing, analysts said.
But so far, one crucial program — the Marine One presidential helicopter replacement — seems safe from facing the same critiques as the F-35 joint strike fighter and the Air Force One presidential aircraft replacement.
Sikorsky is providing the Marine Corps with 23 helicopters based off of its S-92A aircraft, replacing the current fleet of eight VH-60N and 11 VH-3D rotorcraft, according to the U.S. Navy Naval Air Systems Command, or NAVAIR. Designated as VH-92A, the new fleet is expected to enter into service by 2020.
"Marine One does not appear to actively be on his radar," said Ray Jaworowski, senior aerospace analyst at Forecast International, a Newtown, Connecticut-based marketing and consulting firm. "That having been said, should it run into cost overrun problems or schedule delays, that type of thing could well get the attention of the president."
Sikorsky and its parent company Lockheed Martin will have to guard against those potential snags as they move forward in development, "because then it could become a focus of criticism, particularly in light of the recent Air Force One slap," he added.
Cost overruns were a major issue that led to the cancellation of the previous Marine One replacement program, Jaworowski noted. "So you have that example already sitting there, in the original go-round."
Higher-than-expected costs have "pretty much become the norm" in both civil and military aerospace projects, and are to some extent expected, he said. "But I think this new administration is going to be less quick to accept it as being part of the norm."
The service has been working for over a decade to replace the presidential rotorcraft fleet that has been in service since the 1970s and 1980s. The previous attempt, known as VH-71, was led by Lockheed Martin and AgustaWestland — now Leonardo — and was canceled by then-Defense Secretary Robert Gates in 2009 for cost overruns and requirements creep, according to analysts. But the Marine Corps restarted the program almost immediately, conducting analyses of alternatives from 2009 to 2012 before releasing a draft request for proposals in late 2012, according to NAVAIR.
Sikorsky competed for and won the contract in 2014, developing the dual-piloted, twin-engine helicopter based on its S-92A model.
According to the Office of the Director for Operational Test and Evaluation, or DOT&E, which oversees U.S. military program activity, the VH-92A program is progressing "on or ahead of schedule."
The aircraft will replace the current Marine Corps fleet of VH-3D and VH-60N helicopters. Delivery of the first two engineering development models is planned for fiscal year 2018, followed by four system development test article aircraft in 2019, according to DOT&E. An operational assessment is planned for late 2018 to support a Milestone C decision in the second quarter of 2019.
The program did face some challenges in testing: The aircraft's unique fuel bladders did not pass drop tests and "mitigation efforts are ongoing," according to DOT&E. The office's report also noted some challenges in connecting to the crisis management system and the executive airlift command network, adding that "work on solving these challenges is ongoing."
A 2016 Government Accountability Office report noted the program was "progressing largely as planned."
The first flight of a VH-92A-configured aircraft is planned for the summer of 2017, according to NAVAIR spokeswoman Kelly Burdick.
The program seems steady for now, said Todd Harrison, director of the Aerospace Security Project at the Center for Strategic and International Studies, a Washington, D.C.-based think tank.
"This is a program that's got some history in presidential politics," he noted. In 2009, President Barack Obama held a fiscal responsibility summit at the White House, where Sen. John McCain, R-Ariz., critiqued the Marine One program as an example of out-of-control military spending.
"I don't think there is any more graphic demonstration of how good ideas have cost taxpayers an enormous amount of money," he said, as reported by The New York Times. Obama agreed, saying the program was "an example of the procurement process gone amok."
So far, there doesn't seem to be much to criticize about the VH-92A program, Harrison said.
"I have not heard anything solid about Marine One being a target here," he said, adding that the helicopter replacement differs from the jetliner replacement in several ways.
"The program is farther along than Air Force One [and] it's less expensive," he said.
"I think a similarity with Air Force One is that it is required," he added. "There is a very specific need for a specific aircraft that is unique to the president, and so while Trump may not have fully appreciated that before taking office — all of the requirements that go into a presidential aircraft from a national security perspective — I think he's much more likely to appreciate that now that he is in office."
Richard Aboulafia, vice president of analysis for the Teal Group, said the Marine One team "learned an awful lot from the first time around."
"This looks a lot better managed than that, and it's somewhat more off-the-shelf," he noted.
In an email to National Defense, Burdick said: "To date, the Presidential Helicopter Replacement Program Office has not been contacted by the new administration and the program continues to proceed well with no major issues."
A Sikorsky representative declined to comment.
Analysts agreed that the helicopter replacement program must continue to progress.
"We can't just do without a Marine One," Harrison said. "The president will need a helicopter that he can fly on. So it's just a question of which helicopter; do you keep using the old helicopters and keep them in service longer — but that increasingly becomes expensive and dangerous — or do you replace it?
"You can debate about all the requirements that need to go into a new Marine One," he continued. "I think that President Obama and Sen. McCain came to the conclusion that in the previous program, the requirements had kind of become unrealistic and excessive. And so that's one of the things they did is they restructured the program, scaled back the requirements to make the aircraft more affordable."
Nevertheless, Trump's inclination to call out what he views as bad deals on social media, as he did for the F-35 and Air Force One, could be "a feature of the economic landscape, not just our industry," Aboulafia said.
"This is all extremely arbitrary, and the only consistent formula is you can easily deal with it by flattering him," he said. "You flatter him — end of problem. And it's been, you know, two-for-two on that one."
Harrison said Trump seems to be looking for some "quick victories, public victories, where he can show people that as president, he's definitely been able to negotiate a better deal on behalf of the government."
The level of personal involvement could be attributed to a number of factors, Harrison said.
"The F-35 is by far the largest acquisition program in DoD, so if you're going to take an interest in anything, that's the one," he noted. "But also, this president is different because he takes much more of a business mindset to issues, and this is a program and an issue that naturally lends itself to a more businesslike approach."
Though Trump's election was seen by many in the industry as a sign of increased defense spending, analysts said that executives may be more cautious after the public lashing Trump gave to Boeing, who runs the Air Force One replacement program, and Lockheed Martin, who develops the F-35.
"The general expectation is that we'll see increased defense spending with the new administration as opposed to the other way it could have gone, but that doesn't mean that the defense industry is going to be issued blank checks," Jaworowski said.
Military programs will still have to compete for funding with other administration priorities, such as infrastructure, he noted.
"With his recent comments on Air Force One and the F-35, the president's really signaling that cost containment will be an emphasis with the military programs." he said.
There is even some nervousness among defense companies about the president's use of social media. "That is kind of a unique way of putting public pressure on the contractors, with the goal of making concessions on big-ticket projects," Jaworowski said.
Harrison said there are reasons for the defense industry to view Trump's presidency with caution and concern, but also optimism.
"You've got a president who understands the needs and the priorities of businesses and can more effectively negotiate with businesses because of that understanding," he said. "A concern though for industry, I think, is that you've got a president who is willing to bypass all of the normal channels of communications and go directly to the public with his complaints.
"He is perfectly willing to publicly shame these companies to bring them to the negotiating table," he continued. "So if you're a defense company, you've got to be looking at this and going, 'Gee, what if one of my programs is next?'"
If there were any doubts as to whether or not the president's tweets would translate into real policy in the administration, those doubts are likely erased now, Harrison said.
"You look at right after [Defense Secretary James] Mattis took over … he put out these memos, one on the F-35 that basically put into DoD policy what Trump had said in his tweet, and then another memo on the Air Force One replacement, which did the same thing."
Trump campaigned on the promise that as an outsider and a successful businessman, he would take a hard look at government spending and be able to cut deals that previous presidents were unable or unwilling to make. And the way the president has injected himself via social media into two high-profile defense acquisitions is unique among modern presidencies, Jaworowski said.
"You have a man in Trump who is neither a career politician, as most presidents have been, or someone who came out of the military like Dwight Eisenhower," he said. "Trump is from the private sector, he's been a businessman, a CEO, [so] he's used to making decisions and getting quick results the way ... most private companies work.
"Government doesn't work that quickly; the gears kind of grind more slowly," he noted. "The chaos we've been seeing over the first few weeks is the president is trying to do an awful lot, but the machinery of government isn't quite as responsive as it would be in the private sector."
The Marine One replacement program appears safe for now. But analysts are considering the type of programs that could pop up on Trump's radar.
"It's always been a rule of thumb that the bigger the program, the bigger the target, and I think that remains true under the new administration," Harrison said. "Programs that should specifically be worried are programs with a high price tag, with a poor track record of performance. … Those types of programs are more at risk of being singled out."
And should the presidential rotorcraft replacement program hit a bump down the road, it could open itself up to further scrutiny by Trump, Jaworowski said.
Topics: Acquisition Programs, Army News