Bezos' Blue Origin Space Company Introduces Next-Generation Reusable Rocket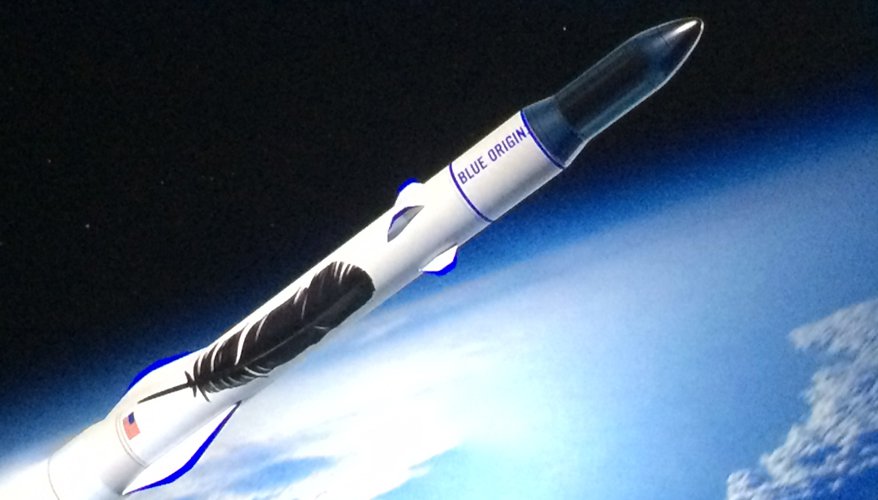 Blue Origin's next-generation resusable rocket
Photo: Blue Origin artist rendering
Amazon founder and space entrepreneur Jeff Bezos announced March 7 that commercial satellite operator Eutelsat will be the first paying customer for his next-generation reusable rocket, which is named after his boyhood hero, Mercury astronaut John Glenn.

New Glenn is the next step up for Bezos' Blue Origin space company, which has already conducted five launches of its first generation New Shepard reusable rocket, named after the first American in space, Alan Shepard.

Bezos, speaking at the Satellite 2017 show in Washington, D.C., said the ultimate goal of the program is to dramatically reduce the cost of launching objects into space. "And we're not going to stop until we get there," he said.

Bezos debuted an animated video of New Shepard, which will be more powerful and will be able to carry larger payloads, than its predecessor. The rocket will be capable of launching communications satellites when configured with three stages, he said. Its first stage will return to Earth, where, unlike New Shepard, it will land on a moving ship rather than a remote desert. New Shepard lands on a pad in West Texas.

The new rocket will be designed to take 13 tons to geosynchronous transfer orbit, he said, meaning it can be placed where the spacecraft can continue on under its own power to stationary orbits some 24,000 miles above Earth. It may also carry 45 metric tons to low-Earth orbit. After returning to Earth, the BE-4 engines should be able to be reused for 100 flights, he said.

He also touted the aerodynamics of the New Glenn rocket, which he said will allow it to operate in high wind conditions and land on a moving ship. "We don't want to constrain the availability of a launch based on the availability of the landing of the reusable booster."

This reusability is key to lowering launch costs, he said. The current means of launching rockets, where the engines are discarded, or take extensive tests to recertify for flight, is what keeps the costs so high. It's comparable to a commercial jetliner being discarded after every flight.

"The propellant costs are vanishingly small," he said. They are about $1million per flight. Eight-tenths of the savings can be found in reusability, he said. "Launch. Land. Repeat," is the company's motto.

In the meantime, New Shepard is slated to carry space tourists into orbit, about 100 kilometers above Earth. Bezos noted that technology development is often driven by the need for "entertainment." Early aviators improved their aircraft by putting on air shows and taking paying customers on short flights. More recently, the video game industry has had breakthroughs that have transferred to everyday computing.

Last week, rival Elon Musk, founder of SpaceX, announced the company's intentions to take tourists on a flight around the moon employing its Falcon reusable rocket. While Bezos did not mention national security space launches, SpaceX began similarly by signing up commercial satellite customers and launching their payloads before finally gaining certification by the Air Force to carry government payloads. Blue Origin's BE-4 engine is a candidate for the service's program to end its dependence on the Russian-made RD-180 engine, currently used to launch heavy payloads on the Atlas V rocket.

Rodolphe Belmer, CEO of Eutelsat, said the company has a long tradition of being the first paying customer on new rockets. "We think it is our role as an industry leader to stimulate competition so there is a steam of innovation in the industry, and access to space is easier," he said.

Bezos said Eutelsat has been a customer for so many first launches on new rockets in the past that its experience will be invaluable to Blue Origin.
Topics: Space