Air Force Investing in Live-Virtual-Constructive Technology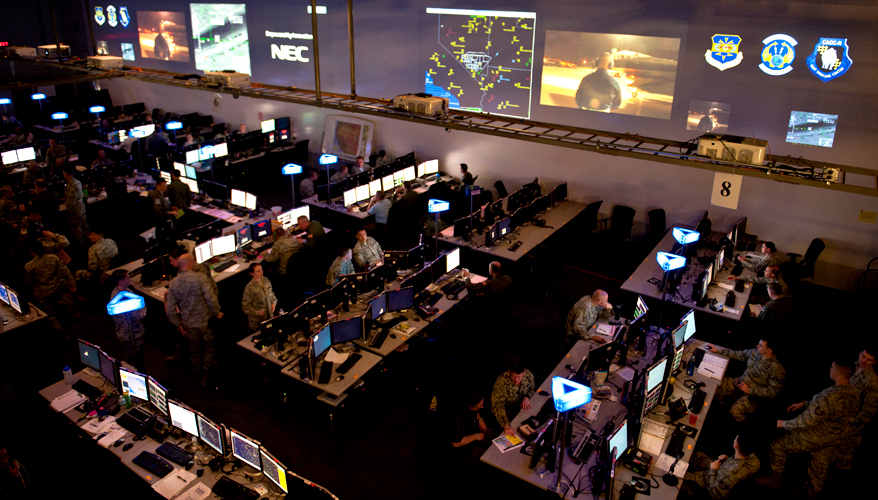 Airmen participate in live, virtual, constructive training.
ORLANDO, Fla. — The U.S. Air Force will rely on a blend of live, virtual and constructive techniques to prepare its airmen to fight future battles in multiple domains at once and across disciplines, service leaders said March 3.

The need to prepare for fusion warfare — where a battle is fought against near-peer state actors as well as non-state actors and incorporates members of all the services on land, at sea, in the air, in space and in cyberspace — dominated conversations at the Air Force Association's annual Air Warfare Symposium.

Systems and platforms that employ a combination of live, virtual and constructive, or LVC, technology play "perfectly" into that situation, Air Force Chief of Staff Gen. David Goldfein told reporters.

"I'm never going to send a single platform into combat, I'm always going to send a family of systems that connect together, and that family is not only going to be Air Force," he said. "LVC plays perfectly into that because it's all about the network."

The service's Air Education and Training Command will use LVC to "create environments that we can't replicate in reality," said its commander, Lt. Gen. Darryl Roberson.

"When you're trying to integrate space and air and cyber in the real world, you're limited on what you can do," he said.

The constructive simulation component is particularly helpful for analysis, said Acting Air Force Secretary Lisa Disbrow. "Analysis drives [concept of operations], it can drive investments, it can uptake our force," she said.

LVC technology could be beneficial as the Air Force looks to conduct more experiments ahead of procurement processes, Goldfein noted.

For example, the service is looking to employ LVC to find a commercial-off-the-shelf solution for close-air support, called OA-X. Funding has been set aside in the FY 2017 supplemental budget to fund an experiment, which will look at all options, from light attack aircraft to remotely piloted aircraft, Goldfein previously told reporters at a Washington, D.C. event.

"We're trying to do more and more experiments, so we take the level of dialogue with industry in terms of what we need and what they have and we get a better understanding," Goldfein said March 3. "So then if we start moving towards the direction of program of record, we have a far more informed dialogue. So I think LVC plays into that as well."

"There is money in place" to invest in LVC capabilities, Goldfein said.

The OA-X experiment highlights the Air Force's dire need for more aircraft. Since Desert Storm, the service's aircraft inventory has been reduced from 8,600 to 5,500 units, Disbrow said during her keynote address.

"The aircraft we have on the ramp are too old," she said. "We need newer aircraft, newer fighters, newer tankers, newer bombers, and we need more" remotely piloted aircraft.

The service is looking at a mix of acquiring new aircraft and modernizing legacy platforms, she told reporters later.

"We want to get to 60 F-35s [joint strike fighters] as soon as possible," she said. The service's fiscal year 2017 base budget includes funding for 43 F-35 aircraft, she said, adding that refreshing the fleet of F-15 Eagle tactical fighters, F-16 Falcon fighters and the legacy bombers is also in the mix.

Another new aircraft will be the T-X. Awarding a contract for the Air Force's new end-to-end jet trainer system will allow the service to start teaching its airmen to fight future wars, Roberson said. The Air Force released its final request for proposals for the T-X program in late 2016, with a contract award announcement expected this year.

"The T-X is where we are going to be getting to that concept of fusing domain information and presenting it in a way that is translatable to combat power," he said. "The T-38 is 50-plus years old, and it's just not able to technologically keep up with where we're at in the world."

The service's Air Mobility Command is looking forward to upgrading its fleet of legacy tankers. A Joint Chiefs of Staff assessment of the command stated the need for a minimum of 479 tankers, said AMC commander Gen. Carlton Everhart. "I am constantly projecting that into our budget proposals," he said.

The Air Force's fiscal year 2017 base budget request includes funding to acquire 15 KC-46A Pegasus military refueling tankers, but the command must work to maintain its fleets of legacy tankers and transporters, including KC-135 Stratotankers and C-130 Hercules military transport aircraft.

The command operates about 1,164 aircraft that would be considered old, he said.

"The K-135 is 60 years old; it's considered antique," he said. "I got one-gen [aircraft], two at most, and they weren't even designed … off a digital backbone."

He noted the C-17 Globemaster III, for example, has some digital components, but lags behind the capabilities of later generation aircraft. "I've got to be able support fifth-gen aircraft."

Modernizing those legacy platforms presents a challenge for AMC to "catch up to the network battlespace," Everhart said.

"There are things we can modernize, whether it's transmitters or antennas to allow … data to be off-boarded and onboarded," he said. "We're taking steps in that direction."

The command is also looking at how automation could be beneficial in the future, Everhart said.

"We're … constantly pairing with industry to get at where does automation make sense," he said, adding that exploring automation could result in autonomous or semi-automous tankers, or developing a common platform that could go on a variety of mobility systems.

In her keynote speech, Disbrow also highlighted the need to work with industry for help in accelerating directed energy technology, human-machine collaboration techniques, hypersonic technology and rapid prototyping.
Topics: Air Force News, Simulation Modeling Wargaming and Training, Training and Simulation