Navy Officials No Longer Talking Publicly About Laser Weapon Systems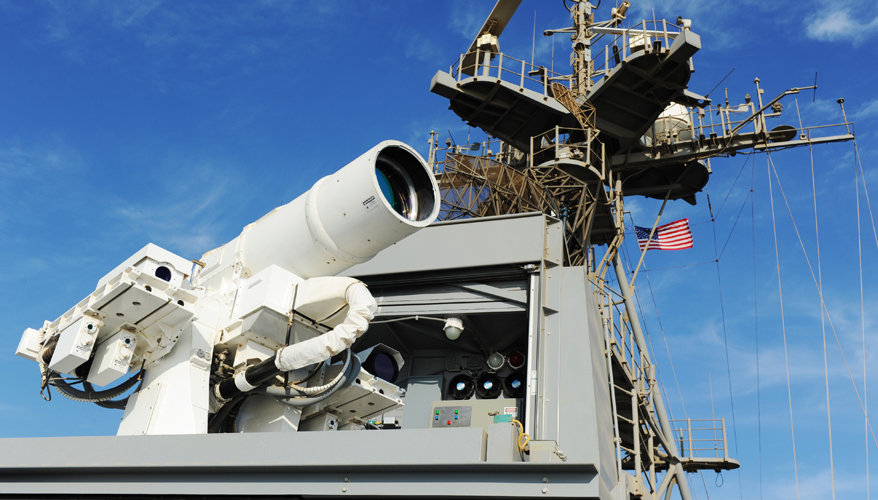 Laser Weapon System
Photo: Navy
As the U.S. military faces increased competition from near-peer competitors, the chief of naval operations said March 29 he would start keeping details of some of the Navy's most high profile technology programs closer to the vest.

One example is laser technology, which will be critical for the service, Adm. John Richardson said during a Booz Allen Hamilton-hosted summit focusing on directed energy in Washington, D.C.

"The implications of getting directed energy out on the field … will be transformational" for the service, he said. The Navy has already deployed the Laser Weapon System, or LaWS, a 30-kilowatt system, on the USS Ponce.

However, during the summit Richardson declined to delve into further details about its laser programs. When asked by National Defense for updates on LaWS, and a test of a 150-kilowatt laser aboard a ship that Vice Chief of Naval Operations Adm. Bill Moran announced last year, he said he would not share them, citing competition between the United States and its adversaries.

"I'm going to be far more reluctant to talk about things like that," he said. "When it comes to specific capabilities, when it comes to specific schedules, specific operations, … I would rather find a more appropriately cleared room to talk about that."

Later during the summit, Rear Adm. Mike Manazir, deputy chief of naval operations for warfare systems at OPNAV N9, said that in the past he was happy to speak about program specifics. However, "we figured out that the competitors were actually learning and doing their own kind of crowdsourcing thing, learning from us," he said.

Richardson did stress, however, that while he would no longer give too many details on its laser program, the service was hard at work developing such systems.

"There are no major technology obstacles which stand in the way of getting this thing out," he said. "We are pushing hard in the Navy to move this forward in the next couple of years, getting something out.

"It is clear to me that if … we can do this right, it will be transformational," he said.

Richardson noted that the military must get better at reducing red tape and acquiring new technology faster.

"Try winning a mile race when you spot your competition a lap," he said. "You can do that, but you have to be really, really fast — much faster than the competition and we just aren't. We're far too bureaucratic."

The Navy "desperately" needs more agility in acquisition, he said. He called on industry and academia to work with the service to speed "this machine up."

Richardson also noted that continuing resolutions stifle innovation, particularly for cutting edge technology such as lasers.

"We've spent 30 percent of the last eight years on a CR, OK? And in areas like … [directed energy] where we're trying to start something new, it's more than just budgetary issues, it's authorities to get anything started," he said.
Topics: Emerging Technologies, Navy News