Marine Corps, Boeing Resurrect F/A-18 Fighters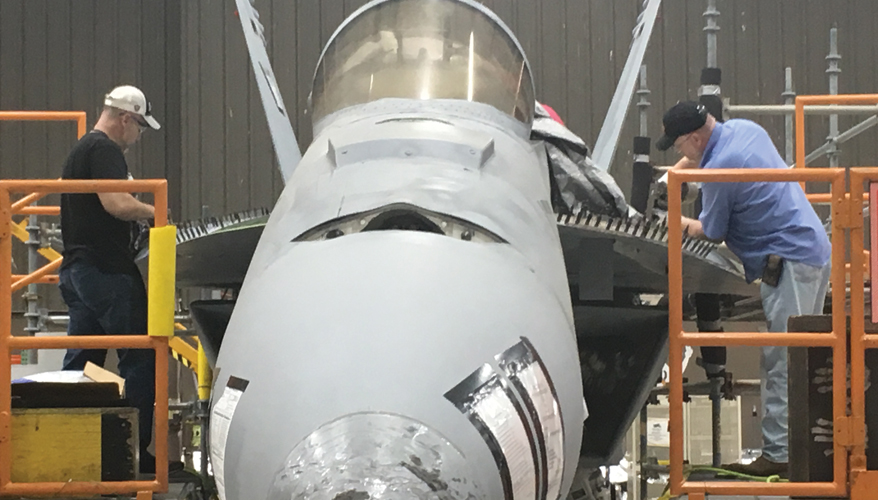 Technicians work on an F/A-18 Super Hornet at Cecil Field.
JACKSONVILLE, Fla. — As the Navy and Marine Corps face dire readiness challenges in their tactical aviation fleets, Boeing is stepping up to add capabilities and longevity to older F/A-18 Hornets and Super Hornets.
More than 60 percent of the aircraft in the F/A-18 fleets are not flyable in their current state, said Vice Chief of Naval Operations Adm. William Moran.
"We're double where we should be in non-flyable aircraft," he said at a Senate Armed Services Committee readiness and management support subcommittee hearing in February.
The readiness challenges are being driven by high operating tempos and related maintenance backlogs; insufficient procurement of new aircraft; and delays in the F-35 joint strike fighter coming online. Navy depot capacity has also been diminished since sequestration hit in 2013, he noted.
Boeing is working to tackle the problem. The company is on contract to bring 22 legacy F/A-18C Hornets out of a U.S. military "boneyard" in the Arizona desert, and reconstitute and upgrade them so that they can rejoin the Marine Corps fleet. The effort is known as the "C+ program."
When the U.S. military shrank in the years after the Cold War, a number of Hornets were mothballed at a storage facility at Davis-Monthan Air Force Base, Arizona.
Bill Maxwell, a former Marine aviator who now serves as Boeing's senior manager of F/A-18 operations, had to fly one of the planes out to the boneyard where he expected it to "rot in the desert" indefinitely.
"It was a sad deal," he said. "I thought that I would never see these jets fly again. … [But] we're bringing them out of the desert now and bringing these warfighting machines that still have life left in them to put them back out and hand them to a warfighter."
The C+ work is being performed at Boeing's Cecil Field facilities in Jacksonville, Florida. During an exclusive tour of the facilities, Maxwell showed National Defense the first reconstituted aircraft from the boneyard.
"This came in a year ago on a flat bed truck and right now it's really close to a flyable state," he said. "We're going to take it over to the other hangar here in the weeks ahead and then we're going to do the upgrade" to make the aircraft more capable than the standard C-variant.
It required two flat beds to transport it from Arizona. One carried the fuselage and the other moved the wings and the other components. When they arrived at Cecil Field, the equipment was unloaded with a crane and then rolled into one of the hangars for Boeing technicians to work on.
"We pull everything apart," Maxwell said. "We gut it and then we take a look at all these little points. … We get in there and make sure all the fatigues, the cracks, the corrosions are all good to go.
Then we replace all the old equipment that was in there. You have actuators for the hydraulic systems that are old and decayed. We pull those out and put new ones in."
Once the necessary fixes are made, the technicians then put the aircraft back together. After the fighter has been reconstituted, the plane is taken to another hangar for the C+ upgrade.
"Once it comes in here then we'll do the tear down," said Brian Aheam, a senior avionics technician at Boeing. "If it's an electrical mod we start taking out all the old wiring and install all the new wiring. … With the structural mod we'll take out the old parts that need to come out and then drill up for all the new hardware" that will be added to the aircraft.
For most of the Hornets, the reconstitution process is expected to last about a year. The C+ upgrade should take an additional six months or so, Maxwell said.
But Boeing believes it can shave three months off that timeline if it is authorized to do the reconstitution and upgrade efforts concurrently.
"Why bother to put it all back together [first] … and then bring it back and tear them all down and put the new mod in? It just didn't make any sense," said Wayne Haight, Boeing's C+ lead.
The Navy has been receptive to the idea of changing the process, Maxwell said.
"We have planners in there right now trying to figure out … when is that a good time to transition from reconstitution into that C+ and do concurrent work to get this back to the customer quicker."
Improvements resulting from the upgrade include: a more advanced APG-73 radar; an AN/APX-111 combined interrogator/transponder to help identify friend and foe; an ALE-47 airborne countermeasure dispenser system to draw enemy fire away from the aircraft; and the multifunctional information distribution system to enhance situational awareness.
"These are kind of quantum leaps for a lot of these older jets that come in here," Maxwell said. "It will look like a modern fighter going out the door. It's a beautiful thing."
Boeing has already completed two modifications on "fly-in" C-model Hornets that were already out in the fleet to validate that the company could successfully perform the C+ upgrade.
"The fleet squadron sent two aircraft down," Maxwell said. "We pulled out all the old avionics and we put in brand new avionics to give it that modern warfighter [capability] which made it the C+" variant.
Maxwell views the program as a cost-effective way to augment the Marine Corps' tactical aviation fleet.
"That's a good investment," he said. "Instead of paying a huge price for a brand new one, how about upgrading an older one to a modern fighter that has years and years of service left?"
As of press time, Naval Air Systems Command had not provided National Defense any cost information about the program.
Boeing is on contract for 30 C+ upgrades — 22 Hornets from the boneyard in Arizona and eight jets that were already out in the fleet. Twelve are currently at the facility in Cecil Field waiting to be upgraded, Maxwell said.
Boeing is only projected to deliver one this year. "But then a big wave of them should be coming out in 2018. … You're going to see just a huge ramp-up of aircraft going out the door," he said.
Maxwell anticipates that all of the work on the C+ program will be completed in about three years unless more aircraft are added to the order.
"There's a bunch more out there" in the boneyard, Maxwell said. "If this is a successful program and they like it, they always have that pool to go back to."
In addition to upgrading older Hornets, the company is working to extend their service lives. A lot of the jets in the fleet are approaching 8,000 flight hours, Maxwell noted.
As part of the High Flight Hour program, the Defense Department asked Boeing to extend their service lives to 10,000 hours, he said.
"We find out what needs to be replaced, the major structural upgrades to make it go. We slap it back on together and it goes back out to the fleet and gives it … another six years of life."
The process takes a year or two depending on the shape that the aircraft is in when it arrives at Cecil Field. The environment in which it was flown can have a major impact on the time required to complete the work. An aircraft that operated in a dry desert might be in better shape than one that operated at sea where exposure to salt-water particles can lead to corrosion, he said.
Maxwell suggested Boeing could further increase the Hornets' service lives once the aircraft get close to 10,000 flight hours.
"There may be opportunities to continue past 10,000" if the Navy and Marine Corps wanted to go down that path, he said. "We could probably extend that."
Boeing is also working on the F/A-18E/F Super Hornet at Cecil Field. About 15 aircraft come through for phase modifications each year. The process usually takes four to six months, Maxwell said.
Each jet might require different modifications depending on when it was originally produced and the technology inserted at the time.
"There might be a structural mod. There may be an avionics mod. Whatever they want us to do," he said.
If corrosion or other problems are discovered, the company fixes them.
As the original equipment manufacturer, Boeing is well positioned for such work, Maxwell noted. "We built the aircraft. We can pull our resources and people and materials to assist here."
The Navy has also tapped Boeing to do phase inspection to help out the overtaxed Fleet Readiness Center-Southeast depot. "They asked us to come in as an enterprise because they were getting backed up with all the aircraft," he said.
About 30 Hornets and Super Hornets are expected to rotate through Boeing's facilities at Cecil Field this year, according to Maxwell.
Meanwhile, Boeing is looking at ways to increase throughput so that aircraft can come in in larger numbers and go through the maintenance and modification processes faster.
The company is investing in new technologies to enhance its depot operations. For example, using lasers to scan for flaws on the aircraft can reduce the time required for technicians to complete such tasks.
"We've bought two of those laser arms," Maxwell said. "We're also getting these other tools that … really reduce the man-hours and the turnaround time for these jets."
The firm is conducting data analytics to anticipate the condition that aircraft will be in when they arrive at Boeing's facilities, and which parts will be needed to fix them. That enables the company to better prioritize which aircraft should be worked on soonest.
"Let's focus on those jets we can get back to the fleet quicker," Maxwell said.Elsewhere, Boeing is gearing up to participate in a more intensive Super Hornet service life modification program for the Navy.
Moran has warned about a "bow wave" of Super Hornets that are nearly maxed out because they have been flown so hard in recent years.
The goal of the service life modification program is to enhance the longevity of the F/A-18E/Fs that are approaching 6,000 flight hours, and upgrade their capabilities.
That effort is expected to kick off next year, said Caroline Hutcheson, a Boeing spokeswoman.
Although Boeing is not yet under contract for the work, the company is already preparing, she said. "We have two aircraft in St. Louis — two Super Hornets — that we're kind of pulling apart and getting ahead of any lessons learned as best as possible."
Boeing will also incorporate lessons gleaned from the Hornet programs at Cecil Field, she noted. The company wants to "make sure that when we start this service life modification we are well ahead of the curve, we know what to expect and we're able to really move those through," she added.
The aerospace giant intends to increase the Super Hornets' service lives to about 9,000 flight hours, she said. Company executives are also proposing to turn some of the aircraft into advanced "Block 3" variants during the modification process, which would give the jets capabilities more on par with the most cutting-edge fighters such as the F-35.
"We expect to essentially extend the life of and modernize the entire fleet of Super Hornets," Hutcheson said.
Maxwell said F/A-18s could still play an important role for the Navy and Marine Corps in the years ahead despite their age and the emergence of next-generation fighters.
"The aircraft have a lot of service life," he said. "Against the vast majority of the world's air forces it can go out and beat them, no problem."
For a lot of the missions that are being conducted today such as the air campaign against the Islamic State, Hornets and Super Hornets can do the job just fine, he noted.
"It's a workhorse aircraft," he said. Even with F-35s joining the fleet, "you still need workhorses. And we turn that workhorse into a thoroughbred."
Topics: Air Power, Marine Corps News