U.S. Military Trucks Popular With Overseas Customers (UPDATED)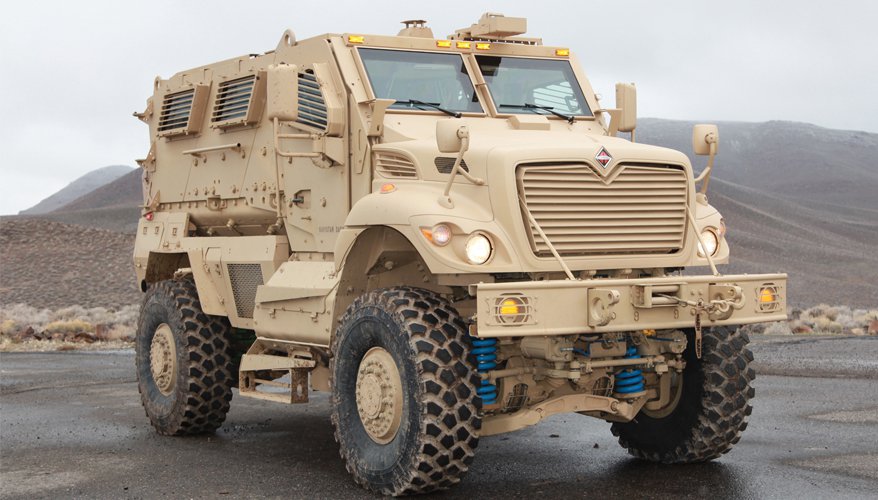 Photo: Navistar
American tactical wheeled vehicle manufacturers are bullish on the international market for trucks as the cachet of being used by the U.S. military remains a big selling point for overseas militaries, executives said.

Doug Malikowski, director of international programs at Polaris Government and Defense, said the company can track where U.S. special operations forces are using its light off-road vehicles by the phone calls it receives from local militaries who have seen them in action.

"A lot of countries that we are allied with are seeing our products and making decisions to do additional research and follow-on procurements," he said.

Executives interviewed from Navistar Defense, AM General and Oshkosh Corp., along with Polaris, all reported strong international interest in U.S.-made military vehicles. All four companies recently displayed their products at the International Defense Exhibition and Conference, or IDEX, in Abu Dhabi, United Arab Emirates, where the floor was rife with truck makers from throughout the world. Despite the competition, the fact that the U.S. military has used a vehicle still carries a lot of weight with foreign buyers, they said.

That even goes for one truck that has yet to be fielded, the joint light tactical vehicle, or the JLTV, manufactured by Oshkosh.

George Mansfield, vice president of the company's international programs, told National Defense that two countries, which he could not name for confidentiality reasons, have now formally requested the JLTV through the Defense Department's foreign military sales program.

The Army is currently putting the JLTV through a test-and-evaluation phase. A decision on full-rate production isn't expected until the first quarter of fiscal year 2019. The company cannot sell the vehicle overseas until it has received the green light to proceed, but countries are allowed to get a head start on the FMS process, which takes anywhere from 18 to 36 months.

"We are working with a few customers right now with getting through that process of FMS," he said. The company is initially concentrating on European customers, particularly NATO members, who want to have equipment compatible with their U.S. ally.

"They are looking for a protective, highly mobile vehicle … at the price we gave the U.S. government. With the efficiencies of that big order, we can give them a very affordable price," Mansfield said.

The truck's average procurement unit cost decreased by nearly 17 percent since the original cost projection in 2012, from about $399,000 to $333,000, the Army has reported.

Oshkosh continues to report strong sales for its M-ATV, the off-road variant of the mine-resistant, ambush protected (MRAP) vehicle sped into the field during operations in Afghanistan.

The U.S. military stopped buying MRAPs years ago, but for two truck makers, it's the program that keeps on giving. Oshkosh now has five variants of the original M-ATV that it is selling internationally.

Navistar Defense, maker of the MaxxPro, continues to find buyers for its MRAP, along with supporting upgrades and refurbishment for customers who have received the trucks as excess defense articles, said company President Kevin Thomas.

"The international market is something that we think is going to be a big opportunity for us," Thomas said.

The Army chose the MaxxPro and the M-ATV as the two MRAPs it will keep in its inventory.

Navistar has been resetting MaxxPros for the Army for the last 18 months and it is looking for opportunities to do similar work for allied countries that are getting the surplus vehicles, Thomas said. There are also new builds. Pakistan will begin to receive new MaxxPros later this year through the FMS program.

Foreign customers were not able to get their hands on MRAPs as the U.S. was acquiring them late last decade, but now they are available, he noted. The last models to come off the production line in 2012 were more technologically advanced than the first ones in 2007, and the company continues to look for ways to make the truck better with lighter armor and improved performance.

"We will be taking the latest and greatest of all those upgrades and changes and then putting them into the latest and greatest vehicle," he said. Production will probably never match what it was in the vehicle's heyday, but there will be steady orders of new builds, he predicted.

As for Oshkosh's MRAP, it is offering several variants for different missions, as well as a version that is 20 inches longer than the original M-ATV that can hold more personnel. There are models for explosive ordnance disposal units, a utility vehicle, a flatbed version that can carry mission modules, and a command-and-control model. It is working on an ambulance and versions that can support anti-tank weapons and mortars. All five of the variants have been purchased and are being used by customers, Mansfield said, although like the other executives, he declined to say which countries, citing confidentiality agreements. There are some 2,000 units fielded in the Middle East, he added.

"Using the voice of the customers, we have developed these new variants based on what they want," Mansfield said.


Another well-known U.S. military vehicle that continues to sell well overseas is the Humvee. While the Army and Marine Corps are moving on to the JLTV for their light tactical wheeled vehicle, AM General continues to sell the truck domestically to the National Guard, and is building other new models for overseas customers. Demand for the vehicle will remain strong through 2017, said Nguyen Trinh, the company's director of international program integration. It is filling orders for Mexico, Iraq, Afghanistan and others.

Meanwhile, the company offered two new products at IDEX that generated a lot of interest, both the result of an international tour of the company's customer base he took a year ago, he said.

One is the HMMWV/Hawkeye Howitzer System, which is as it says, an artillery piece mounted on a Humvee. Nguyen said many attendees stopping by the booth at IDEX declared that the cannon's recoil "would tear the Humvee in half." But he had a video of a prototype firing it that proved otherwise. The 105mm Hawkeye is made by the Mandus Group, which touts it as being lighter weight with a significantly smaller recoil than legacy Howitzers. It reduces the recoil from 20,000 pounds per square inch to 2,000 pounds per square inch, which allows it to be more easily integrated onto a truck, Nguyen said.

Today's armies want the ability to "shoot and scoot," he said, while most Howitzers on the market remain towed systems. Counter-artillery units can quickly lock-in on a cannon. The Hawkeye mounted on a Humvee can send 20 to 25 rounds downrange within four to five minutes, then take off for another location. "That has resonated extremely well with the customers, especially the artillerymen as we rolled out the concept to them," he said. Two foreign customers he knows of are writing requirements to procure the system, although he could not disclose their identities.

AM General, in response to customer demand, is also offering a vehicle stripped down to its chassis and power-train for those who want to manufacture their own vehicles. The trend has been to buy commercial trucks such as Ford F150s, tear them down, then add their own armoring, he said.

AM General at IDEX introduced the multi-purpose truck, which was designed from the ground up to be sold commercially without export control restrictions. It's a power-rolling chassis that has all the basics other than the body.

Many countries have a desire to build their own truck, and some have the capability to put armored bodies on a consumer truck chassis. This offering addresses that demand with a robust, militarized chassis, "based on 30 years of extensive experience," Nguyen said. "The customer will be comfortable knowing they can put an armored body on it and it will perform extremely well in military mission-type profiles," he added.

AM General will help customers stand up assembly lines, provide the kits, and help them develop a manufacturing process. Overseas customers want this kind of lifecycle support, he said. "They don't want [original equipment manufacturers] just to come in and sell products then take off," he said. "It falls in line with our new approach at AM General, and that is to be a global vehicle solutions provider."

Another company expecting a banner year is Polaris. Malikowski said the company expects the international market to comprise 50 percent of its sales by the end of the year.

"We see a fairly significant tailwind in the international market, starting now in 2017, and beyond," he said.

Its light off-road vehicles have the advantage that they are not really replacing anything in the inventories of ground forces. U.S. Special Operations Command acquired its 4,500-pound DAGOR for a variety of off-road missions.

"The U.S. government trusts the vehicle. It continues to buy it, and we can provide spares quickly," he said. "That has been a really significant factor for our ability to expand our breadth internationally," he added.

Sales also jumped after the Canadian army announced that it would purchase the MRZR light vehicle last summer. Many countries are looking for squad-sized vehicles that can move troops quickly, he said. They do not have the armor of the other tactical wheeled vehicles, but they can take troops off main streets and highways where enemies set up roadside bombs and ambushes.

Customers "want to go faster, they want to go farther and they want to carry more weight. We're sitting down and looking at forward technologies that we can suggest," he added.
CORRECTION: A previous version of this story misstated that AM General had sold Humvees to Iran.
Topics: Land Forces, Global Defense Market