Army Revamps Strategy to Acquire Robotic Mules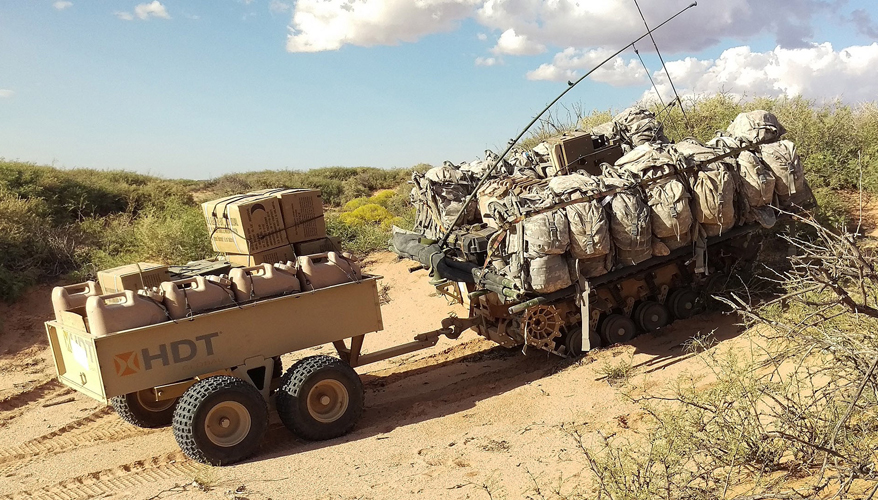 The Army intends to buy 20 robotic mules from manufacturers and send them out with brigades for a year-long operational test and evaluation, the service's program manager in charge of unmanned ground systems said March 23.

Bryan McVeigh, project manager for force protection, said a recent Army Requirements Oversight Council looking at the squad multipurpose equipment transport (SMET) vehicle put the breaks on the program, which was heading for fielding in the early 2020s.

The council said, "Wait a minute guys, You're laying out a standard program of record. This is taking too long. This is way too much testing. We're not even sure this is what we want," McVeigh said.

Chief of Staff of the Army Gen. Mark Milley instructed the PEO to go back and look at the things that really matter and get rid of the rest, McVeigh said.

PEO force protection will proceed with an SMET rodeo as early as August, McVeigh said at the National Defense Industrial Association's Robotic Capabilities conference in Springfield, Virginia. Anywhere from eight to 15 manufacturers will be invited to attend. First they must respond to a request for information.

The basic requirements will be that the mule carry 1,000 pounds, cover a range of 60 miles within a 72 hour period and generate three kilowatts of power at rest and one kilowatt while underway. The target price is $100,000, he said.

"I'm not telling you what to bid on your price. But I am telling what we think it should cost," he said. Earlier in the conference, a senior service official said the proposed prices they had seen for SMETs had given officials "sticker shock."

The Army wants two basic configurations: one similar to the vehicles that have been tested and another that will have a seat and steering wheel so it can be optionally manned, he said.

The reason for the optionally manned version is one of logistics. "How do I get from an airport to an assembly area? That kind of leads me to an optionally manned solution. There are not enough prime movers to tow all the systems that are supposed to be issued to the brigade," he said.

The vehicle after it reaches its assembly point will then have to switch over to an unmanned mode. "How do I pull what seems to be mutually exclusive design characteristics together?" McVeigh asked. That will be a tough problem for the manufacturers, he acknowledged.

How is it going to be operated? Will it use a cord, a joystick or follow soldiers using breadcrumbs? Can it be towed at 20, 30 or 50 miles per hour without flipping over? The more capability the robot makers offer, the higher the score on their evaluation, he said.

A request for information will be published "shortly," he said. "I need your feedback to make sure what I have in mind is executable. This is absolutely critical." He needs to know how long it will take to get a prototype built. As for delivering the models by August: "I need you to tell me if I'm on drugs," he said.

Companies participating will be reimbursed for their expenses. The Army has been criticized for holding similar rodeo style events in the past where small businesses have to pay their own way, but afterwards few contracts are forthcoming.

After the rodeo, two vendors will be down-selected, and 20 mules will be procured and sent out to brigade combat teams for one-year evaluations, he said.

After that, there are four possible scenarios, he said. The first is that one of the manufacturers "hits it out of the park" and gives the Army exactly what it wants. He has the authority to then go into limited production with a traditional acquisition contract.

Another scenario is that a couple of the models do well, but are not quite right. There would be new requirements written, some changes, and then a down-select to one vendor.

The third outcome is: "Thank you all for playing. Pick up your trophies on the way out. We learned that what we were asking for isn't in the art of the doable." The Army would return to an engineering, manufacturing and development phase and open up the contract again.

The fourth option simply is that the Army decides it doesn't need this capability, he said.

McVeigh's announcement came on an historic day. The Army on March 23 issued the first M160 robotic flail used for demining to a unit at Fort Bragg, North Carolina.

"That is the first fielding of a program of record capability in the Army for the [ground] robotics portfolio," McVeigh noted. The Army has sent several kinds of ground robots to battle zones, but always through rapid equipping type contracts. None had reached program-of-record status.

"This is the turning of the tide. Everything we have been talking about for the past three years is coming to be," he said.
Topics: Army News, Land Forces, Robotics and Autonomous Systems, Robotics