Defense Hawks Admit Reality: Double-Digit Budget Growth Unlikely (UPDATED)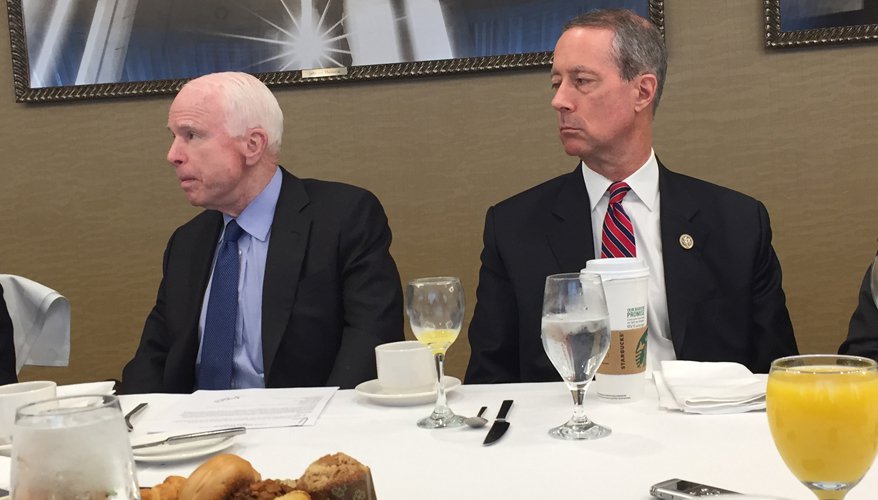 Sen. John McCain, R-Ariz. (left) and Rep. Mac Thornberry, R-Texas
Photo: Sandra I. Erwin
Congress' biggest proponents of massive increases to the defense budget concede that President Donald Trump's blueprint is unrealistic. Nonetheless they are determined to keep beating the drum about what they as deep financial holes in the U.S. military.
Sen. John McCain, R-Ariz., chairman of the Senate Armed Services Committee, has recommended a $640 billion defense budget for fiscal year 2018 and steady increases over the next five years — a funding boost much larger than what the Trump administration has floated. McCain continues to support that goal, but acknowledges that the administration and Congress remain at sharp odds over fiscal priorities. And he believes that Trump's plan to increase defense at the expense of domestic agencies is doomed.
"It doesn't matter what I think. It's not going to happen," McCain said March 22 during a joint media roundtable with Rep. Mac Thornberry, R-Texas, chairman of the House Armed Services Committee.
McCain's counterpart in the House, also an ardent defense hawk, shares that view, and has endorsed McCain's $640 billion target.
The numbers and the politics are stacked high against big defense spending increases, however. "Fiscal responsibility is of the utmost importance," said McCain, "but I still believe national security ranks above that."
Both McCain and Thornberry argue that Congress at large and the public remain unaware of the scope of the military's fiscal troubles and their implications. "Combat readiness is at an all time low that I haven't seen since the post Vietnam War era," said McCain. He cited a classified Rand Corp. study on military readiness woes that was briefed to lawmakers. "I hope that study will be declassified, it will be an eye opener."
Thornberry elaborated: "The closer you look, the deeper you see the damage done to our military over the past eight years." Traveling around U.S. and overseas military bases, "you see real evidence," he said. "Some comes out in public hearings, although the military leadership is somewhat reluctant to talk about our vulnerabilities. The damage is deeper than most of us realize."
The Pentagon has asked Congress to approve a $30 billion add-on for fiscal year 2017 to plug holes in military budgets across the board. The supplemental request includes $24.9 billion for the base budget and $5.1 billion for overseas operations. This would boost the 2017 base request from $524 billion to $549 billion. And OCO funding would grow from $65 billion to $70 billion.
This last minute addition technically would require Congress to break an existing bipartisan budget deal, an unrealistic prospect by most accounts. Thornberry suggested that he would support shifting the $30 billion entirely under the OCO account which is not subject to spending caps.
"Expect it to be in OCO so we can get it done quickly," he said. "The supplemental is needed to begin the healing. I don't care what label is on the money, I just want to get the money done." The military cannot wait, he said. "Aircraft can't fly. Brigades can't train. The label on the money is not that relevant. The easiest way to get the supplemental done is through OCO."
It is paramount that the Pentagon not be funded under a continuing resolution, Thornberry insisted. The current CR expires April 28 and defense officials have pleaded for a full-year appropriations bill.
Defense Secretary James Mattis, in a March 22 statement to the Senate Appropriations defense subcommittee put it bluntly: "Only an FY 2017 appropriations bill can permit us to spend the American taxpayers' money judiciously and start us on the long road back to military readiness to ensure we can fight effectively. The last six years of sequester's effects, budget cuts, and repeated continuing resolutions have damaged our readiness to a degree that will take time to recover."
Congress has acquired the habit of "playing games with the defense budget," Thornberry lamented. "This is not something to negotiate; this is lives and deaths. Defense dollars should not be used as "leverage to get our favorite projects," he said.
How to pay for defense growth is one among several issues that has kept congressional factions and the White House at loggerheads. Thornberry does not support President Trump's proposed cuts to nondefense agencies such as the State Department, but he believes other cuts should be considered to pay for defense. "We need to grapple with mandatory spending, and curtail growth," he said. "We cannot wait to fix airplanes and ships until we get the budget balanced. That would be wrong," he added. "We have to get the budget in better shape. But to defend the country we have to repair the damage that's been done to our military in the past eight years."
Thornberry acknowledged that defense committees and military leaders could do better at explaining why more funding is needed. It can be difficult for most people to understand why the Pentagon can't get by on $570 billion or $600 billion.
"I think the military, and we as well, need to do a better job of explaining readiness," he said. "We have looked at readiness from too narrow a perspective, in red-yellow-green colored charts. What we have not done as we should is explaining that our pilots are not getting as many flying hours as the Chinese or Russian pilots or that low readiness causes aviation crashes," he said. "We need to do a better job making readiness problems real. I'm not sure we've done that well enough in the armed services committees, much less with the public at large."
Rep. Adam Smith, D-Wash., the ranking Democrat on the House Armed Services Committee, suggested that proponents of higher defense spending should consider options to increase taxes to pay for it.
"If you feel this strongly about increasing the Navy, the Army, nuclear weapons and readiness, then raise freaking taxes and pay for it," Smith said March 22 at the McAleese Credit Suisse defense industry conference in Washington, D.C.
"You have to bring in more money," he said. "If you're not going to do that I suppose you could go the entitlement reform route." Smith also argued that if the nation decides it cannot afford to increase defense, the national defense strategy should be revised so the military is less strained. It is "completely unacceptable" to assign the military missions "we do not fund sufficiently. It's better to shrink those missions and make sure that forces are trained and equipped."
EDITOR'S NOTE: This post was updated clarifying Sen. McCain's views on the administration's budget. And comments were added by HASC Ranking Democrat Rep. Adam Smith.

Topics: Budget, Defense Department