Army Gets 'Sticker Shock' With Price of Robotic Squad Support Vehicles (UPDATED)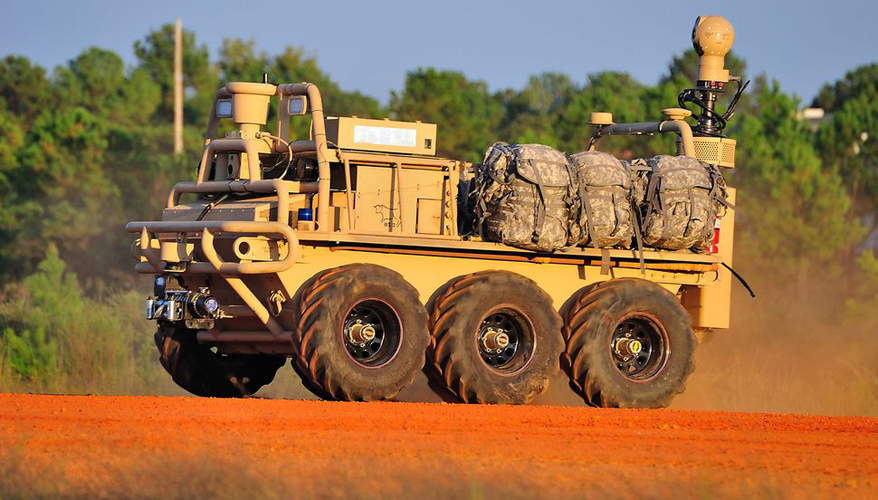 Photo: Lockheed Martin
The Army is eager to move ahead with robotic systems that can serve as mules for overloaded troops and with driverless trucks that can follow one another in convoys, but the prices companies are proposing are coming in too high, a service official said March 22.
Brig. Gen. John George, director of Force Development, Army G-8, said "one of the things that kind of hinders us is frankly the sticker shock of some of these systems that we expect to come in at a lower price."
A request for information from industry for the squad mission equipment transport vehicle came in at $80,000 to $240,000, he said at the National Defense Industrial Association's Ground Robotics Capabilities conference in Springfield, Virginia. The SMET is envisioned as an autonomous off-road vehicle capable of carrying soldier equipment in order to lighten troop loads.
"We are frankly unhappy with the cost and the timeline" of SMET and autonomous trucks, he said.
"How much is a Tesla?" He asked. The high SMET price means either the Army produced "gold-plated requirements" or industry is giving it premium prices, he said. "And we're living on a peanut butter salary right now."
If the Army is asking for a capability that is too expensive, it wants to know, he said. If one percent of the requirements being taken away results in 10 percent savings, "that would be very interesting to us. We have got to understand what the cost drivers are."
That is also true of the appliqué kits that convert tactical wheeled vehicles to autonomous trucks capable of doing leader-follower convoys.
The question with SMET and leader-follower is: "What is the right balance between requirements and cost and acquisition timeline?" He asked. Those questions are being posed at the Army Requirements Oversight Council, or AROC, he said.
Army Chief of Staff Gen. Mark A. Milley is reinvigorating the council, George said. It once only approved requirements, but it is now being used to synchronize the requirements with resources and the acquisition regime, George said. "Our chief is very engaged in driving the synchronization of those three critical processes and making decisions personally about our requirements."
The AROC held a meeting on whether to proceed with autonomous truck appliqué technology in February, but did not come to a decision on whether to proceed and make it a program of record, George said.
Meanwhile, Milley is demanding that requirements documents be completed in four weeks. "I don't know what it used to be ... But we are moving in an expedited manner to get requirements documents." The council needs to see the capabilities and the costs lined up before they approve a particular technology, George said.
The AROC sees robotic and autonomous systems as a technology that can make Army formations more effective, he said. They must make units more lethal and more protected before gaining approval. "Some people want to develop technology for technology's sake. We have to keep it pointed on what it does to our formations and how it enables them."
George said the double whammy of sequestration and continuing resolutions is causing the Army to protect readiness but at the expense of its modernization accounts. It is trying to maintain its science and technology programs "so when we do have an increase in resources we have the underpinnings of these technologies we can roll out into new systems."
"We are going slow to keep our options open ... We are keeping things warm so as we have opportunities to find resources [we can] either increase capability or increase production."
Despite the austere budget environment, the Army boosted its robotic research and development accounts 500 percent from the 2015 to the 2016 budget, he said, although he didn't want to reveal the exact dollar figures. It is a technology that touches on many of the service's top R&D priorities, which include increased lethality, force protection and assured communications. "I expect over the next 10 years as we see procurement and the actually fielding of capabilities we will see probably a 20 percent increase in investments in that portfolio," he added.
Correction: A previous version of this story misstated Brig. Gen. John George's title.
Topics: Army News, Land Forces, Robotics and Autonomous Systems