Trump's Defense Budget Ramp-Up in Doubt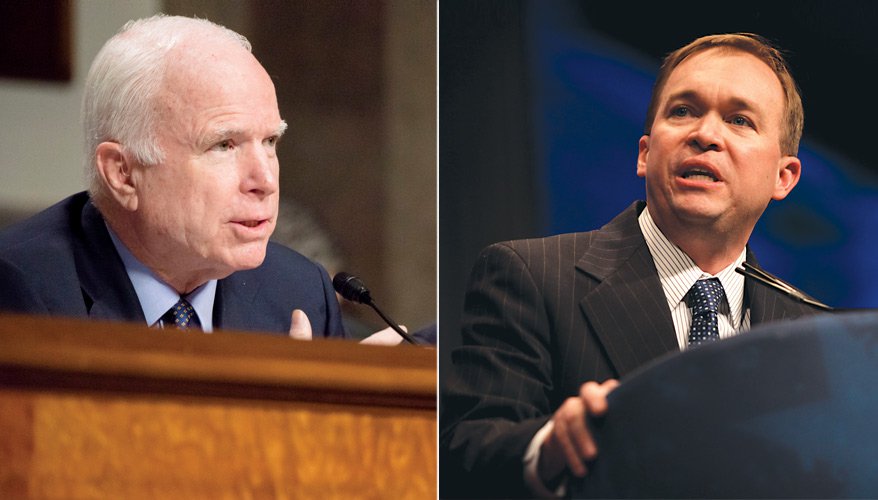 Sen. John McCain, R-Ariz., and Rep. Rick Mulvaney, R-S.C.
Photos: Defense Dept; Gage Skidmore
Although many defense hawks are elated that Republicans now control the White House and Congress, political hurdles still stand in the way of major increases in military spending, analysts said.
One is the Budget Control Act, which caps defense expenditures in fiscal years 2018 through 2021. The Obama administration's most recent future years defense proposal exceeded the budget caps by $113 billion, according to Todd Harrison, director of defense budget analysis at the Center for Strategic and International Studies.
President Donald Trump is expected to request significantly larger defense budgets than those put forth by his predecessor. Meanwhile, Senate Armed Services Committee Chairman Sen. John McCain, R-Ariz., released a defense white paper calling for a base defense budget of $640 billion in fiscal year 2018.
That amount would exceed the budget caps by about $90 billion, noted Katherine Blakeley, a research fellow at the Center for Strategic and Budgetary Assessments.
Lifting the caps would require the approval of Senate Democrats, who are in a position to filibuster GOP legislative proposals. Democrats have insisted that any increases in defense spending must be matched by increases in non-defense spending, and they are preparing for a showdown with Trump and congressional Republicans on a number of contentious issues.
"With major debates about domestic programs, entitlements, infrastructure, trade, taxes, deficits and more on deck for this spring and summer, a straightforward bipartisan agreement to lift the BCA caps is unlikely," Blakeley wrote in a budget brief.
One way for lawmakers to skirt the budget restrictions would be to use overseas contingency operations accounts to pay for enduring needs, a common tactic in recent years. McCain's proposal called for $60 billion in annual OCO funding over a five-year period, the majority of which would likely go toward base budget items, Blakeley said.
"As long as there isn't any real distinction between base budget and actual war operations, Congress then can set [defense budgets] as high as they want," said Richard Kogan, a senior fellow at the Center on Budget and Policy Priorities.
But criticism of such methods has been growing including among Republicans. Rep. Mick Mulvaney, R-S.C., a fiscal hawk tapped by Trump to head the Office of Management and Budget, has argued against using OCO funds in this way, describing the practice as "dishonest."
Andrew Hunter, director of the defense-industrial initiatives group at CSIS, said: "Essentially emergency spending is the only way for the defense budget to increase, a la OCO, and yet there's going to be a very determined effort to shut down and sharply limit the OCO mechanism."
Kogan noted that senators could filibuster efforts to plus-up war funds. There are 100 lawmakers in the Senate, and sixty votes are needed to break a filibuster. "The question is whether there are 41 people in the Senate who want to exact a price for a defense increase or just plain disagree with that defense increase," he said.
Many political factions are at loggerheads, which could make it difficult to pass a budget before the start of fiscal year 2018, analysts said.
"This is a big, complicated, messy political fight," Harrison said. "It's not just a partisan fight between Democrats and Republicans."
Disagreements can be expected within Republican circles between Mulvaney, other parts of the Trump administration, fiscal hawks in the Freedom Caucus, and defense hawks on Capitol Hill such as McCain and House Armed Services Committee Chairman Rep. Mac Thornberry, R-Texas, Harrison said. "This is going to be an interesting year."
Topics: Government Policy, Defense Department, DOD Budget