Missile Defense Market Poised For Growth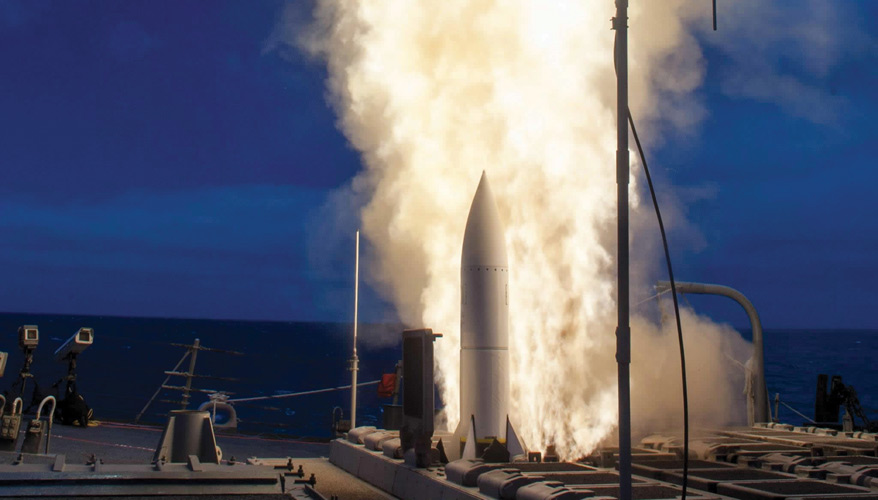 Photo: Navy
The announcement to approve foreign military sales for Raytheon's Standard Missile 6 could be a game changer for the global missile defense market, an analyst said.
The State Department in January authorized the SM-6 for foreign military sales, a move that could be a financial boon for Raytheon's overseas market.
The same month, the Defense Department awarded $235 million to the company for SM-6 production and spares. The award funds the fourth year of full-rate production for the missile, according to the company. Raytheon will begin delivery in 2018, and the missiles will be deployed on Aegis cruisers and destroyers.
The company has been seeking the option to sell the SM-6 abroad since the missile reached initial operating capability in 2013, said Thadeous Smith, SM-6 program representative at Raytheon.
"As a growth engine, international sales obviously helps us because it's a growth path for the company, but it also helps the U.S. Navy reduce their overall cost, because we get cost savings based on quantities," he said. "And it benefits the people in the U.S. Navy to go fight with or defend someone with similar capability."
The SM-6 provides ships with extended-range protection against fixed and rotary-wing aircraft, unmanned aerial vehicles, cruise missiles and ballistic missiles in the terminal phase of flight, according to Raytheon.
It was originally developed as a defensive missile, Smith said. The company performed software updates that enabled the system to address two additional mission sets as an anti-air warfare and anti-ship precision weapon.
"After [building] about the first 150 to 200, we changed a processor that needed to be upgraded," he said. "If we hadn't changed the processor, we wouldn't have been able to add the software needed to add the two new missions."
The greenlighting of SM-6 for foreign military sales is a game changer, said Thomas Karako, a senior fellow at the Center for Strategic and International Studies, a Washington, D.C.-based think tank.
"They can do a little air defense and ballistic defense, but also be an anti-ship missile," he said.
Then-Defense Secretary Ashton Carter touted the SM-6's anti-ship capabilities last year in a visit to Naval Base San Diego.
"We're modifying the SM-6 so that in addition to missile defense, it can also target enemy ships at sea," Carter said. "It makes the SM-6 basically a twofer. You can shoot down airborne threats, and now you can attack and destroy a ship at long range with the very same missile."
Karako noted that the SM-6 system's multi-mission capabilities are part of a key trend in current missile development. Other prominent missile systems feature multi-mission capabilities, such as Lockheed Martin's Patriot advanced capability-3 interceptor, he said.
The state of the U.S. missile defense program is "one of continued growth and maturity," Karako said, adding that the country's missile defense has come "a long way" since products like the ground-based midcourse defense anti-ballistic missile system and the Aegis ballistic missile defense system came online in 2004.
"Some of those [systems] were just a glint in the eye of a Cold Warrior back in the 1990s, but real capabilities have been fielded … and missile defense is going straight up around the world," he said.
The sale of Raytheon's SM-6 to allies and friendly nations abroad would fit into a global trend of more countries improving and enlarging their missile arsenals, he noted.
"What you're really seeing from a macro sense is our adversaries are getting bigger and bigger A2/AD [anti-access/area denial] bubbles. And as they do, our need for standoff penetrating capabilities of various kinds goes up," he said.
In the Asia-Pacific region, South Korea is boosting the capabilities of its Aegis-equipped fleets as it looks to deter North Korea's missile development. In 2016, the State Department approved $65 million in foreign military sales to South Korea for the SM-2 block IIIB missile, a Raytheon product designed for the Aegis system.
Additionally, the department in February approved the sale of $140 million worth of Raytheon missile systems to South Korea, including 60 AIM-9X-2 Sidewinder Block II all-up-round missiles, six AIM-9X-2 Block II tactical guidance units, 89 AGM-65G-2 Maverick missiles, as well as containers, spares and missile support.
South Korea also uses the Patriot system, as do Japan and Taiwan, Karako noted. Japan is also looking at procuring Lockheed Martin's Aegis Ashore system — the land-based version of the Aegis combat system — or the company's terminal high altitude area defense system.
In the Middle East, Saudi Arabia and the United Arab Emirates are "probably the world leaders in terms of the quantity of regional missile defense buys," Karako said, with Qatar and Kuwait beefing up their arsenals as well.
"I think in the near term, we will see a lot more partner missile defense capacity-building in that particular region," he said.
In Europe, NATO member-nations are looking to boost their overall capabilities — including air and missile defense — to counteract a growing threat from Russian forces. The development of the Aegis Ashore sites — currently operational in Romania and Poland — is expected to continue under President Donald Trump's administration, Karako said. "There are a lot of good reasons to keep that momentum.
"But the real movement that we're likely to see in Europe is with the adaptation of the current SM-3-centric Aegis Ashore sites, to something much broader to include the air defense portfolio," he added.
Karako said he would expect American allies "from the Australians to the Japanese, to friends in the Middle East and allies in Europe, to look at things like the SM-6 or other defense interceptors as some reasonable solutions to the kind of air and missile threats that continue to grow."
Smith wouldn't comment on specific countries who have expressed interest in the SM-6, but noted that in the marketplace, the missile has the capability to go into two new ship construction programs: Japan's construction of two Aegis baseline 9-equipped guided missile destroyers, and South Korea's development of three similar ships.
"They haven't decided which weapons to buy yet, but it's a potential," he added. "With that baseline, you could fire SM-6 or SM-3."
Australia is currently building three Aegis-equipped destroyers with older baselines, which are not compatible with the SM-6, but has plans in the mid-2020s to update its systems. The government has indicated in its budgets that the country could then procure the SM-6, Smith said.
The increased supply and demand signals for air and missile defense are sufficiently strong that many solutions are being developed, Karako said.
"There's no one company or system that's a silver bullet, but having said that, you just have to look at the foreign military sales that are greenlighted or that have been made in recent years, and kind of connect the dots of what friends and allies are looking for," he said.
Raytheon is also continuing development of its long-range strike missiles as U.S. Navy officials call for the need for "distributed lethality," or the ability to strike from any ship and from any location.
Tests continue on the naval strike missile, a Kongsberg-developed system that provides anti-ship and land-attack capabilities. The team plans to submit the system for the Navy's over-the-horizon missile program, which is expected to request a commercial-off-the-shelf product to be integrated into the service's littoral combat ships.
There is also international interest for the naval strike missile, said Kyrre Lohne, vice president of strategic communications for Kongsberg Defence Systems. It is currently in production for Norway's navy, and Malaysia has selected the system for its own littoral combat fleet. Poland is currently testing the land-based version.
Boeing and Lockheed are also contenders for the program, submitting the Harpoon over-the-horizon anti-ship missile and the long-range anti-ship missile, respectively. The final request for proposals was expected in February.
Topics: International, Foreign Military Sales, Missile Defense, Navy News