Goldfein: Data Fusion Central to the Future of Air Warfare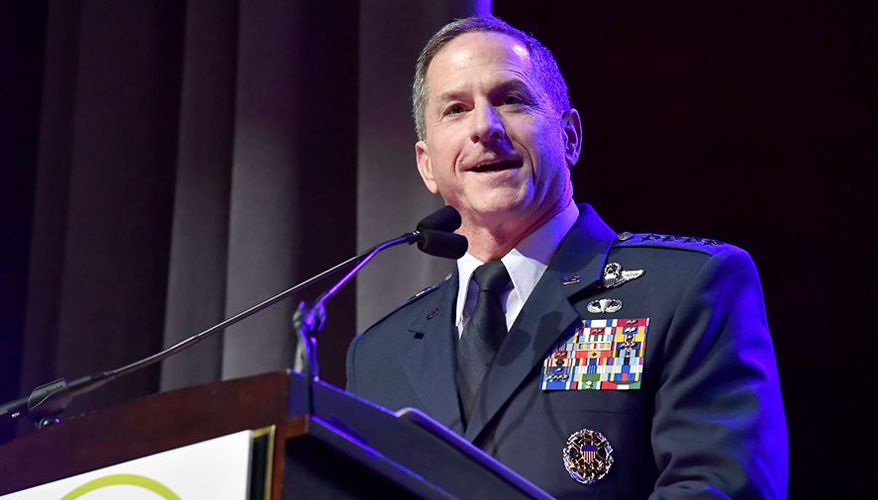 Gen. David Goldfein
ORLANDO, Fla. — The Air Force needs industry's help to take its next-generation command-and-control systems to the next level, the service chief of staff said March 2.

Fusing sensor data and communications from the land, sea, air, space and cyberspace will be key to the U.S. military's success in future battlefields, Gen. David Goldfein said at the Air Force Association's annual Air Warfare Symposium here.

Multi-domain fusion, or C2 and fusion warfare, as it is called in Air Force jargon, will be a major topic of discussion at the symposium, which is devoting five panels to the topic.

"The victory in future conflict … will go to that leader who can command and control his or her forces to create multiple dilemmas from multiple domains … at a pace that would overwhelm any enemy on the planet while denying the enemy the ability to do the same," he said.

International coalitions will be a key strategic asset as areas of operation have become increasing transregional and multi-domain, he said.

"We have to think about the future of conflict and where we're heading. We can't allow technology to drive us farther from our allies and partners if in fact we're going to fight with our allies and partners," he said.

The process for information-sharing with international allies and partners needs to be more clearly defined, Goldfein said.

"Sharing of information and operating as a coalition is actually as challenging culturally as it is technologically, because most of us have grown up asking the wrong question about information sharing," he said. "How many times have we asked the question, 'What can I share?' and the answer very quickly comes back, 'nothing' or 'very little,' the right question is actually, 'What can't I share and why?'"

The Air Force will also need help sifting through data by way of autonomous technology, human-machine teaming and machine-to-machine capabilities, Goldfein said. The Air Force is collecting "far more data than anyone can actually analyze," he added.

Lockheed Martin's F-117 is an example of industry cooperation. Developed in the 1980s, it was the first operational aircraft to be designed around stealth technology. But the original design with stealth technology was inspired by a math equation in a Russian journal, Goldfein said.

"We didn't think of stealth in the United States military. It wasn't even on our radar, so to speak " he said. "Industry came up with that idea."

"Are we the institution that's ready to accept the great ideas that industry is ready to roll our way?" he asked.
Topics: Air Force News, Air Power