NATO Agency Seeking Bids for IT Modernization Program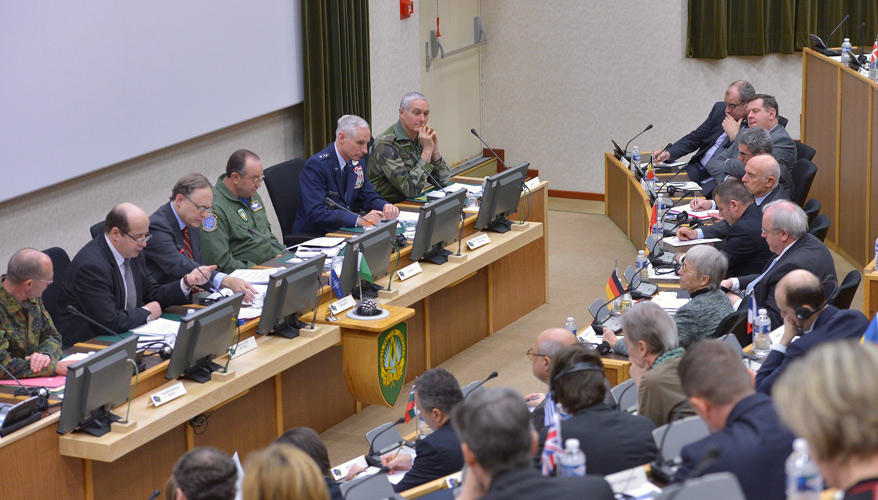 NATO officials discuss future cyber initiatives at the NATO Communications and Information Agency.
Photo: NATO
NATO's communication and information technology arm is seeking industry partnerships as it takes on a multi-year modernization effort for its information-technology systems, according to the organization's acquisition director.

The NATO Communications and Information Agency — which runs the information technology, communications and command and control for the multinational organization — has opportunities for defense and IT companies in various stages of the modernization program, Peter Scaruppe told National Defense in February.

"The IT modernization program is a very important one because it basically replaces all of the IT in all the NATO locations, and for all the NATO forces," he said.

The program entails: streamlining NATO's IT service offerings to increase efficiency and effectiveness; using a customer-funded delivery system to increase the flexibility and scalability of IT services; delivering services from a centralized set of locations; and implementing increased cyber security measures, according to the agency.

The program will span at least four contracts and be worth up to $537 million, and is expected to be completed by mid-2018, Scaruppe said.

Next on the priorities list is introducing a cloud-based services enterprise design by this summer, which Scaruppe called a major part of the modernization program.

"Storage is an important issue for all current and future IT programs, because with big data and the availability of big data, it is increasingly important," he said. "We are anxious to see what companies will provide."

NCIA Agency also plans to develop new data centers in Mons, Belgium, and Lago Patria, Italy, by early 2018, Scaruppe said. A third site has not yet been publicly revealed, but is being considered as an option "if and when we need it," he said.

"This is for the IT support and operational support for NATO locations and operations," he said.

NCI Agency has made concerted efforts in recent years to work more closely with industry to beef up its cyber defense capabilities. The agency contracts out about 80 percent of its work to the defense and security industries of NATO's 28 current member-nations, Scaruppe said.

This year, the agency will host its annual industry conference in North America for the first time since it kicked off six years ago, rather than in a European country, "to note the transatlantic alliance," he said.

The theme of the NCIA Agency Industry Conference and AFCEA TechNet International — which will be held in late April in Ottawa, Canada — is "Sharpening NATO's Technological Edge: Adaptive Partnerships and the Innovative Power of Alliance Industry." The conference builds upon last year's theme of why innovation is important to NATO's technological needs, Scaruppe said.

"Especially in the IT and cyber world, we know that there are a lot of innovators out there … not exactly keen on working with an 800-pound gorilla like NATO," he said. "Some are not familiar with the process, [so] we need to catch the right innovators."

One major part of the conference is dedicated to innovation challenges where agency officials and industry will discuss pre-determined areas of study, he said. "We did this last year, very successfully, and we got lots of proposals, many more than we thought we would get."

Conference attendees will learn of upcoming business opportunities with an overall budget of about $3.2 billion over the next two to three years, Scaruppe said.

Businesses also have the change to speak with agency experts ahead of potentially bidding on a project.

"We do this every year, but we're dedicating a lot more time to this part than usual [this year]," he said, adding that the agency hopes to attract more U.S. and Canadian industry members as a result.

Attendance rates at previous conferences have been about 70 percent European-based, Scaruppe said.

The agency is also looking to attract more cyber experts through the conference by running a next-generation skills exercise and innovators program, he said.

"We have a lot more work than we have staff for — and the same is true with the private companies — [and] we want to find innovative ways of how to attract these people, how to retain these people and also keep us current in the cyber exercise."
Topics: Global Defense Market, Infotech, Cyber, Cybersecurity