Invitation Imminent for Industry Participation in Air Force Light-Attack Aircraft Experiment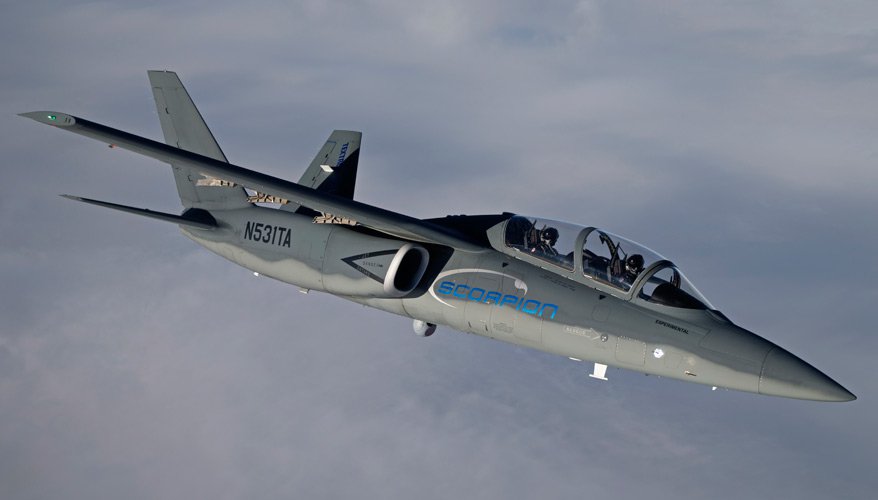 Textron's AirLand Scorpion jet has been considered a contender for OA-X.
Industry can expect an invitation March 17 to participate in the U.S. Air Force's light-attack aircraft experiment, known as OA-X, a top service acquisition leader said.

A commercial-off-the-shelf aircraft could provide light attack and close-air support to fourth- and fifth-generation fighters and help the service save money, Lt. Gen. Arnold Bunch, military deputy, office of the assistant Air Force secretary for Acquisition, said March 16 at an Air Force Association event in Arlington, Virginia.

"We want to look at a concept to see if we can have a lower operating cost [and] a lower unit cost, and for something that would be able to operate in a … more permissive environment," he said.

After companies are invited to participate, the Air Force anticipates having responses back from them within a month. The flight tests are scheduled to take place this summer at Holloman Air Force Base, New Mexico, Bunch said.

Attributes covered in the invitation include mission profiles, carriage requirements, mission duration, supportability, supply chains and manufacturing readiness, he said. The aircraft should be able to operate off a 6,000-foot runway or less.

"Why do I go with those numbers? So that we can go to an austere location and be able to drop in ... to operate," he said.

Air Force Chief of Staff David Goldfein previously said the service's supplemental budget request includes funds to pay for the experiment, and Bunch noted that OA-X "would not be something we do at the expense of our modernization efforts for our fifth-gen fleet."

Goldfein has said that remotely piloted aircraft could be considered for the experiment. Aircraft including Textron's AirLand Scorpion jet, Embraer's A-29 Super Tucano and Beechcraft Defense's AT-6 Wolverine have been mentioned as viable options.

Bunch told reporters that OA-X participation would be "open to everybody, but there are selection criteria."

"I don't know what the art of the possible is out there right now. I don't know exactly where industry's at, so we're trying to keep it as broad as we can," he said.

The Air Force hopes to have the experiment completed by the end of the year, but Bunch emphasized the service does not know how it would progress afterward.

"We will look at and analyze the data, then decide how we move forward," he said. "But we do not know that today."

A successful OA-X experiment could lead to more acquisition opportunities overseas, Bunch said, noting, "not every nation that we want to build a partnership with needs an F-16 or an F-35."

The OA-X experiment is one of several Air Force efforts to find new ways to streamline the lengthy and complicated acquisition processes.

The service has been exploring a concept called "PlugFest" to work with traditional and non-traditional companies to work on solutions to small projects that can be fielded more quickly, Bunch said. Currently, the Air Force has two efforts in the pipeline: Developing an open system design for a resilient embedded GPS/inertial navigation unit, which would provide a blended navigational capability.

"Our intent is to have an open design so that as technology changes or the threat changes, we can integrate a new capability quicker and get it out to the field with less testing," he said.

The next phase is to start building apps to explore open designs "so we can work on our navigation and make sure … we have a resilient infrastructure set in place," he said.

The second PlugFest effort currently underway is to make the electronic flight bags — the devices used by Air Mobility Command to conduct flight management tasks — more cyber resilient. The service hopes to award a contract within a month of announcing the program, Bunch said.

Meanwhile, Bunch said the B-21 bomber recently passed a preliminary design review, which was "very successful," he said.

The service has worked to keep the new bomber's requirements stable, he noted.
It has taken many lessons learned from the embattled B-2 Spirit long-range bomber program and applied them to the current program to develop the next-generation B-21 Raider aircraft being developed by Northrop Grumman.

"After we awarded the B-2 contract, we changed the mission profile on the whole thing … we had to redesign the whole plane," he said.

The open systems architecture the B-21 is using is being applied to other service programs, including the T-X end-to-end jet trainer program and the joint surveillance target attack radar system rehabilitation program, he said.

Service officials have remained tight-lipped about many aspects of the program, including its overall contract value, but that still pales in comparison to the level of secrecy that surrounded the B-2's production, he said.

"We have changed completely [from] how we ran that program," including oversight, interactions with Congress and transparency, he said. "It's remarkably different than it ever was on the B-2 program."

"One of the things we learned on the B-2 was we weren't open enough; people didn't understand what we were doing and we didn't want to talk," he said. "So we have got to do better, but we can't go too far."

The service works with the intelligence community and others to determine the information that is released to the public, Bunch said, but there remains a "balance of transparency so that people understand exactly what we're trying to do, with making sure that we don't release too much information so that potential adversaries can take advantage."

The service does not anticipate releasing any more information on the B-21 "for a period of time," though it has been providing regular updates to top Air Force officials and to members of Congress, he said.

"Right now, I think we've released enough," he added.

Bunch also discussed the progress of several space-related programs. The Air Force continues to conduct reviews with the office of the undersecretary of defense for acquisition, technology and logistics to measure the progress of the GPS next-generation operational control system, or GPS OCX, he said. OCX, part of the GPS III program, is being developed by Raytheon. The troubled program has undergone several delays and is over budget.

These are "detailed reviews where we take a day and look at the entire program," Bunch said, adding that it is seeing improvements as the Air Force works to deploy the signal called the M-code that would improve the anti-jamming capabilities of military GPS signals. "We remain committed to getting that done so we can get to M-code as quickly as we can," he said.

"We have underway efforts to do early M-code use so that we can get to that signal we've got up there more encrypted and more secure," he added.

Also, the service March 14 released a draft request for proposals for launch service agreements to transition from the use of the Russian-supplied RD-180 rocket propulsion engine, and encourage private launch services that can reach all satellite orbits. Responses are due by March 29, according to the draft RFP.

"What we want to get to is two domestic commercially viable providers that can get to all the orbits that we need," Bunch said at the event. To date, the service has focused more on replacing the rocket propulsion system itself, but this draft RFP expands further into "the other things that maybe go into it to have a launch service," he said.

The Air Force currently has four transaction agreements with industry to share the development costs of rocket propulsion systems, Bunch said. Those companies include SpaceX, Orbital ATK, United Launch Alliance and Aerojet Rocketdyne, according to the draft RFP.
Topics: Air Power