Army Rapid Capabilities Office Seeks to Emulate Special Operations Command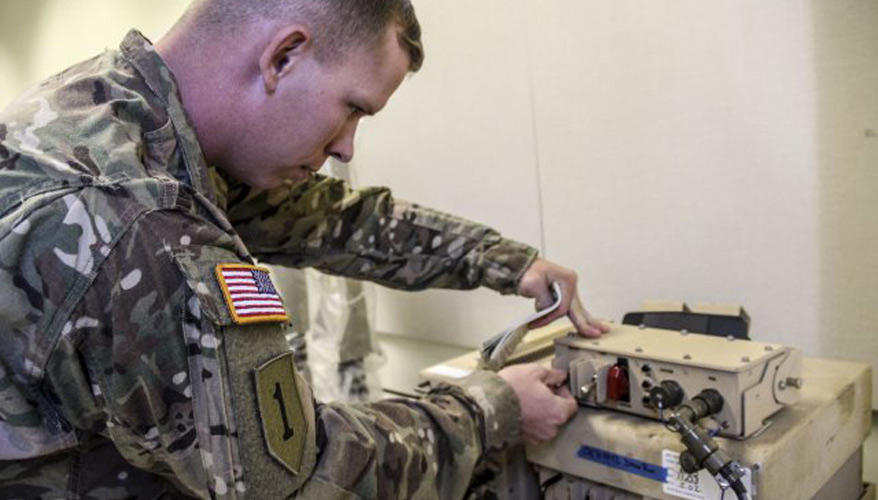 A squad leader troubleshoots a system during an electronic warfare certification course at Fort Riley, Kansas.
HUNTSVILLE, Ala. — The Army's Rapid Capabilities Office is borrowing ideas from Special Operations Command's acquisition branch as it seeks to usher new technologies into the force.

The organization was set up in August with the aim of expediting the delivery of new, high-priority capabilities to soldiers. It is allowed to take on more risk than the traditional acquisition process would typically allow.

"Our focus is the delivery of capability in one to five years," said Douglas Wiltsie, the director of the office.

SOCOM is well regarded within the defense community for its agility in acquiring new equipment for its commandos.

"We are partnering with them in a lot of ways," Wiltsie told National Defense March 13 at the Association of the United States Army's Global Force Symposium in Huntsville, Alabama. "They really have a great ability to work with industry."

Special Operations Command has been using a "SOFWERX" facility in Tampa, Florida, to tap into additional sources of innovation and encourage rapid prototyping. Personnel from the Rapid Capabilities Office have visited SOFWERX to attend discussions with industry.

"We're looking to establish something very similar to that," Wiltsie said.

Another SOCOM initiative, known as Project Vulcan, enables members of the special operations community to input information about available industry technologies into a database that can be accessed by officials looking for new tools for warfighters.

"They've allowed us to leverage that," Wiltsie said.

He described James "Hondo" Geurts, SOCOM's acquisition chief, as "a pioneer" when it comes to tapping into innovation.

"I talk to him as often as I can because he'll help us get there," he said.

Wiltsie's chief of staff previously served as a program executive officer at Special Operations Command, he noted. "Bringing him in allows us to accelerate with the same kinds of processes and procedures that they use to go fast," he said.

The Rapid Capabilities Office aims to avoid the long lead times that are often associated with bringing new equipment into the Army.

"Developing technology per se will be very, very limited because we've got to get it integrated, do an operational assessment, and get back to the board [of directors] with a decision on the performance level. … Then there's a decision on whether to field" it, Wiltsie said.

The office is also on the lookout for "high risk/high reward solutions that the Army may want to go after," Col. Keith Hirschman said during a briefing for members of industry at the symposium. The three-day conference, set to conclude March 15, drew a large crowd of defense and industry officials looking for business opportunities.

Technology focus areas include: big data analytics and artificial intelligence for cyber operations; alternative position, navigation and timing; electronic warfare; and swarm and anti-swarm capabilities for unmanned systems.

The organization aims to "tee up decisions for leadership" in monthly meetings about potential solutions that could be pursued, said Hirschman, who focuses on emerging technologies at the Rapid Capabilities Office.

The outfit, which is based at the Pentagon, is using "other transaction authorities," known as OTAs, to streamline the acquisition process and sidestep bureaucracy.

"Not everything is going to go that way but it certainly gives us a lot of flexibility to … get on contract quickly to get to the prototype phase or demonstration phase," Hirschman said.

Nevertheless, the organization is still trying to establish a rhythm in its relationship with industry, Wiltsie said.

Industry has been "patient" so far, he said. "We've got to have a natural engagement with them both formally and informally that will allow us to exchange ideas."

When it comes to formal interactions such as industry days, "We want to try and do it quarterly," Wiltsie said. "The question … is would it be something like this [forum] or would it just be some [requests for information] … through the OTAs that says, 'We're interested in this area or that area.'"

Another key goal of the office is partnering with nontraditional companies as it seeks new technologies for soldiers.

"We stood up in August, so we haven't had a whole lot of that" yet, Wiltsie said. "But in cyber where you find a very large commercial capability, we've been very, very successful in being able to reach out and have discussions with them through these other transaction authorities."

The organization is also reaching out to the Defense Innovation Unit Experimental, known as DIUx, a Silicon Valley-based Defense Department outpost that aims to link the Pentagon to the commercial sector in the nation's technology hubs.

"We've connected … with the folks out in the Valley and we're building a relationship… with them so that we can collaborate," Wiltsie said.
Topics: Army News, Land Forces