Italy's Leonardo Embraces Underdog Status in U.S. Air Force Trainer Competition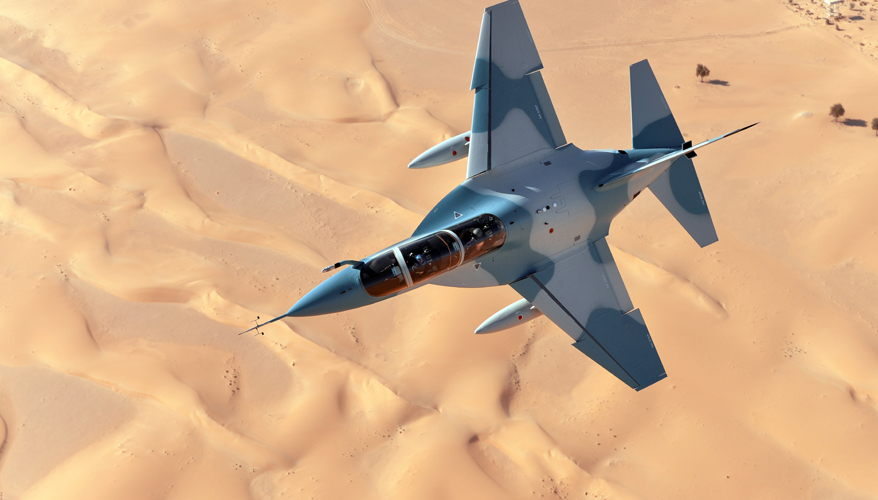 M-346 trainer
Photo: Leonardo
The aerospace industry's top firms are throwing their hats into the ring for a chance to supply hundreds of trainer aircraft to the U.S. Air Force. Bids are due March 30.
The T-X jet trainer contest already has been billed as a showdown between favorites Lockheed Martin and The Boeing Co. Lockheed is pitching the T-50 trainer it co-developed with South Korea. Boeing teamed with Sweden's Saab Aerospace and designed a brand-new airplane. Another contender is Sierra Nevada Corp., which is aligned with Turkish Aerospace Industries.
So industry watchers were blindsided about a month ago when Leonardo DRS — the U.S. subsidiary of Italy's aerospace giant Leonardo — announced it would offer the Alenia Aermacchi T-100, a variant of the company's M-346 trainer. This was the firm's third attempt to jump into the T-X program after previous alliances with General Dynamics Corp. and the Raytheon Co. fell apart.
The Air Force plans to award the winner initially a $628 million contract for 350 aircraft and accompanying ground-based training systems. Over its lifetime, the program could be worth $16 billion. Whoever is selected also would stand to sell hundreds more aircraft in the export market.
"We think we have a very good opportunity," Leonardo DRS Chief Executive Officer William Lynn said in an interview.
Lockheed and Boeing may be capturing the headlines, "but in the end the numbers rule," Lynn said. To win, "you have to have the low-cost, low-risk solution."
Like every company in the defense industry vying for a Pentagon contract, Leonardo will be touting the jobs it would create in the United States if it won the T-X award.
Lynn said the company soon will announce the U.S. location of its aircraft manufacturing facility. It already is teamed with Arizona-based Honeywell International for the engine, and with Florida-based CAE for the training simulators.
CAE spokesman Chris Stellwag said the company has been part of the Alenia M-346 trainer team since the aircraft was introduced in 2008. "Are we the underdog? That may be the perception, put people forget the M-346 has won every competition it's been in," Stellwag said. The trainer was selected by Italy, Singapore, Poland, Israel and the United Arab Emirates, although the UAE has yet to sign a contract.
Lynn said the T-100 model will be updated to meet specific U.S. Air Force requirements.
The speculation on T-X is how the Air Force assesses the value of a known commodity versus a glamorous new design. Lynn said he expects the T-X decision to be based on objective criteria. "This will not be a subjective competition," he said. "It's price, adjusted modestly for capability and risk. We think that kind of competition puts us on a very strong footing."
This program is a stark illustration of how the United States can benefit by acquiring military systems that someone else paid to design and develop, but ultimately creates jobs domestically. "DoD can take advantage of existing technology Leonardo developed. But the jobs are still in the U.S.," he said. "You're going to get the best price, plus jobs."
Topics: Air Force News, Global Defense Market, Training and Simulation