Air Force Chief Not Surprised Companies Are Dropping Out of T-X Program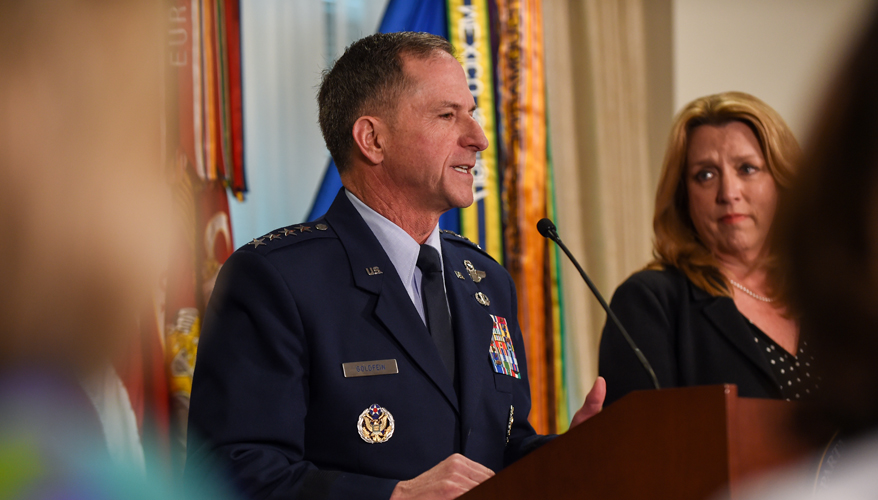 Gen. David Goldfein
Photo: Defense Dept.
It is not surprising that top defense companies are dropping out of the highly anticipated T-X trainer competition, the chief of staff of the Air Force said Feb. 7.
Northrop Grumman and BAE Systems announced last week they would not submit a proposal for the T-X trainer program, "as it would not be in the best interest of the companies and their shareholders."
In late January, Raytheon and Leonardo released a statement saying that while their T-100 offering is a strong solution, "our companies were unable to reach a business agreement that is in the best interest of the U.S. Air Force."
Gen. David Goldfein said he expected a shakeout in the competition given the strategy the Air Force is pursuing to field a new jet fighter training system to replace aging T-38 aircraft.
"What we tried new this time is that we really opened a robust, inclusive dialogue with industry and went through a number of draft requests for proposals," he said during a meeting with defense reporters in Washington, D.C. "
Because of that process, it makes sense that competitors would drop out if they realized their offering wasn't a good business decision, he said.
"I'm not at all surprised that some of them along the way came and said, 'You know what, now that we really have a better sense of what the customer is looking for and what the other competitors have, we're going to make a business decision not to jump into this race,'" he said. "I think actually we could have predicted this coming along the way."
The remaining competitors include a Boeing-Saab team, a Lockheed Martin-Korea Aerospace Industries team and a Sierra Nevada Corp. and Turkish Aerospace Industries team.
Stavatti Aerospace also recently announced that it would enter its Javelin, twin-engine, two-seat military jet trainer and very light fighter aircraft into the competition.
In a statement, the company said, "Stavatti is now building the Javelin industry team and may partner with a larger prime contractor to expand the Javelin program's ability to provide comprehensive manufacturing, training and contractor logistical support to satisfy T-X requirements."
In late December, the Air Force released a final request for proposals. The T-X program — which is worth $16 billion — initially calls for the procurement of 350 jets and a number of ground training systems.
The final RFP was informed by more than 1,300 different recommendations from industry, Goldfein said.
"If you really like the old way of doing business, you probably didn't like this new way of doing business because it took longer," he said. "If you want to have more inclusive dialogue with the customer you probably loved this. Because every time we went back and forth you got a better sense of what the customer was thinking."
He noted that he wasn't worried about there being less competition in the program.
"Right now what we have is two competitors that have a very good sense of what we're looking for," he said. "I'd be concerned right now if I had one competitor. Then I would be sitting back going, 'OK, let's go back and look at our process here.' But as long as we've got a competition — and it's a really informed competition now as a result of this ongoing dialogue — I think we're in a pretty good place."
Topics: Air Force News, Training and Simulation