Defense Buildup: More Money for Existing Systems, Less for Next-Generation Weapons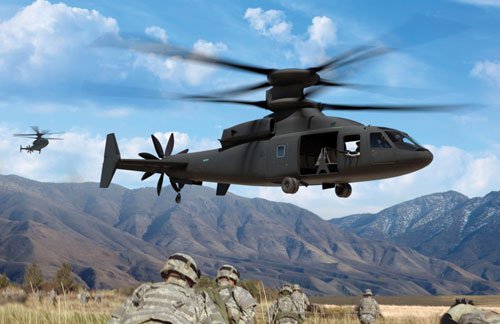 SB-1 Defiant concept for Future Vertical Lift
Photo: Boeing
Budget forecasters are beginning to paint a picture of what the Trump administration's defense buildup might look like. Almost everyone agrees that spending will not skyrocket to the level congressional hawks and defense industry would like, so the question is how the Pentagon will prioritize whatever additional funding it winds up receiving.
The data crunchers at the consulting firm Avascent project an increase of about $270 billion for defense spending over the next five years, a much more conservative number than the $430 billion five-year boost proposed by Sen. John McCain, R-Ariz., chairman of the Senate Armed Services Committee.
The fiscal year 2017 budget resolution passed last month by the House and the Senate shores up defense spending to $618 billion for fiscal year 2018, or $70 billion over the Budget Control Act cap of $549 billion. McCain's plan would give the Pentagon $640 billion in 2018.
The Avascent forecast takes a "middle ground," Managing Director Douglas Berenson said in a conference call. "The increase we project is considerably smaller than a lot of people hope for." He expects a request of $25 billion for emergency funds, known as "overseas contingency operations," for fiscal year 2017. By comparison, House Armed Services Committee Chairman Rep. Mac Thornberry, R-Texas, said he expects the OCO request to reach $18 billion.
Given these cautious projections, a key message for the defense industry is that the Pentagon likely will not be able to afford many new starts, especially higher risk projects that are years away from production.
"Complex new start R&D programs will require much more funding to reach production maturity than the fiscal year 2017 budget assumes," said Berenson. Considering the Pentagon's track record in underestimating the cost of research-and-development programs, Avascent concluded that funding increases over the next five years will focus on "keeping existing programs moving."
"We are assuming that all this focus on executing current programs with greater efficiency and lower risk means there's relatively slow progress on new-start concepts," said Berenson.
Next-generation weapons systems that will face especially troublesome fiscal roadblocks are the so-called "penetrating counter-air" future fighter aircraft and the Army's "future vertical lift," Berenson said. "We take a fairly jaundiced view of how rapidly those will go."
The penetrating counter-air weapon would replace the Air Force F-15C and F-22 Raptor air-superiority fighters. The project is in the early phase of concept development, with a goal to deploy a new system by 2035.
Future vertical lift, which started in 2008, is a long-term effort to replace most current helicopters with advanced new designs.
The unpredictability of the cost of these ambitious programs makes them vulnerable, said Berenson. Futuristic weapons systems also are less politically desirable because they don't create manufacturing jobs in the near term. And if Trump delivers on his promise to increase the size of the military, forces will need equipment sooner, rather than later.
"That will be done through improvements and upgrades to existing equipment," said Berenson. Ground vehicles, for instance, offer an opportunity to spur manufacturing jobs in the Upper Midwest that have the bulk of the military vehicle industrial base. In the case of the Navy, a significant portion of added shipbuilding money will go to keep existing programs on track, particularly the new ballistic missile submarine that will replace the aging Ohio class. The massive naval buildup Trump talked about is not likely to happen at least during this four-year term. "We assume getting to a 350-ship Navy will take many years, beyond our five-year window for our forecast," said Berenson.
The Air Force will have to hedge its bets as it pushes forward with the development of a new long-range nuclear bomber, a new aerial surveillance airplane and a trainer jet. All these programs will probably cost more than expected, said Berenson of the B-21, the JSTARS recapitalization and the T-X. In the meantime, the Air Force will work on reducing the age of its inventory by buying more equipment from its existing lines, namely the F-35A fighter and the KC-46 refueling tanker.
This administration, like its predecessors, soon will find out that cost assumptions — particularly in operations, maintenance and R&D accounts — are always too optimistic. It also will run into the massive bureaucratic roadblocks trying to cut administrative bloat. "Goals about internal savings will be hard to achieve," said Berenson. "To get those savings you have to make significant reductions and consolidations in DoD functions. I don't see that in the cards."
Officials will play up and talk up "marginal savings" but this will not fundamentally change the math, Berenson said. That reality, along with fiscal pressures caused by personnel growth, means there will be "real limits to new-start acquisitions."
Procurement dollars that might be added to the budget will likely end up in mature production lines, he said. "The Trump team really wants to use defense procurement as a means of priming the pump of manufacturing jobs. It goes to the strategic imperative of increasing the force and recapitalizing the force more rapidly."
The next-generation defense technology effort that falls under the "third offset" umbrella — a term coined by Deputy Defense Secretary Bob Work during the Obama administration — may continue on, albeit under a different brand name, said Berenson. "We are not assuming anything goes away," he said. "Bob Work staying on is an indication that the general thrust of the third offset will persist. ... But I will not make a projection on whether the phrase 'third offset' survives this year."
The capabilities sought under the third offset — autonomy, artificial intelligence, undersea warfare, directed energy — are central to the military services' thinking about future capabilities.
The Office of Management and Budget, led by deficit hawk Mick Mulvaney, will put the squeeze on the Pentagon to lower the cost of weapon systems, but do not expect to see the phrase "better buying power" on any briefing slides, said Berenson. Terms that are associated with the Obama years will be banished, "but you'll still see OMB push for acquisition reforms, efficiencies in process and organization structure."
Concerning the impact of Trump's soft-on-Russia foreign policy, Berenson believes the thinking of Defense Secretary Jim Mattis will ultimately influence spending decisions. "Trump will probably not argue with the notion in the abstract of having a larger army. Mattis has thought through this very carefully. Mattis' sense of strategic priority — that coincides with the broader Republican sense of strategic priorities — is the one that really drives this investment forecast," said Berenson. "The forces that would be relevant to counter a Russia scenario in Europe will increase."
Topics: Defense Department