Air Force Budget Request to Include Light Attack Aircraft Experiment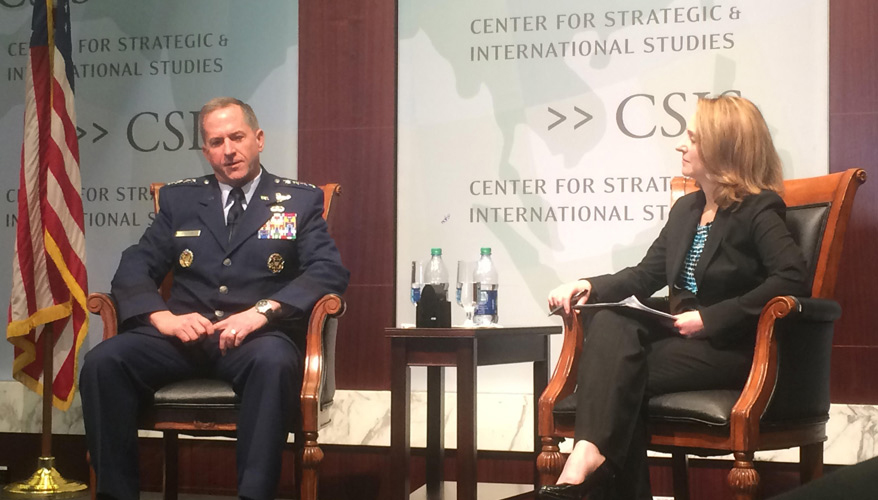 Gen. David Goldfein with CSIS senior vice president Kathleen Hicks
Photo: Vivienne Machi
The Air Force's supplemental budget request will include funds to pay for an experiment that may lead to the procurement of a commercial-off-the-shelf light attack aircraft, the service's chief of staff said Feb. 23.

The Air Force is working with the defense industry to find a light attack and/or low-end fighter aircraft that could provide close-air support, Gen. David Goldfein said at an event at the Center for Strategic and International Studies, a Washington, D.C.-based think tank. It intends to conduct an experiment known as OA-X, where it will look at contenders for the proposed program.

He did not say how much money would be requested, but noted, "it's not a lot of money to do an experiment … it's in the supplementary request."

Defense Secretary James Mattis this month issued a set of budget directives aimed at addressing department shortfalls. The Pentagon is expected to submit a supplemental budget request for fiscal year 2017 by March 1 to the Office of Management and Budget.

Though he has previously referred to the need for a less expensive attack-type aircraft, Goldfein noted remotely piloted aircraft could also fill the need for close-air support.

"There is no reason not to look at RPAs. We're going to be looking at those too," he said, adding that the service will be working with industry to see what is available immediately, can operate in contested environments and be used by allied nations and coalition partners.

Goldfein has previously mentioned Textron's AirLand Scorpion jet as a candidate for consideration in OA-X, and experts have pointed to Embraer's A-29 Super Tucano and Beechcraft Defense's AT-6 Wolverine as viable options.

"The next step of the process is to go to industry and say … 'show me what you got,'" he said.

Goldfein also praised the F-35 joint strike fighter. President Donald Trump has blasted the program's price tag and personally discussed the program with Marillyn Hewson, CEO of Lockheed Martin, who is developing the F-35 Air Force, Marine Corps and Navy variants.

He told the audience that the F-35A is "flying and ready for combat." It recently debuted at the Red Flag exercise at Nellis Air Force Base, Nevada, and it performed "beautifully," he added.

"We have already flown literally thousands of hours on this aircraft … The Marines have already done a combat deployment, we're getting ready to do a combat deployment."

Lockheed recently announced the cost for the aircraft's Lot 10 would be $8.5 billion for 90 new aircraft. The deal amounts to over $700 million in savings compared to the previous lot, and marks the first time the price for an F-35A fell below $100 million.

"We've seen a lot of discussion lately with the cost of the F-35. … Part of what we struggle with right now is that it has been so long since we've procured a new aircraft that we've lost a little bit of our muscle memory of what it's like to actually bring on a new weapons system," Goldfein said.

He also discussed the Air Force's efforts to streamline the acquisition process by coordinating earlier and more thoroughly with the defense industry in the request for proposals process.

The service has taken longer to release the final request for proposals for the T-X trainer jet and the UH-1 Iroquois helicopter replacement because of the "ongoing, robust dialogue" with industry to nail down the requirements for the programs.

"If you're going have a more robust dialogue, that is going to generally delay, potentially, the release of [a request for proposals], he said. "We want to make sure when the RFP is going to hit the streets, it's right."

Goldfein remained tight-lipped about how the service might tweak the UH-1 Iroquois requirements in its final RFP, citing the ongoing dialogue with industry. The Air Forces uses the Hueys to do security at nuclear land-based missile sites. It has a requirement for 84 replacement aircraft.

He also discussed the Air Force's role as part of the European Reassurance Initiative, assisting NATO allies to deter increasingly aggressive tactics from Russia.

"What we need to have first and foremost is bases," he said, adding that the focus has been investing in infrastructure "across a variety of bases across Europe so I can rapidly bring forces to bear" if needed.

He used the example of a recent of an attack on Islamic State militants in which the Air Force deployed B-2 bombers based at Whiteman Air Force Base in Missouri to illustrate his point.

"Whiteman Air Force Base was as much a part of that strike as the B-2s it launched," he said.
Topics: Air Power, Air Force News, Budget