BATTLEFIELD COMMUNICATIONS
Vendors Cautiously Optimistic As Army Prepares to Solicit New Bids for Soldier Radios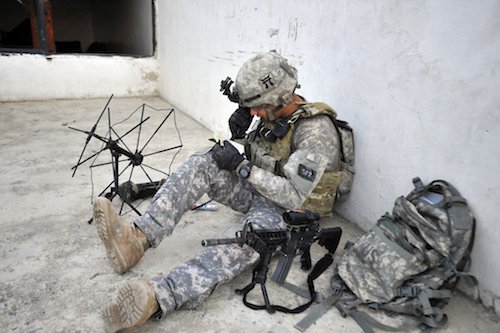 The Army is embarking on a new effort to equip soldiers with digital handheld radios that can be used for both voice and data communications.
A solicitation for contractor bids is expected in May, and the Army says it might select a vendor as early as September. If all goes as planned, the Army could buy as many as 100,000 radios over the next several years.
Given the Army's rocky history with radio procurements, vendors are watching this one with a wary eye.
It was just about three years ago when the Army chose two manufacturers — Harris Corp. and Thales — to start mass production of a "rifleman" radio that would be fielded to every soldier. Initially conceived as a five-year $4 billion program, production was halted last fall after 8,000 units. It had become apparent that the single-channel radio — designed for data transmission such as maps, pictures and text messages — was less than functional because it could not be used for voice communications.
The next radio will be a dual data-voice device that will be supplied to unit leaders, and will be comparable — if not identical — to the radios that currently are being acquired by the U.S. Special Operations Command.
Harris and Thales both intend to bid for the two-channel Army leader radio, and said they are optimistic that the Army will stick with the program for the long haul.
The Trump administration's emphasis on shoring up the combat readiness of U.S. forces should help the Army's tactical radio procurement efforts, executives predict. "Every indication I've seen, including recent correspondence from Defense Secretary James Mattis, is encouraging for us," William Brown, chairman and CEO of Harris told industry analysts earlier this month. If the priority is to make sure the force is "prepared, ready, sized appropriately, and has mission-critical capabilities," that should include having modern radios to communicate within the U.S. military and with coalition partners, Brown said. "Every indication is that there remains strong support going into our fiscal 2018 for modernization. SOCOM is moving along well both on the handheld radio as well as on the manpack."
Army Col. James Ross, project manager for tactical radios, said the industry was informed last fall that the Army intended to change course on the rifleman radio, and noted that officials have gone to great lengths to keep vendors up to date on changing requirements.
"We still plan to field both single-channel and two-channel rifleman radios," Ross said in an interview. "The Army decided it wanted a two-channel to reduce the burden on the soldier. Instead of having to carry two radios, the SRW [soldier radio waveform] for data and SINCGARS for voice, we can go to one radio to reduce weight, the logistics tail and increase technical functionality."
Ross expects bids from multiple manufacturers for the new radio. "We are finalizing the documentation for the two-channel program. We met with industry. We are looking to release an RFP [request for proposals] in May and award a contract in late September," he said. "We believe there's enough of a viable market for a two-channel radio. We will move forward with testing and plan to buy as many as we are funded."
The total quantity — which could still be revised by the Army Training and Doctrine Command — is about 100,000 two-channel leader radios to be acquired over several years.
In a statement, a Thales spokesman said the company already produces a two-channel handheld radio that is used by U.S. special operations forces and meets the Army's specs. Thales officials worry, however, that if requirements change once again, manufacturers will think twice before committing resources to these competitions.
"Anytime there are changes to funding or acquisition programs, instability and long-term planning challenges are created for industry," said the Thales statement provided in response to questions from National Defense. "The DoD must be mindful of these effects if it wants to maintain a competitive industrial base."
Dennis Moran, Harris vice president of government business development, said the company also makes a two-channel handheld radio for SOCOM. "That blends very nicely into the leader radio we'll be offering to the Army," he said in an interview. Harris also expects the Army to allow vendors to sell the radio internationally, understanding that manufacturers need larger orders to recoup their investment.
"It's a global market," said Moran. "A smart company is going to invest in products that satisfy both international foreign military sales requirements and commercial, as well as the DoD market."
Ross, the Army project manager, said the military tries to minimize export restrictions for tactical radios. "We have several radios where the basic technology could be sold to other markets, whether it be first responders, or overseas markets," he said. "We try to ensure they're not overly restrictive and don't limit competition. We want to get the best possible technology that is flexible so it can grow in the future."
There are nevertheless security features that are unique to the U.S. armed services. "We are the military. We must operate under the rules of the National Security Agency," he said. "That's something that will never go away. Vendors have to be certified," he added. "Overall we are looking at largely commercial technologies. But the rules are what they are."
Growing pressure on the military to protect its communications systems from hackers and from potential satellite disruptions is fueling demand for encrypted and jam-proof software for tactical radios. "What we're seeing is an emphasis on the development of waveforms that can operate in platforms in a denied environment," said Moran. "We're seeing this specifically in the Army, as well as in the Marine Corps, who want secure waveforms."
Ross insisted that security is a never-ending challenge. "Our capabilities are constantly emerging," he said. "The enemy has a vote. We have to plan for as much resiliency in our network as we can. That's not to say that we can overcome every single challenge out there." Security can be boosted with technology but also with tactics, he said. "There is no magic solution in a box or piece of software."
Topics: Battlefield Communications