Special Operations Iron Man Suit on Track for 2018 Debut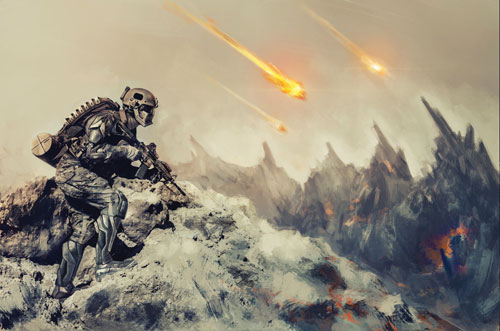 Photo: iStock
BETHESDA, Maryland — Special Operations Command's much talked about tactical assault light operator suit is on track to make its debut in 2018, SOCOM's chief acquisitions executive said Feb.15.

TALOS, also dubbed the Iron Man suit, is about a "year and a half-ish away," said James "Hondo" Geurts, who serves as SOCOM's director of acquisitions, technology and logistics.

"I think we will deliver a prototype. Will it do everything we want? That was never the intention," he said at the National Defense Industrial Association's Special Operations/Low Intensity Conflict conference.

The suit has gone through about five iterations since the program kicked off in 2013, he said.

The program began at the request of then SOCOM Commander Navy Adm. William McRaven, who wanted more protection for special operators kicking down doors during raids. Operators are particularly vulnerable to small arms fire or bomb blasts, he said. He gave the command's acquisition community five years to come up with a solution.

One of the unexpected benefits of the program has been the spinning off of several technologies needed for the suit that have already reached the field with other programs, he said.

"The amount of spinoffs — things that we have developed to drive into the force — has been absolutely phenomenal," he said. Power struts, augmented reality and symbology for night-vision goggles are some of the applications that have been adapted from research going into TALOS, he added.
Survivability and armor is a big part of the program, but situational awareness, receiving vital information and the ability to communicate are also part of the equation, he added.

Despite his confidence that the 2018 deadline will be met, Geurts said there are still "tremendous hurdles" that have to be overcome. Powering the exoskeleton has been mentioned since the outset of the program as a problem and still is an issue, he said. SOCOM could use industry's help help with that and miniaturizing components, the algorithms that help the operator control the suit, and communication links, he added.

"We continue to look for ways to on-board process or bring in data for situational awareness," he said.

"When you think of TALOS, don't just think of an exoskeleton and armor, think of the whole equation," he said. About 215 organizations have been involved in the project since its outset, according to a slide in his presentation.

Geurts also touted another high-profile project that began under his tenure, SOFWERX, an innovation hub located in Ybor City in Tampa that is intended to being in ideas from outside the military acquisition community.

It is not a means to bypass the traditional acquisition system, he said, describing it as a "mosh pit of ideas." It is intended to garner ideas that are "left of requirements," he added. One of its strengths it its neutral location. It's not located on any military base, company or university campus. It invites anyone to drop in and share their ideas or to participate in its events.

One of its events brought in interested parties to look into augmented reality for SEAL team small tactical boat drivers, he said.

Geurts expected SOCOM's robust research-and-development budget to continue, with projections from fiscal year 2018 to 2021 to range between $470 million to $483 million. The 2017 budget has $497 million, down from $554 million enacted for fiscal year 2016.

Research-and-development priorities he listed include: signature management, or stealth, for personnel and platforms; advanced armor for better ballistic protection; for froward combat casualty care; counter-terrorism tracking, tagging and locating; cyber and social media analysis tools and; leap ahead power and energy systems.
Topics: Special Operations-Low Intensity Conflict, Special Operations