SOCOM Procurement Mantra Lighter Quicker Cheaper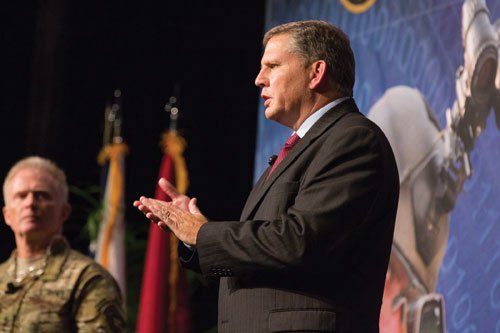 U.S. Special Operations Command acquisitions executive James F. Geurts
Photo: EPNAC
In the cagey world of U.S. special operations weapons and technology, no idea is too ridiculous or too good to be true.
"My goal is to simplify the process so anybody with an idea can help SOCOM," says James F. Geurts, acquisition executive for U.S. Special Operations Command.
One of the axioms known as "SOF truths" is that humans are more important than hardware, and that the best equipment in the world cannot compensate for a lack of the right people. Culture aside, special operations forces are known for creative and unconventional use of technology. And as missions get tougher, SOCOM is feeling pressure to step up its innovation game, Geurts tells National Defense.
"I continue to see an exponential acceleration of requirements in almost every dimension," says Geurts, who oversees about 600 researchers, engineers, procurement and contracting officers.
SOF commanders always are on the lookout for equipment that is low maintenance and easy to carry around in warzones, and of late they have become especially interested in miniaturized spy gear and data-mining software that they can easily operate and maintain in the field.
Special Operations Command — with about 70,000 active duty, National Guard and reserve personnel from all services and an $11 billion annual budget — is viewed as a "strategic asset" and is poised to take an even bigger role in counterterrorism and other security challenges, analysts predict. When President Obama took office in 2009, SOCOM had about 56,000 personnel and a base budget of about $6 billion. SOCOM spokesman Ken McGraw points out that most of the personnel growth that occurred during the Obama presidency had been programmed during the George W. Bush administration.
"SOF have shouldered a heavy burden, suffering a high number of casualties over the last eight years and maintaining a high operational tempo that has increasingly strained special operators and their families," says analyst Jonathan Schroden, of CNA, a nonprofit research and analysis organization in Arlington, Virginia. He believes President Trump is inheriting an "increasingly complex security environment and a trendline of increased reliance on SOF."
SOCOM's equipment buyers have their work cut out for them, says Geurts. "We have a high operational tempo, forces engaged in a wide variety of activities, from training and advising, to full combat, exercising and building relationships," he adds. "I see us operating in multiple continents and environments, from rainforests, to deserts, and the Arctic." The SOF acquisition team, he says, has to ensure "we can understand, develop and field technology to this wide, diverse set of requirements."
At the same time, "we see the acceleration of technology development and new inventions from our industry partners," says Geurts. "My job is how to tie all those together, stay very close to the operational customers and closely tied to the inventors, engineers, entrepreneurs and folks with bright ideas."
Geurts is especially enthusiastic about SOFWERX, a technology incubator organization that SOCOM set up in Tampa, Florida, not far from the command's headquarters at MacDill Air Force Base. It was created more than a year ago over growing concerns that military technology has been lagging and the command needed a new channel to communicate with the faster-moving private sector.
"We've improved through SOFWERX," says Geurts. "We are getting ideas, we are bringing together a diverse set of skills to solve challenging problems."
The most frequent request from operators is for technologies to help produce better intelligence, faster. "How do we turn the massive amounts of data that's around into actionable information?" Geurts asks. "We have an overabundance of data. How do we quickly take advantage of it? That's an emerging area for us."
The bulk of SOCOM's procurement dollars are spent on big-ticket aviation programs like the overhaul of the C-130 aircraft fleet, and maritime platforms such as high-speed boats and submersibles. There is also a greater focus on reducing the logistics burden for operators — the weight and energy demands of every piece of equipment. Troops carry more than 100 pounds of gear in their rucksacks.
"We have to make systems more flexible for multiple environments," says Geurts. "How do we use technology to simplify things for the operator? Over time we have added technology but also complexity," he says. "What we're getting from the commercial side is clever ways to use technology, make things easier to train, to use, especially as we operate with partners from other countries," he says. "Complex systems that are hard to support can be a limitation."
Smaller and cheaper surveillance drones are on the wish list, he says. "The commercial market drives miniaturization. I have systems that take runways and large crews to support. That can be a limiting factor," he says. "I think you'll see us focusing on smaller, runway-independent, man-portable surveillance systems, with miniaturized sensors. So instead of a few expensive systems, we'll have more, affordable systems."
SOCOM leaders generally frown on the Pentagon procurement system for being slow and cumbersome. Geurts created a small office called "acquisition agility" that searches for opportunities to buy existing technologies to fill immediate SOF needs. "They look across all federal government and international partners," he says. "Wherever we see interesting ways to approach acquisition — whether that's technology development, contracting tools, processes, we are able to pull best practices from wherever those may come from."
Geurts cites SOCOM's six consecutive Pentagon awards for procurement excellence. "Part of that is our novel approach to training our folks. We bring in industry representatives so both sides can get a sense of walking in each others' shoes. That has been an important tool for us," he says. "The acquisition process is a lot more than writing a contract."
Once a month, Geurts hosts "capability collaboration events" where operators, acquisition managers, technologists and contractors brainstorm. "Before we even think about writing a requirement we get together and talk about a particular mission area, so we understand where we might work together, where do we need technology development, or are there commercial opportunities we can leverage right now?" he says. "Those events have been tremendously effective for us. We do the talking before we put together a contract or an acquisition strategy."
Bringing diverse groups together is "key for us," says Geurts. "We'll always need mobility platforms, communications platforms. But how we put those together, how we become interoperable with our partners, all those are important questions."
Retired Maj. Gen. David Morris, a former Green Beret and chairman of the Green Beret Foundation, advises companies that want to do business with SOCOM to enter "cooperative research and development" agreements, or CRADAs. This arrangement gives companies an "insider's perspective on SOCOM requirements," he says in an interview.
Morris sees growing business opportunities in the logistics support of deployed SOF units. Special operators are spread across the world in at least 90 countries, and require logistical support from SOCOM. The command needs information technology systems to help anticipate equipment needs in the field, he says. "They can't afford a large logistics system to preposition aerial platforms, ammunition, spare parts and vehicles, especially SOF unique inventory," Morris says. "They need a responsive system that can look at the mission set and a system that can analyze and 'predict' what type of items troops will require. They need an effective logistics system without a huge 'warehousing' effect."
He agrees with Geurts that SOCOM would benefit from technologies to help deliver better intelligence. "Based on my experience commanding forces, the casualties we've had over the years, despite armor protection," can be blamed on situational awareness problems. "Making the operator more lethal, enhancing survivability involves armor but also mobility. If you can move quickly and have reliable communications in any environment, real-time intelligence support can allow operators and teams to see over the horizon, anticipate what's coming," he says. "That enhances survivability."
Morris says he is optimistic about SOCOM efforts in troop survivability, communications, intelligence, mobility, "all combined to help individual operators." SOF operators are known for exerting "bottom up pressure" on the senior leadership to move faster on funding and procurement of new technology.
Schroden, the CNA analyst, says SOCOM should establish an "intellectual hub to collect and disseminate SOF technologies and tactics to the broader military community."
Topics: Acquisition, Acquisition Programs, Special Operations-Low Intensity Conflict, Procurement