Record Defense Budget Ahead for South Korea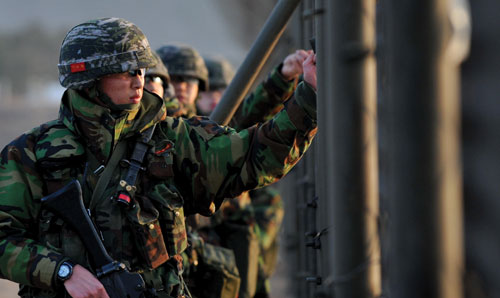 Photo: Ministry of National Defense, Republic of Korea
The Republic of Korea is planning to spend over $36 billion on defense for 2017 — a record amount as the country continues efforts to deter North Korean aggression and build out its maritime and air capabilities.
South Korea's Ministry of National Defense in September announced the boosted budget allocation, which is a 4 percent increase over the country's 2016 defense spending.
It includes funding for the nation's F-35 joint strike fighter purchase — which includes 40 aircraft with the option to procure up to 20 more at a later stage — along with new missile defense systems to deter North Korea's growing arsenal of nuclear weapons and ballistic missiles, said Patrick Cronin, senior director of the Asia-Pacific Security Program at the Center for a New American Security, a Washington, D.C.-based think tank.
"In their five-year defense projection this past year, South Korea added more than $200 billion to the defense budget for 2016 to 2020 in order to buy costly programs like the F-35," he said. Other purchases include Lockheed Martin's Patriot Advanced Capability-3 missile system to take on North Korea's scud missiles, he said.
CNAS recently released a report titled, "Breakthrough on the Peninsula: Third Offset Strategies and the Future Defense of Korea," offering several policy recommendations for the next U.S. administration and the Republic of Korea to work together on in the future.
The third offset represents the Pentagon's efforts to maintain military superiority by overhauling operating concepts and investing in cutting-edge technologies.
The recommendations included: jointly concentrating on using current technological capabilities to deter North Korean planning; expanding the scope of the U.S.-ROK alliance planning in terms of technology and innovation; and preserving U.S. power projection capabilities against Chinese anti-access/area denial capabilities in the long term.
"The implications are too great and the potential dividends sufficiently important to delay alliance consultation," the report said. "The pace of North Korean nuclear missile development, coupled with myriad other advances, highlights why a third offset strategy is needed to augment both near- and long-term deterrence and defense capabilities for both countries."
Cronin, who edited and contributed to the CNAS report, said the United States and South Korea have had a longstanding defense relationship focused on deterring North Korean missile advancement and building out the South Korean regional and global role, including maritime and air capabilities.
There have been challenges to increasing military cooperation between the two countries, Cronin noted. Though it has one of the top economies in the world, South Korea is rife with bureaucratic, political and service rivalries that impede the country's military and technological modernization efforts, he said.
"South Korea continues to face tough choices about which direction" to move toward, he said.
There is a potential technological gap in the alliance that must be recognized, he added, citing unmanned systems, space launch capabilities and cybersecurity as key areas of focus.
"You don't want to let it [the gap] grow, but at the same time, you don't want to be under ambitious about what South Korea can achieve," he said.
Topics: Acquisition, International, Foreign Military Sales, Internation Cooperation