Pentagon Opens Facility to Counter Biothreats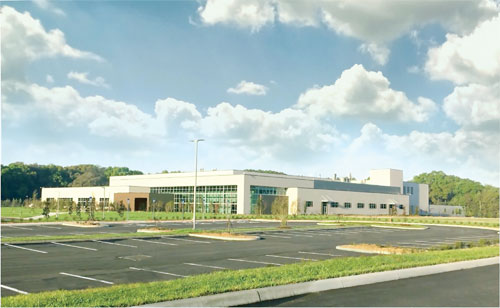 Photo: Carol Mayhoeffer, Defense Dept.
The Defense Department is working with the biotech and pharmaceutical industry to run a state-of-the-art facility that can enable rapid development of key medical remedies tailored to military uses.
The medical countermeasure advanced development and manufacturing facility, recently opened in Alachua, Florida, will serve as a laboratory for pharmaceutical companies to bring in small teams to focus on counteragents for viruses, such as Ebola, and toxins that could be weaponized, such as anthrax. The facility's development was overseen by the Joint Program Executive Office for Chemical and Biological Defense at Aberdeen Proving Ground, Maryland.
The 180,000 square-foot facility features two manufacturing suites with two rooms each that offer a flexible, modular space that can be used for a variety of needs, said Tim Belski, joint product director for advanced development manufacturing capabilities, and the government program manager for the effort.
The facility is rated at bio safety level III as specified by the Centers for Disease Control and Prevention, which means work can be done involving microbes that can cause serious and potentially lethal disease via inhalation, Belski said.
"That allows us to manufacture products that require a higher level of containment," he said.
The Defense Department in 2013 awarded a contract to Nanotherapeutics, a private drug development company based in Alachua, to own and operate the building, while the U.S. government maintains ownership of the equipment, Belski said.
The facility cost approximately $205 million to develop, and became incrementally operational in August. It will be fully operational in February, though there are mechanisms in place to expand the current footprint and add three additional manufacturing suites if necessary, he said.
The facility could help the Defense Department entice more of the biotech industry to develop medical countermeasures in the chemical-biological threat area, which has traditionally been difficult, Belski noted.
Pharmaceutical companies "typically don't see the return on investment in doing work with us to develop these medical countermeasures, because we don't need very many," he said.
This is the first facility of its kind to be established by the Defense Department, but Belski noted that the Department of Health and Human Services has a similar vehicle in place.
"They've done this to meet some of the more general population requirements, particularly for flu vaccines," he said.
There is international interest in using the advanced development and manufacturing facility, Belski added.
Topics: Chem Bio Protection, Defense Department