Endeavor Robotics Vies for Upcoming Contracts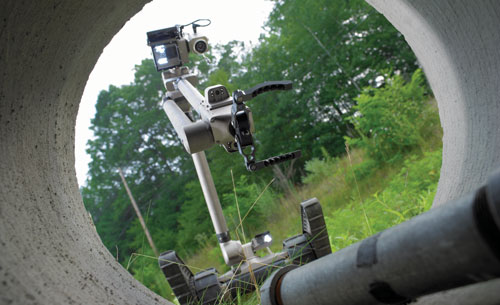 Photo: Endeavor Robotics
Endeavor Robotics — the newly formed standalone company that broke away from iRobot last year — is vying for a number of U.S. military ground robot programs.
The company, which formerly operated as iRobot's defense and security business, spun off on its own in April, said CEO Sean Bielat.
"It's been an exciting journey for us, being a standalone company," he said. "The two companies had very different businesses. There wasn't a lot of commonality between them in terms of who was working on the … consumer sector versus the defense sector in terms of IP, in terms of the type of investment required."
In November, Endeavor Robotics — which is based in Chelmsford, Massachusetts — moved into a new 35,000-square foot facility that will give its engineers more space to innovate, Bielat said.
"We have a lot more lab space. We have machine tooling. We have test chambers and an outdoor test area for the robots. It's a very collaborative workspace," he said. "It has really focused on our needs as a defense business and will allow us to be innovative and grow."
The new space will be useful as the company looks to secure contracts with the U.S. military. As iRobot, the company sold 6,000 ground robots, including the ubiquitous PackBot system, to various customers. Two-thirds of those robots went to the Defense Department, Bielat said.
"Most of those, almost all of them, were purchased through operational contingency funds. They weren't purchased as parts of programs of record," he said. And as the wars in Iraq and Afghanistan began to wind down, so did the acquisition of ground robots, he noted.
"There was this lull [but] I think we're now through that period, and these three programs of record will really drive us forward and really push robots further into more communities then they had before," he said. They "will really transform the industry."
Those programs include the Navy's advanced explosive ordnance disposal robotic system increment two and three; and two separate Army efforts known as the common robotic system – individual, and the man transportable robot system, he said.
In December, Endeavor Robotics submitted a proposal for the AEODRS program, Bielat said. "We feel very confident about the bid that we submitted and we feel good about our chances of winning."
The company plans to be the prime system integrator for the project and will team with a number of companies, including Leidos, to take various technologies and integrate them into one robot, he said.
Topics: Robotics, Robotics and Autonomous Systems, Unmanned Ground Vehicles