SOCOM Commander: Expanding Missions Require New Technologies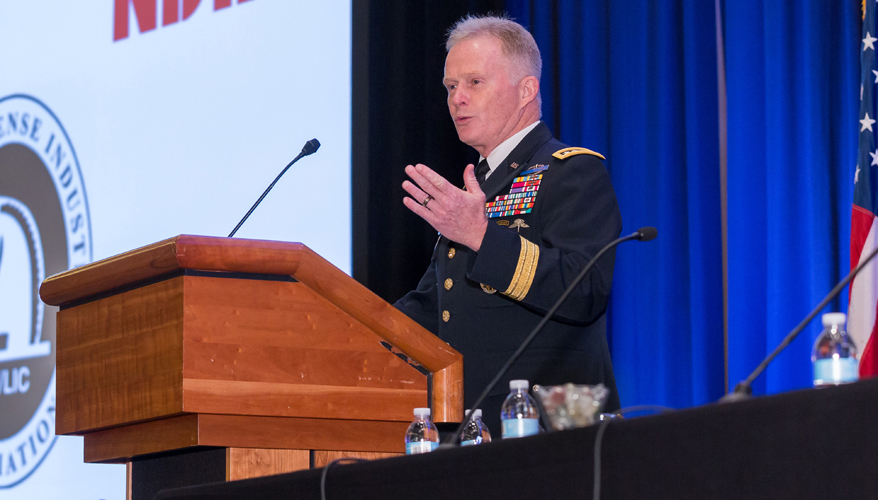 Gen. Raymond Thomas
Photo: EPNAC
BETHESDA, Md. — U.S. Special Operations Forces are seeking portable and flexible technologies, particularly in the realm of sensors, unmanned systems and data processing, to counter an ever-growing and diverse mission set, the command's leader said Feb. 14.
"SOCOM has achieved a historic level of transformation over the last 15-plus years of the living laboratory of combat, however we are keenly aware that much of our technical operations in the fight against extremism is non-transferable to dealing with near-to-peer competitors," Army Gen. Raymond Thomas III said at the National Defense Industrial Association's Special Operations-Low Intensity Conflict Symposium in Bethesda, Maryland.
In the intelligence, surveillance and reconnaissance realm, forces are looking for help from industry to miniturize sensors "in order to get more capability per platform," as well as technology to help reduce the cost of munitions, Thomas said.
"It is difficult to rationalize" the use of a $100,000 missile to kill a $3,000 vehicle, he noted.
SOCOM is also eager to leverage automation and deep learning technologies that could help with data processing and dissemination, he said, adding that the force finds itself "drowning in data" and "spends hours sorting the wheat from the chaff."
All of these technology requests are "irretrievably linked" to the need for rapid technology refreshment to keep up with current cycles, as well as open architectures that will allow for frequent upgrades, he said.
The SOCOM commander also spoke of the need for technologies to counter violent extremist groups in the Middle East.
Special Operations Command recently issued a solicitation seeking small businesses to provide 100 quadcopters for commandos and allies, with the option to procure an additional 300. This would provide transportable capabilities to compete in the ISR realm, particularly in the fight against the Islamic State, Thomas said.
"In Syria and Iraq, we now have an adversary who is is flying armed ISR at our forces" he said. "It's a whole new world … and we're clearly trying to beat them in that arena."
The fight against ISIL has been more successful than the American public may realize, he noted, adding that SOF forces have killed over 60,000 ISIL members in the last year. Commandos and foreign allies are working to take back the Syrian city of Raqqa, which ISIL has declared the capital of its caliphate. U.S. commandos recently killed 1,500 ISIL members in Libya.
"I don't know if that resonates in the United States … the nature of the threat and how aggressively we're getting after it," he said. "When folks ask, 'Do you need more aggressive authorities? Do you need better [rules of engagement]?' I would tell you that we're being pretty darn prolific right now."
The command's mission set has expanded in recent years, to include the fight against violent extremist organizations, an expansionist China, a resurgent Russia, the unpredictable state of North Korea, as well as providing support to Defense Department efforts and supporting homeland security, Thomas said. He noted the need to foster international partnerships with allies to counter weapons of mass destruction proliferation and transregional threats, both with foreign militaries and industries.
The command uses the office of the secretary of defense's coalition warfare program to receive funding for coalition research-and-development projects, which has leveraged over $6 million for five projects, resulting in more than a 600 percent return on investment for SOCOM, Thomas said.
"We identify foreign industry solutions to benefit SOF projects," he added. "To date, SOF has pursued over 78 projects, representing industries from 22 countries, that resulted in $506 million worth of procurement," including air tactical extraction projects from France, targeting and tracking location kits from Denmark, and sniper rifle scopes from Germany.
The SOCOM commander met with President Donald Trump upon his visit to MacDill Air Force Base in Tampa Florida, and said that the president offered "a very profound statement of support" to the force.
"I took it as a very open conversation on what do you need, the strategy you need to win, describe the win," Thomas said, adding that the president asked "pretty pointed questions on what does a win look like and what do we need to get there?"
Topics: Special Operations-Low Intensity Conflict, Special Operations