ROBOTICS AND AUTONOMOUS SYSTEMS
Military Plays Catch Up As Consumer Robots Get Smarter and Cheaper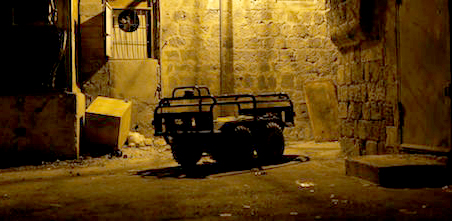 Tactical robot
Photo: Tactical robot
Household robots and smart electronics have grown into massive, rapidly expanding industries that innovate at a fast and furious pace. The technology arms race underway in these sectors could be a boon for U.S. military efforts to automate routine tasks such as patrolling and delivering supplies.
The Army has mostly restricted the use of robots to narrow niches such as bomb detection but is now under pressure to broaden their use, and entrust them to do more of the dull, repetitive but also dangerous duties that currently are performed by soldiers.
Progress thus far has been held back by mistrust of the technology and the high cost of customized, military-compliant systems, which can command six-digit price tags. But as commercial technology reaches new milestones and machines are able to do more complex tasks, industry officials say the market is reaching a watershed moment.
Machine-learning robots developed for the consumer market have perfected capabilities, such as maneuvering around obstacles, that the military needs for its unmanned ground vehicles, says Shahar Abuhazira, CEO of Roboteam North America.
Electronic gadgets that obey voice commands are commonplace and increasingly more sophisticated. "These consumer technologies are critical to the future of military robotic systems," Abuhazira says.
The faster the Defense Department can adopt commercial robot technology, the greater the potential payoffs, he asserts. "Cost is a big reason. They can get reliable technologies at low cost that can meet military needs. It will save DoD a lot of time" as well as research-and-development money.
Roboteam, founded in Israel in 2009, has moved to penetrate the U.S. military market by focusing on multi-purpose, lower cost robots. The firm recently announced it is plunging into the consumer robot business and spun off a new company called Roboteam Home.
The Army, by far the company's largest customer, is ready to unleash more robots into the force, he says. "One big trend is pushing systems into bigger audiences." Beyond the traditional explosive ordnance disposal robots, the goal is to field them to infantry units and special operations forces, says Abuhazira. The military also is becoming more comfortable with delegation, even if systems are never allowed to operate completely autonomously. "We see more 'semi-autonomy,' and less 'remote control,'" he says. "We do see systems that can do tasks and could replace soldiers."
The Army is beginning to grasp how it might exploit robots when it makes sense. For instance, when a driverless vehicle flips over, only a very skilled operator would be able to flip it back upright, whereas some autonomous vehicles today can do that on their own. "The Army needs to have semi-autonomous applications so a vehicle knows to flip itself back, so robots climb stairs automatically, scan a room automatically, look for threats, without the need for an operator to control each mission," says Abuhazira. "These are things we are seeing, less remote control."
Another approach that is gaining traction is "robotic teaming." One system is controlled by an operator, and others follow behind. The Army sees the potential efficiencies of having just one operator controlling potentially a whole convoy of vehicles. Abuhazira calls this a "breakthrough."
The military could be tapping into a whole universe of technology that could make its robots more capable and less costly, but there are still barriers in the defense procurement system to widespread use of commercial technologies, Abuhazira says. The acquisition system is counterproductive, he adds, because commercial robots are increasingly sophisticated. "They navigate around your house, around furniture, on different types of floors and carpeting. Avoiding obstacles is a complicated mission and these are solutions we can use for military UGVs."
The voice-recognition products developed by Amazon and Google could be useful as well. "Why not start using these applications in the military instead of remote control?" he says.
A major gulf between the defense and consumer market is that military systems are not made to interact with commercial devices. "You can buy a camera that works with any computer. In the military world we are not there yet. I need integration in DoD systems."
The Army has been moving in that direction of late. It has adopted a standard called "unmanned ground vehicle interoperability profile," or IOP. The shift to interoperable systems was a cri de coeur of former Army acquisition executive Heidi Shyu. Roboteam hired Shyu shortly after her retirement in 2015, and she was recently promoted to chairman of the board.
Roboteam also named Yossi Wolf, the former chief of the company's defense business, CEO of Roboteam Home. Although the military remains the primary customer, the company decided that in order to draw investors, it needed to play in the consumer world, where most of the action is taking place.
"We'll be able on the defense side to learn from the technologies they are implementing on the consumer side," says Abuhazira.
He sees commercial hardware and software migrating to military unmanned vehicles like robotic cargo trucks. "Logistics carriers have to drive for days autonomously. And they must avoid obstacles. There are commercial solutions that we will bring it to the military," he says. Voice recognition is how people control electronics. "This is the way to go in UGVs, too, 'Talk to your robots.'"
The auto industry and Silicon Valley powerhouses like Google and Uber, meanwhile, are racing to invest in driverless technology in anticipation of a future revolution in that sector. But Abuhazira does not see as much synergy with the military in that space.
"The challenge for them is safety. Can you trust machines to park your car?" he says. To make the transition from experiment to mainstream, driverless automobiles need to be highly reliable and have acute situational awareness. The bar is lower for military UGVs in that regard, says Abuhazira. "If a UGV hits a wall, the cost of the mistake is minor" compared to the risk of human passengers being killed. "We are very different from those companies. We are facing the challenge of making operations and control of the systems very intuitive and simple, while keeping the operator in the loop. This is different than the driverless car vision."
Companies like Roboteam and its competitors — including Endeavor Robotics, QinetiQ North America and General Dynamics — are gearing up to fight for upcoming Army procurements that could total thousands of robots over the coming decade. The Army plans to buy small robots for urban warfare, and the Navy is acquiring a new bomb-disposal robot.
"The next conflict will be with UGVs," says Abuhazira. Robots will carry wounded soldiers, ammunition, and provide eyes on the battlefield, he adds. "There will be robots for everybody, not just for EOD."
Outside the United States, militaries and police forces are watching the U.S. Army for clues on how far robots are being pushed as weapons of war and as homeland security aids. Australia and the United Kingdom are investing in tactical robots, he says. Other countries in Europe are buying them for law enforcement and counter terrorism units.
Topics: Robotics and Autonomous Systems, Robotics