Analysts Explore Aircraft Carrier Alternatives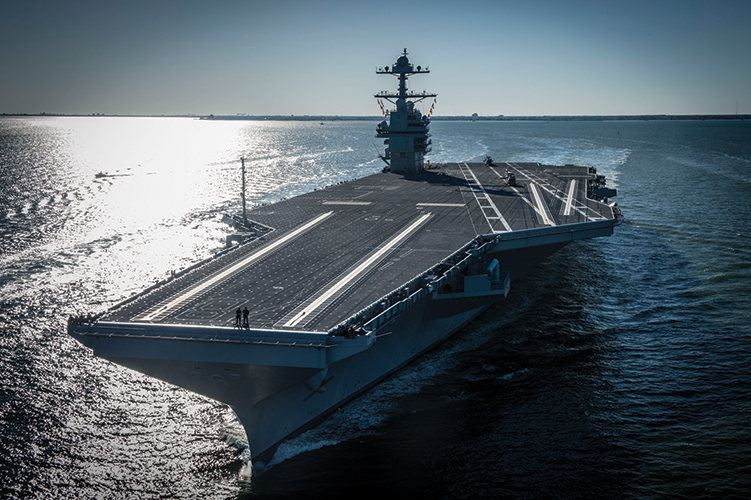 USS Gerald R Ford Arriving Naval Station Norfolk.
Photo: Navy
The Pentagon could save money by jettisoning plans for future Ford-class aircraft carriers and pursuing alternatives. But doing so would require capability tradeoffs and a reconsideration of operating concepts, analysts said.
The Ford-class program is projected to cost approximately $140 billion, RAND Corp. analysts Bradley Martin and Michael McMahon said in a Navy-commissioned report, "Future Aircraft Carrier Options," which was released in October.
The newest ship in the class, USS Enterprise, is estimated to cost $13 billion. Senate Armed Services Committee Chairman Sen. John McCain, R-Ariz., said the current price tag for the vessels is "unacceptable." He is pushing the Navy to procure smaller alternatives.
"In executing its long-range shipbuilding plan, the U.S. Navy is facing financial challenges that require it to evaluate potential lower-cost options for its most expensive platforms," the RAND report said.
It examined four alternative carrier design concepts that the service could pursue.
One was a nuclear-powered vessel similar in size to the 100,000-ton Ford-class but with two life-of-the-ship reactors and other equipment and system changes intended to reduce costs. This variant was referred to as CVN 8X.
A second option, called CVN LX, was a 70,000-ton USS Forrestal-sized carrier with a hybrid propulsion plant and an updated flight deck that could host existing air wings.
A third option, named CV LX, was a 43,000-ton variant of the America–class amphibious ship that would be fossil fuel-powered. It would only support short take-off and vertical landing aircraft operations but at a higher tempo than the USS America.
A fourth option, referred to as CV EX, was a 20,000-ton vessel similar to escort carriers that some allied navies possess. It would be conventionally powered and would only be able to host vertical take-off and landing aircraft.
"Each of these brings different levels of capability," the report said.
CVN 8X would have similar capabilities as the Ford-class but it would not be able to stay in the fleet as long, the report noted.
The ship "might generate fewer sorties than the current key performance parameter values for the Ford-class and might have only incremental reduction in overall platform cost," it said. "Between the developmental costs and a reduced service life, there is little cost advantage in this variant."
CVN LX would provide air wing capabilities near current levels but with less organic mission endurance for weapons and aviation fuel. The lifecycle cost would be 23 percent lower than the Ford-class due to lower construction and maintenance expenses, it said.
"The CVN LX concept would allow considerable savings across the ship's service life and appears to be a viable alternative to consider," the report said. However, those savings would need to be weighed against potential loss of speed and survivability, it added.
If procured in sufficient numbers, CV LX might eventually enable the Navy to reduce the number of Ford-class carriers in the overall force structure, the report said.
It would cost $10 billion less per hull, although the Navy would likely need at least two for every Ford-class vessel replaced, it said. The ship would not generate the same sortie rate and it would be less survivable in some environments, it said.
"Any cost savings would likely be offset to an unknown degree by requirements for additional systems to mitigate loss of capability associated with this variant," it added.
The report largely dismissed CV EX as a viable option.
The 20,000-ton platform would "not provide either a significant capacity or an integrated air wing," it said. "As a result, this concept variant is not really a replacement for current aircraft carrier capability and … is not a practical variant at all without considerable revision of the Navy warfighting concept of operations."
Additionally, this option would require "a force structure so different that it makes [cost] comparison difficult, if not meaningless," the report said.
The Navy isn't going to stop building the Ford-class in the near future even if lower cost options are potentially viable, said Tom Callender, a naval warfare and advanced technologies expert at the Heritage Foundation, a Washington, D.C.-based think tank.
"I don't see that happening until we have a proven design," he said. The service would also need to consider "what are the [concepts of operations] for employing that … and does that provide an advantage to us from a capabilities and capacity aspect, not just a cost aspect?"



Topics: Budget, Business Trends, Defense Department, Navy News