ROBOTICS AND AUTONOMOUS SYSTEMS
Spending on Unmanned Systems is Ramping Up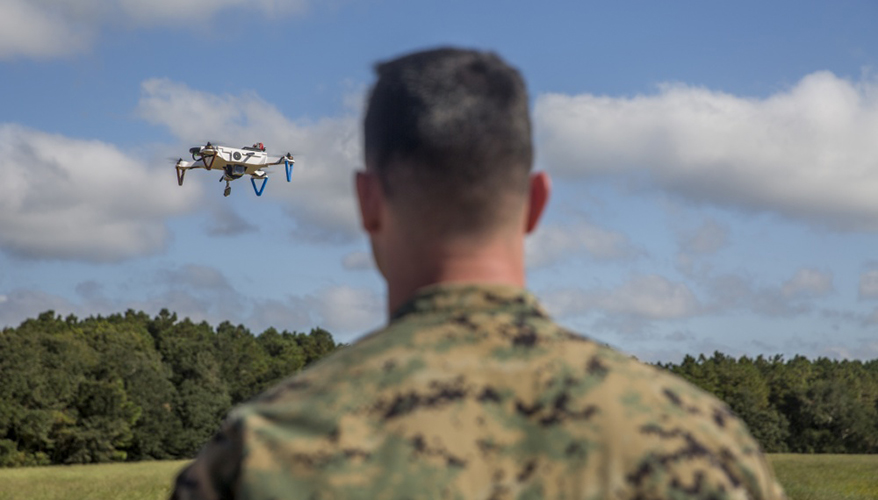 Photo: Defense Dept.
Defense Department spending plans portend a rise in funding for robotic systems in the coming years, according to a recent report by the Bard College Center for the Study of the Drone.
President Donald Trump's fiscal year 2018 budget request contains $6.97 billion for procurement, research and development, and system-specific military construction for all robotics technologies, said the report, "Drones in the Defense Budget: Navigating the Fiscal Year 2018 Budget Request."
That amount would represent a five-year high, and is 21 percent greater than the enacted fiscal year 2017 funding level.
Procurement spending would increase by $584 million, to $3.34 billion. Research, development, test and evaluation funding would increase by $794 million, to $3.55 billion, according to the report that was authored by the center's co-director Dan Gettinger.
Spending on unmanned aerial systems would increase about 11 percent, while unmanned ground systems and unmanned maritime systems (surface and undersea) would see a 70 percent and 65 percent funding increase, respectively.
Growing modernization budgets for legacy unmanned aircraft and plans for future robotic systems are driving the increase, the report said.
R&D funding has comprised a large share of total spending on these technologies in recent years, it noted. In the 2018 request, it accounts for 51 percent of proposed investments in various robotic technologies.
The Pentagon's spending plan "lays the groundwork for programs that will develop new unmanned ground and maritime drones, as well as the next generation of unmanned aircraft," the report said.
"The fact that research-and-development budgets for drones are consistently high is an indicator of future growth in unmanned systems spending."
Some robots of the future may not look much like today's unmanned systems, it said. Small quadrotor UAS and bulky, pack-carrying robots could accompany infantry. Jet-powered strike drones may serve as wingmen to future fighter pilots, while submarine-like underwater vehicles equipped with aerial drones could stalk enemy fleets or patrol coastlines, it added.
"All of these scenarios are backed by millions in DoD funding in the president's budget," it said.
When Congress finally passes a budget for 2018, it will likely differ in some respects from the president's request, the report noted.
"Although these changes are unlikely to influence overall trends in drone spending, they could have an effect on specific programs," it added.
The enacted 2017 defense budget included $162 million more for robotic systems than was initially requested, the report said.
The Pentagon is expected to release an updated unmanned systems strategy document by the end of the year that will map its long-term plans for the acquisition and use of military drones.
Topics: Robotics, Robotics and Autonomous Systems