New Chem-Bio Protective Wear in Design Phase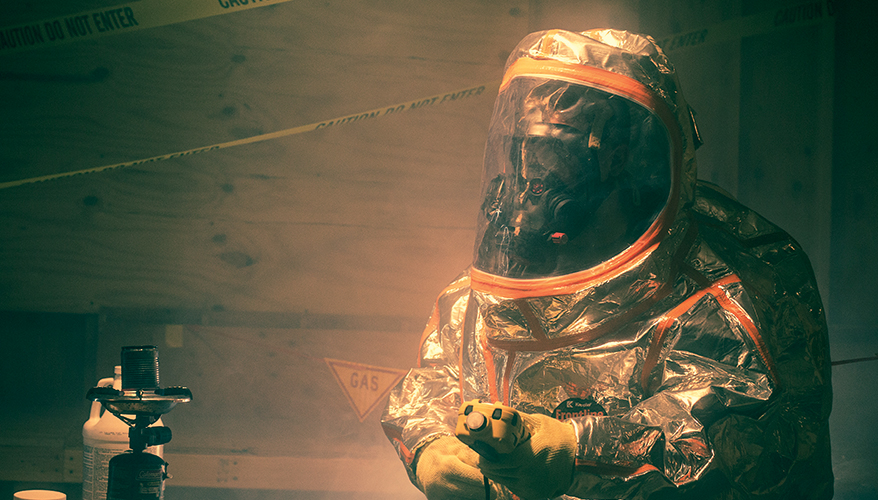 Photo: Marines
After several years of debate and analysis, officials are moving forward to develop a new protective suit for chemical, biological, radiological and nuclear protection.
The joint program executive office for chemical and biological defense has entered the design phase for the uniform integrated protection ensemble increment 2, or UIPEI2, which is intended to replace the current joint service lightweight integrated suit technology, said Scott Paris, the joint project manager for protection.
The office is evaluating multiple concepts for a future suit, he said in an email. Through the UIPEI2 program, officials will "develop, procure and field a family of systems that provides full-body percutaneous protection from chemical, biological, radiological and nuclear warfare agents, while providing enhanced mobility and less physiological burden to the warfighter compared to legacy systems," he added.
For over a year, the JPEO has been working to complete an analysis of alternatives that would inform the new suit's direction. Following a series of meetings with military personnel from a multitude of mission areas, the final report is due in December, Paris said.
"Meeting with warfighters provided an opportunity to hear directly from end users [about] what attributes and features of the next-generation CBRN ensemble are most important to them," he added.
Based on feedback, the office separated users into four mission areas — land, air, sea and homeland defense, he said. Work is ongoing to define the specific requirements for each group, he noted.
Ronald Hann, research-and-development director at the Defense Threat Reduction Agency's chemical and biological technologies department, said that protective products are among the office's top science and technology priorities.
Over 50 prototype suits were being evaluated by the department for criteria, such as the level of heat stress a uniform could take for battlefield protection, he said during the National Defense Industrial
Association's annual Chemical, Biological, Radiological and Nuclear conference in Wilmington, Delaware.
At one point, the JPEO debated designing separate suit versions to better match mission requirements, Paris said. However, the office now anticipates that once all of the specific requirements are identified, the probable overlap will eliminate the need for a different solution for each area.
At least one system is expected to be fielded by 2020 or 2021, Paris said.
The joint program executive office budgeted $4.5 million for the UIPEI2 in fiscal year 2017, and requested $9 million for 2018, he said.
Last year, the joint program executive office kicked off a challenge that offered $150,000 in award money in the hopes of finding new solutions from nontraditional vendors. Seventy-nine submissions came out of the "Proof: The Chem-Bio Suit Design Challenge" from small businesses, academia, college students and individuals, Paris said. Twelve prizes were awarded, including three top finalists.
The winning ideas are being incorporated into the UIPEI2 program, he added.
Topics: Chem Bio Protection, Land Forces