Navy Secretary Calls for Budget Plan, Cites Positive Feedback on LCS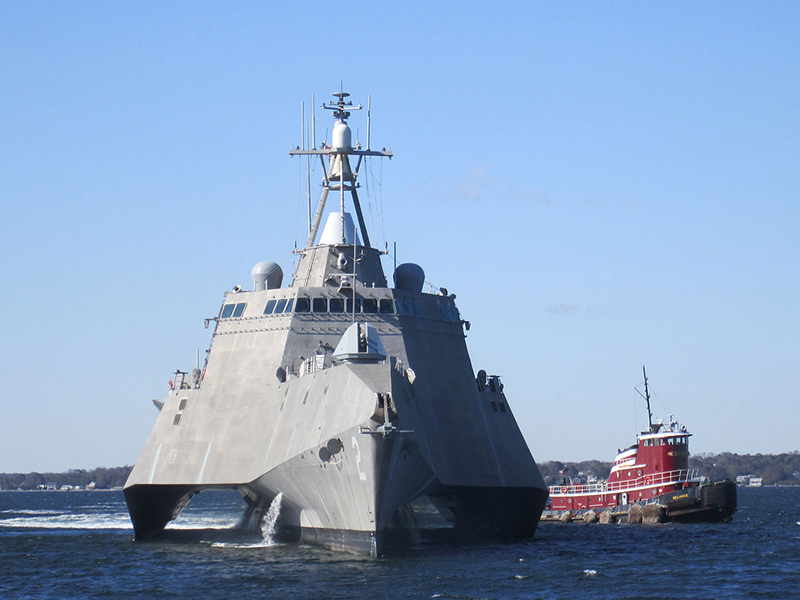 The littoral combat ship USS Independence (LCS 2) transits Narragansett Bay en route to participate in the 20th International Seapower Symposium at the U.S. Naval War College.
Photo: U.S. Navy
Inefficiencies from a stream of continuing resolutions have caused the Navy to lose out on billions of dollars, according to the service's top civilian.

Since the passing of the Budget Control Act in 2011, "we have put $4 billion in a trash can, put lighter fluid on top of it and burned it," Navy Secretary Richard Spencer said during a U.S. Naval Institute conference in Washington, D.C., on Dec. 4.

With the additional money, the service would have been able to invest in a "squadron of F-35s, two Arleigh [Burke]-class destroyers, 3,000 Harpoon missiles . . . 2,000 tactical Tomahawk missiles," he noted. "It's enough money that can buy us the additional capacity and capability that we need."
Budget caps imposed by the BCA, in addition to CRs that keep the government operating under the previous fiscal year's funding levels, have been the "most harmful impediment" to the Navy, he said.

However, the pattern of stopgap measures may continue. Congress has until the end of the week to pass a bipartisan spending deal and avoid a government shutdown before the current CR expires. Many lawmakers have expressed doubt about the possibility of meeting the deadline, but predict the passing of an additional CR that could last anywhere from weeks to months.

But the "couple of weeks [CR] is not going to be the killer," Spencer told reporters following his speech. Rather, the Navy needs Congress to pass a budget alongside a plan that provides the service with insight on government funding for future years.
"Give me a budget please. I'm not going to say I'm agnostic as to the number. But give me a number and a plan where I can go out and tell the industrial base 'here's where I'm going. Here's what I plan to do,'" Spencer stressed.

This information would give confidence to industry members that are often reluctant to invest in programs for fear of having funds cut off down the line, he explained.

"What we really need . . . is a two-year window," Spencer emphasized. "I want legs on this thing. So we can actually work . . . because industry's immediate response — and I don't blame them — is 'wow, okay, so you've given me one-year marching orders. You expect me to pour [research and development] into one year to be turned on and off? I can't do that.'"
Defense Secretary Jim Mattis in September also told the Senate Armed Services Committee that budget constraints provide consequences for the military's readiness. He called on lawmakers to develop a long-term plan during continuing resolutions to eliminate BCA caps.
"BCA-level funding reverses the gains we have made in readiness, and undermines our efforts to increase lethality and grow the force," Mattis wrote in a letter.
Meanwhile, Spencer said the Navy needs to "change the conversation" on the Littoral Combat Ship, referring to the service's troubled program to develop small vessels designed to operate close to shore. The program has seen several setbacks, with critics zeroing in on the vessel's lack of survivability and capability.
"It's right now being produced in the high $400 million dollar range," he noted. "It has come down the stair step. It's one of our more effective manufacturing processes we have now.
Commanders are coming back now and saying, 'yup, it actually does some of the missions, we're adding mission capability to it.' I don't want to oversell that, I think we've got to focus it.'"
The Navy must concentrate on "how we face assets off against specific risks," he advised, and noted that "even in its presence and interdiction," the LCS "has a role." One option includes using the vessel for drug interdiction, Spencer said. The ship currently does not have mission modules, but is scheduled to receive one next year, he added.
Topics: Budget, Navy News, Procurement, Acquisition