Uncertain Path Ahead for F-35 Sales to Middle East (UPDATED)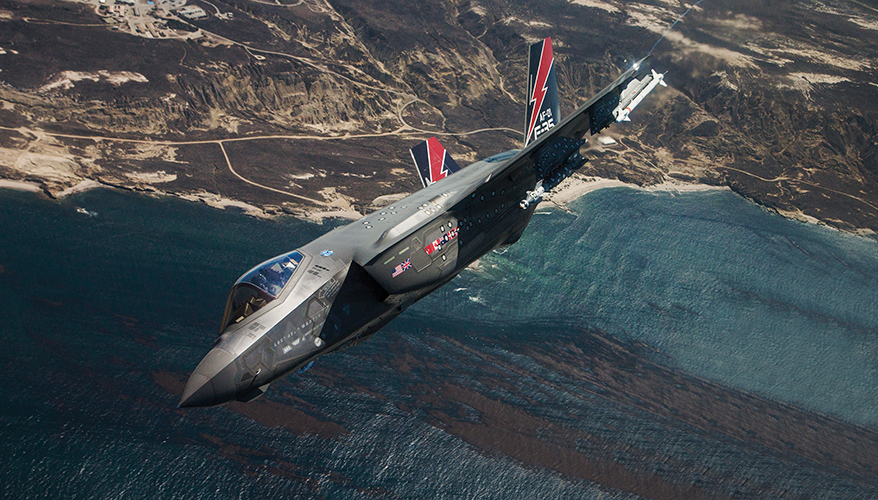 F-35 joint strike fighter
Photo: Lockheed Martin
The Air Force has confirmed discussions to potentially sell Lockheed Martin's F-35 joint strike fighter to Arabian Gulf state partners for the first time. But any potential foreign military sale could face hurdles in Congress, said one analyst.
The Defense Department is in talks with the United Arab Emirates to sell F-35s to the Middle Eastern ally, a top Air Force official told reporters at the Dubai Air Show in November.
Air Force Vice Chief of Staff Gen. Stephen Wilson discussed potential sales at the biennial event, Defense News reported. "Specifically with the F-35, you look at all of our partner nations … here in the Gulf, they share some of the same adversaries and many of the same challenges," he said. "Discussions are ongoing now with the administration on partner nations that may require them."
Saudi Arabia has also expressed interest in the fighter.
If the deals went through, they would bring significant capability upgrades among Gulf Cooperation Council countries, and would mark Lockheed Martin's first F-35 sale for that market.
But such a sale would have to jump through significant hoops before it was approved, said Derek Bisaccio, military markets analyst at Forecast International, a Newtown, Connecticut-based market consulting firm.
"If they could buy [the F-35] today, they would, and they have the type of defense budget to afford it," he said. But Congress would have to approve the sale first, and that could prove difficult, he noted.
Lawmakers — including Sen. Bob Corker, R-Tenn. — have said they will not approve any new arms sales to Gulf countries until a regional conflict — including a Saudi-led blockade of Qatar — is resolved. The United States must also honor its commitment to maintain Israel's qualitative military edge while it considers any potential exports to the Middle East, Bisaccio said. Israel agreed to purchase about 50 F-35s via foreign military sales, according to Lockheed Martin.
Bisaccio noted that the U.S. military benefits when allies operate the same systems.
"It makes it a lot easier for them to interface with American attack [and] support aircraft," he added.
On a strategic level, it would also allow partner nations in the Gulf region to better provide for their own security, for which President Donald Trump's administration has frequently advocated, he said.
The United Arab Emirates currently employs Lockheed Martin's F-16 Fighting Falcons originally manufactured by General Dynamics, and Dassault Mirage 2000 fighter jets, Bisaccio said. Saudi Arabia operates a mix of remanufactured Boeing F-15 tactical fighters, as well as Eurofighter Typhoons and Panavia Tornado aircraft, he said.
But the F-35 is "in a league of its own from the other military hardware," and would contribute significantly to either country's fighter arsenal, he added.
If the F-35 deals do not go through, the United Arab Emirates and Saudi Arabia could look elsewhere to purchase a fifth-generation fighter jet, Bisaccio said.
The UAE announced in early 2017 that it would work with Russia to develop a new light fighter jet, and has previously hinted at purchasing the Sukhoi Su-35 currently in production, he noted.
However, the F-35 is the only stealth fighter currently on the market, and it would be years before another aircraft was ready for delivery, he added.
Clarification: This article has been updated to reflect that F-16 Fighting Falcons were originally developed by General Dynamics, but are now a Lockheed Martin system.
Topics: Air Power, Global Defense Market, International