ROBOTICS AND AUTONOMOUS SYSTEMS
Worldwide Military Drone Production to Swell Over Next Decade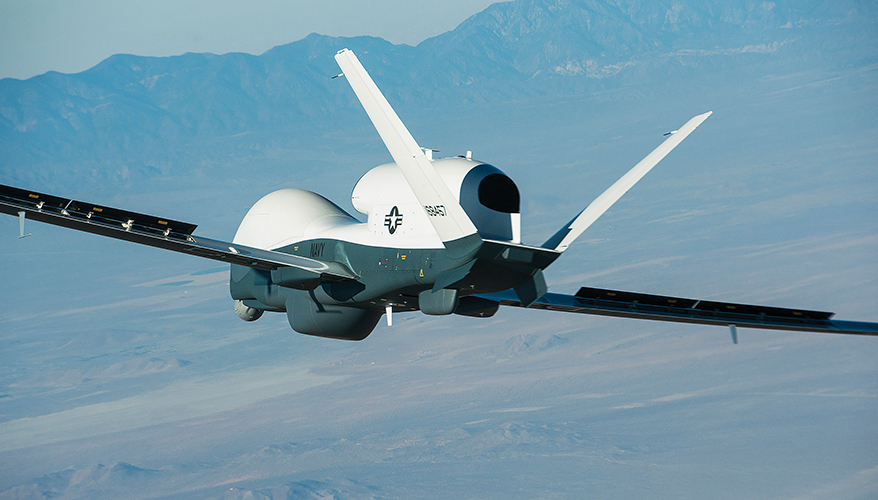 MQ-4C Triton unmanned aircraft system
Photo: Northrop Grumman Corporation
Unmanned aerial vehicles will experience the most dynamic growth in the global aerospace industry over the next 10 years, with military production driving the demand, according to a recent report.

Analysts from the Teal Group predicted that worldwide UAV production will increase from $4.2 billion annually in 2017 to $10.3 billion in 2026, totaling over $80 billion during that period. Military UAV research spending would contribute another $26 billion in that timeframe, according to the firm's annual World Military Unmanned Aerial Vehicle Systems: Market Profile and Forecast.

Looking at the drone market writ large, the commercial sector promises to be the most dynamic over the next decade, said Philip Finnegan, Teal Group's director of corporate analysis who co-authored the report. But military spending is growing significantly due to a number of factors, he noted.

"There's a rise in defense budgets in a number of countries around the world," he said. "You're having increased adoption of these systems worldwide. The U.S. was a real leader in adopting these systems into the forces and using them with great success in Iraq and Afghanistan. And now those lessons are being applied in other armed forces around the world."

Additional countries are becoming interested in procuring more costly armed, medium-altitude, long-endurance systems, he noted. Northrop Grumman's RQ-4 Global Hawk unmanned surveillance aircraft — which is used by the U.S. Air Force — is increasingly being exported to countries like South Korea and Japan.

Meanwhile, Australia has expressed interest in the company's naval version, the MQ-4C Triton. Northrop announced in November that it delivered the first operational Triton to the U.S. Navy, with a second system due to be delivered by the end of the year.

There is also increased availability of unmanned systems as more nations produce their own platforms, Finnegan said. China has exported its products to Middle Eastern countries including the United Arab Emirates, Iraq and Egypt, as well as nations such as Uzbekistan and Nigeria, he said.

Israel has also stepped up production of UAVs such as the IAI Heron and the Elbit Hermes 900, both used by the Israeli Defense Forces, he added.

"This is also putting some pressure on the U.S. to loosen its rules on exporting those systems," Finnegan said.

Demand for General Atomics' MQ-1 Predator remotely piloted aircraft is also driving growth in the military unmanned aerial systems market, he added.
Topics: Robotics and Autonomous Systems, Robotics, Air Power