Virtual Reality Visor Could Help Protect Drivers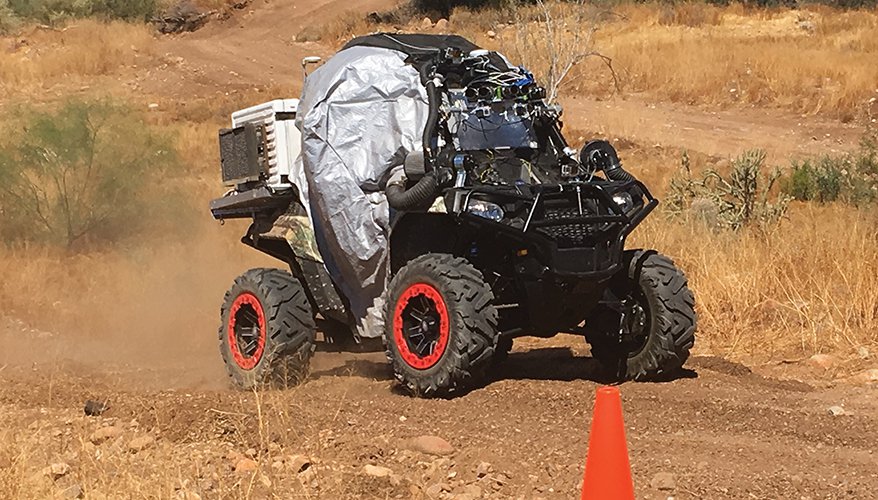 Virtual reality visor test using an enclosed vehicle.
Photo: Honeywell Aerospace
Honeywell Aerospace is working to make driving ground combat vehicles safer with an augmented reality headset.
As part of the Defense Advanced Research Projects Agency's Ground-X Vehicles technology program, the company demonstrated a visor that provides the driver with a 160-degree virtual reality image of outside terrain. Drivers can then operate in an enclosed, windowless vehicle, "which would then allow the driver to be safe, protected from snipers, shrapnel or anything else," Brian Aleksa, senior technical manager of research and development at the company, said in an interview.
"In a Bradley or a Stryker . . . oftentimes the driver has to look through a little periscope [and] has a very constrained field of view. Or oftentimes the guys will drive lids up to try to get as best situational experience as they can from driving the vehicle, which exposes them," he explained.
Through DARPA, Honeywell began researching the concept in 2015 and continued work on the system under a contract that continued through August 2017, according to a company news release. The system was tested outside of Phoenix, where it was used to help operators drive an enclosed all-terrain vehicle for one mile, Aleska said. It is possible to expand the technology to provide the driver with a full 360-view by integrating additional cameras and sensors, he noted.
It could also potentially be used with "any kind of ground vehicle," he said. Some examples include armored personnel carriers, tanks and unmanned platforms. Transferring this visor for use in airborne systems would be the logical next step, he said.
Users reported experiencing no motion sickness, which is a common side effect of using virtual reality systems, he noted.
One important feature of the visor is the "snap algorithm," Aleska explained, meaning that the user is unconsciously switching his view among multiple cameras as he turns his head.
"You turn your head from left to right and you're actually looking through different camera pairs, different high [resolution] high-definition cameras," he said. "You don't even . . . perceive you're switching from one pair to the next, so it's really like a natural vision system."
Honeywell intends to make the visor more robust. The initial focus was on making the system lightweight and comfortable to contrast with the bulky design of traditional virtual reality platforms, Aleska noted. However, "to withstand the daily use in a military environment, we would have to make it more beefier [to] be able to withstand that kind of hard use," he said.
Topics: Training and Simulation, Simulation Modeling Wargaming and Training, Land Forces