Air Force Foreign Military Sales Skyrocket to $27 Billion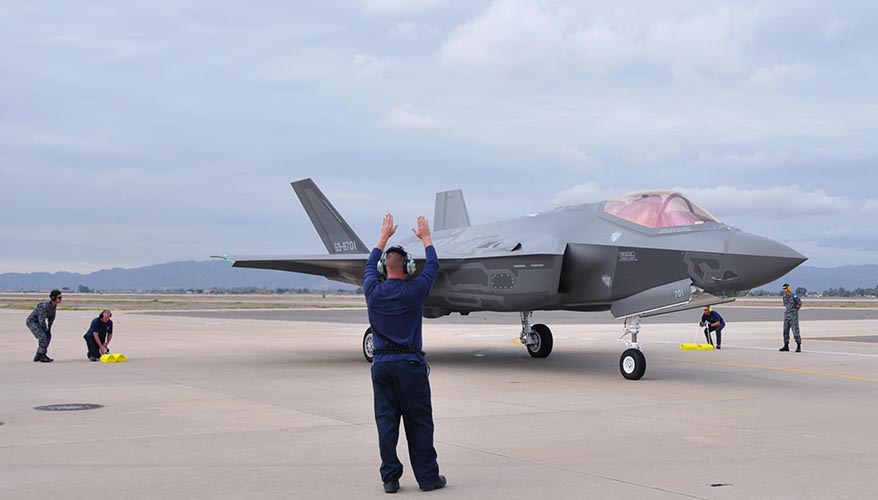 Lockheed Martin and Japanese Air Self-Defense Force personnel work together to taxi in the arrival of the first foreign military sales F-35A at Luke Air Force Base, Ariz.
Photo: Air Force
The Air Force brought home $27 billion in foreign military sales in fiscal year 2017 — nearly 213% more than the previous year — amid several changes meant to reduce cycle times, according to the service's security assistance and cooperation director.
Brig. Gen. Gregory Gutterman, who leads the directorate that handles FMS sales to 109 foreign allies as part of the Air Force Lifecycle Management Center at Wright-Patterson Air Force Base, said the service usually sells between around $9 billion to $10 billion on average per year.
"Twenty-seven billion, that's a great number," he told National Defense Dec. 15. "If you look at the Fortune 500, McDonald's sold $24 billion worth of hamburgers last year, and we brought in $27 billion worth of military revenue. "That's a pretty significant contribution to our gross domestic product here in our nation," he added.
One major factor was Qatar's decision to purchase 36 F-15 fighter jets and related services for $12 billion, he said, noting "that was really the reason for such a record year."
The other top two drivers were F-35 deliveries to Israel and sustainment costs related to Iraqi F-16 fighter jets, he added. The Air Force security assistance and cooperation directorate, or AFSAC, also typically sells about $1 billion worth of supply chain-related costs per year, he noted.
The Air Force sold just over $8 billion in foreign military sales in 2016, according to the Air Force. Gutterman said that is "roughly speaking on average" to what is typically sold on a yearly basis.
The service had another up year in 2015, selling about $19 billion in weapon systems with two major sales leading the way, he said.
"More countries are starting to buy into the F-35," he said. Any country who wants the joint strike fighter and was not part of the initial development team will request it through foreign military sales, he noted. Thus far, Israel, Japan and South Korea have committed to purchasing the aircraft.
Munitions were also a major product sent to allies in the Middle East in 2015, Gutterman said.
"As some of the Middle Eastern countries in particular decided to be more engaged with ISIS, they started to expend munitions at a higher rate and then needed to restock," he added.
Looking ahead to 2018 and beyond, the proliferation of the F-35 will continue to contribute to the United States' foreign military sales, Gutterman said.
"As production really starts to get heavy here in the near future, I think wherever you see a joint strike fighter, you're also going to need to see some sort of refueler," he said. "Once the United States Air Force and Boeing get the KC-46 where it needs to be, you're going to see our international partners start to buy those as well, so it's just a matter of time."
Coalition partners and allies are also waiting to see how the Air Force decides to proceed on an effort to procure an off-the-shelf light attack aircraft, known as OA-X, Gutterman noted. The service conducted demonstrations this summer using several aircraft that the service does not use itself, but sells through the AFSAC directorate, he said. Those include the Sierra Nevada and Embraer-developed A-29 Super Tucano and Air Tractor Inc.'s AT-802L Longsword turboprops, he noted.
"I would say that if we in fact do that, that you will see our international partners follow suit," he said.
Many partners have been bitten by the supply chain when they opt for a one-off aircraft deal, he noted. "It's either costing too much money or it's not robust enough to keep the supply chains running" at a level they prefer, he added. "That's the biggest expense that they will have. … The supply chain can really hurt you or help you."
Gutterman said the directorate is staying informed of the Air Force's deliberations on the light attack experiment to keep its allies updated, but no decision has been made yet.
AFSAC has also made several changes to its management procedures after receiving criticism from partners that the foreign military sales process took too long, he said.
Former Secretary Deborah Lee James returned from speaking to allies at the 2016 Dubai Air Show with a challenge to the directorate to decrease a sale's cycle time, he added.
"One of the go-dos … was decrease the time it takes between when a country says, 'I want to buy a joint strike fighter' until the United States government gives an offer to that country. … She challenged us to reduce it by 10 percent in FY17," he said.
The directorate made several improvements in its management controls, including putting greater scrutiny on letters of request that direct the Air Force to use a sole-source or no-bid contract.
"If we assessed that a company could not meet the scheduled time or performance commitments that the government-to-government agreement was about to make, we would tell them … 'No, we're not going to go with that company because there's too much risk.'"
The Air Force also put a control in place that notified senior leadership if a cost increased by 25 percent or more, or if a schedule slipped by more than six months, Gutterman added. "That allows them to amend their FMS sale to match the new reality," he noted.
Thanks to these changes and several others, AFSAC decreased the cycle time for complex sales, such as for an F-35, by 18 percent in 2017, Gutterman said.
It typically could take between 400 and 500 days to complete a joint strike fighter sale, he noted. "That spans two fiscal years for that country, and it becomes very difficult for that country to lock in a budget," he added.
In 2013, complex cases usually took about 360 days on average to complete, but the timeline could vary wildly from 150 to up to 700 days, he noted. "We've been working on not only bringing down the timelines, but bringing down the variance to around the median as well," he said.
"We're sitting today at the end of FY17 at just right over 200 days for those complex cases, and our variance is getting tighter too," he added. Over the past five years, the directorate decreased the cycle time for all FMS sales by nearly 40 percent, he noted.
"Those management controls we put in place have really helped how we do business here in the United States Air Force," he said.
Gutterman credited the entire Air Force foreign military sales enterprise in achieving these goals.
"Now we're all rolling together. … You don't bring in an 18 percent reduce in cycle time in a single year for complex cases unless everybody's buying in and working together," he said.
Topics: Aviation, International, Foreign Military Sales