BATTLEFIELD COMMUNICATIONS
Former Pentagon Leader Calls for More Investment in Cloud Computing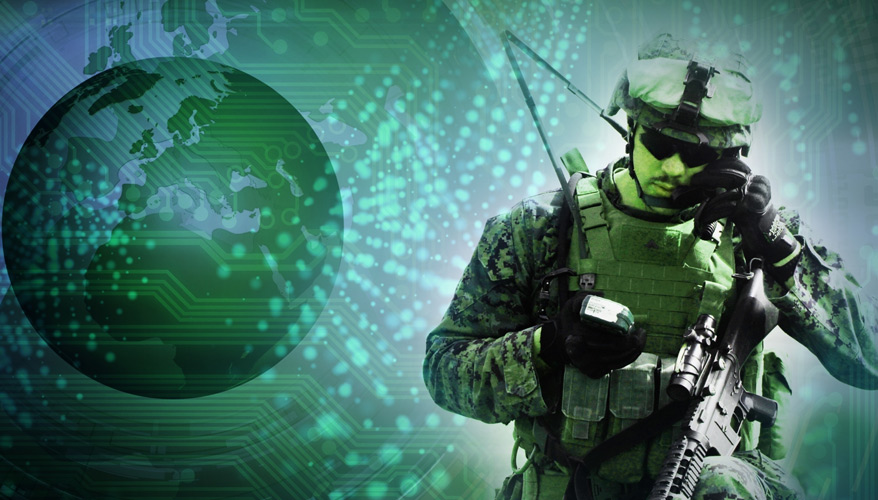 Image: Marine Corps
The Pentagon is making progress in pursuing cloud computing technologies to analyze, store and digest vast amounts of data for use in tactical warfare, but more needs to be done, former Deputy Defense Secretary Robert Work said Dec. 12.
The U.S. military must invest more in cloud technologies that can improve the performance of its combat networks and ultimately strengthen deterrence, he said during remarks at a conference hosted by Amazon Web Services. Work, a retired Marine colonel, left the Pentagon earlier this year and is currently a senior fellow at the Johns Hopkins University Applied Physics Laboratory in Laurel, Maryland.
Adversaries such as China and Russia are looking to surpass the United States in artificial intelligence, autonomous systems, big data and machine learning technologies by 2030, and the U.S. defense community has to keep ahead, he added.
"In the past, you'd say, 'Do I have my batteries? Do I have my ammunition? ... Do I have my fuel?'" he said. "The first thing that warfighters are going ask in the future is, 'Do I have my data and do I have access to my data?' ... The way we will provide that data to them and provide access to that data is through the cloud."
Current Deputy Defense Secretary Patrick Shanahan recently established a cloud executive steering group that will work to acquire cloud services and "operationalize technical innovation," Work said. "It is supposed to report to him every two weeks, which indicates the urgency that Deputy Secretary Shanahan believes this effort must have," he added.
The department has begun to leverage some cloud technologies in order to cut through acquisition red tape, but it is critical that the services begin to utilize the systems to gain a tactical advantage with its battle networks, Work said.
One of the Pentagon's biggest weaknesses is the way it handles its data, he said. "If we don't change this, and change the way we approach data, then the cloud may streamline some DoD business processes but it's not going to add to the lethality of the force in any appreciable way."
After the Vietnam War, the United States gained military superiority over its adversaries with guided munitions and sophisticated battle networks, Work noted. But Russia and China have now achieved parity in these areas, he said. "They can assemble battlefield networks that are as powerful as our own. They can fire salvos of guided munitions as dense as our own. This is something we haven't ever had to deal with over the last 26 years," he added.
China will be the United States' biggest competitor in this field, "without question," Work said. The country has developed a national plan with the goal of becoming the global leader in artificial intelligence, big data and cloud computing technologies by 2030, he noted.
To respond to these growing threats, the Defense Department in 2014 began to pursue a so-called "third offset strategy" under Work's guidance. From the very beginning, this strategy looked at how artificial intelligence and autonomous systems could be used in human-machine learning teams "as the way to restore some type of overmatch between our battle networks and potential adversary battle networks," and to increase operational tempo, he said.
That requires mountains of data sets, he noted. "All data has to be triaged, annotated and stored somewhere for discoverability and learning. And that occurs in the combat cloud," he said.
The services will need to develop "distributed, micro, or expeditionary clouds that allow machine learning at the tactical edge," Work said. While there may be one overarching cloud system at the strategic level where most of the data will be gathered, analyzed and stored, distributing the information among smaller cloud systems will enable troops to fight through any potential attacks, he said.
Defense officials have previously said that the Pentagon sees the cloud as a key asset for a more lethal fighting force, but some have yet to embrace the technology, Work noted.
"When you talk to a lot of people in the military, you say, 'Look, we have got to get to the cloud to be more lethal,'" he said. "They'll look at you and they'll say, 'What are you talking about?'"
A cultural change is needed, Work said. "If we create the cloud smartly, if we extend the cloud to the tactical edge, our operators are going to be able to deal better with extremely complicated and surprising environments." In future wars, "the side with the most relevant data will win," he added.
Topics: Asymmetric, Network defense, Defense Department