BATTLEFIELD COMMUNICATIONS
Army National Guard Awards Radio Contract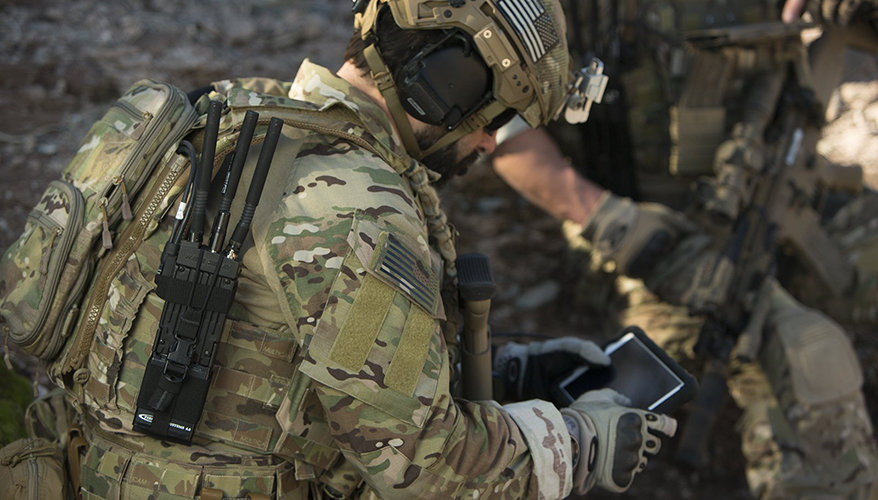 MPU5 radio
Photo: Persistent Systems
The Army National Guard's weapons of mass destruction civil support teams recently entered into an agreement with Persistent Systems to purchase more than 900 radios, according to company executives.
The contract — worth $8.9 million — includes the sale of 950 man-portable unit five, or MPU5, radios, said Lewis Sutherland, vice president of business development for Persistent Systems' military division. The devices — using the company's algorithm known as Wave Relay — can push voice, video, text and sensor data.
Persistent Systems — which is based in New York City — considers itself more of a network firm than a radio manufacturer, Sutherland noted.
"The network is key to solving a lot of the different problem sets that are out there," he said. The company has used the latest commercial advancements to produce a mobile, ad hoc networking technology, or MANET, that powers its radios.
That system essentially creates a self-healing, peer-to-peer network that uses line-of-sight communications, he said.
"Basically you are bringing your own backbone with you when you go out in a group," he said. "If you can't directly connect to a guy that's down the road, you might be able to use a relay and the network will automatically figure that out for you. It's totally hidden from you and it will happen automatically."
The system also employs technology known as multiple input/multiple output, or MiMo, he said. Such systems — which are used in many cell phones or WiFi routers — use three antennas that increase their effectiveness substantially.
Additionally, "it communicates in areas where you can't normally use radios very well," he said. For example, "in an urban city or underground, effectively what happens is that when you have a radio with one antenna, it will run into a reflective surface and it will start reducing the signal's quality and it just won't go very far."
Usually this means the radio can only communicate within two blocks in New York City, he said. However, with a system that employs MiMo, it can transmit data up to a mile and a half away, he said.
"Instead of reducing the signal as soon as it hits a flat surface like a building or a bus, effectively it thrives in that environment," he said.
This type of technology is still not used frequently within the U.S. military, he said. He pointed to the Pentagon's cumbersome acquisition process as one reason the technology hasn't been widely adopted.



Topics: Battlefield Communications, Army News, Land Forces