BATTLEFIELD COMMUNICATIONS
Army Scrambles to Make Command Posts Survivable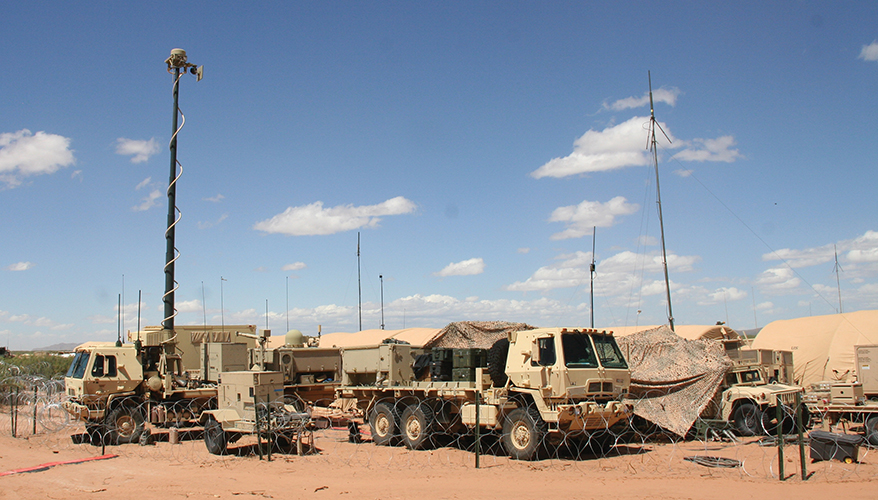 Photo: Army
The Army sees its tactical command posts as a major battlefield vulnerability as potential adversaries become better at locating and destroying them.
"If our tactical command posts can be found, then they can be killed," Lt. Gen. Bruce T. Crawford, Army chief information officer, said at the Association of the United States Army's annual conference in Washington, D.C.
The Russian military's ability to quickly find and destroy Ukrainian command posts made that manifest, Crawford acknowledged. Other nations may have the same ability, although Crawford declined to name them.
Command posts must be more survivable and mobile, the Army has concluded. Currently, peer competitors would be able to easily locate a command post through its electromagnetic signals, or even signatures given off by power generators.
"They have gone to school on us," Crawford said. "They have developed capability that put us at significant risk if we don't make investments now to mitigate those risks."
Rivals have improved their ability to not only find these command posts, but to quickly link their sensors to shooters, dramatically reducing the kill chain timeline, he said.
"As we currently operate them, they are not adequately mobile and if you examine closely the electro-magnetic signatures of our command posts, they are not survivable," he said.
The Army, at the direction of Chief of Staff Gen. Mark Milley, is being ordered to prepare for battles in multiple domains, including land, sea and air as well as the electromagnetic spectrum and cyber space. The latter two have the service particularly worried as they can be used to degrade or cut off command and control on the battlefield.
Tactical command posts are not intended to sit in one location for long periods, but that is what happened over the last 16 years of war in Iraq and Afghanistan where they became fixed on forward operating bases, Army officials have said. The relatively unsophisticated adversaries the Army faces there don't pose a serious threat to the posts.
Command posts are essential, according to Army documents. Mounted and dismounted leaders at the brigade level require the tactical network to quickly and accurately communicate with higher headquarters, subordinates and soldiers. Leaders must also be close to the action, so placing them out of harm's way is not an option.
"The commander must be able to position himself forward with a command group in the area of operations to gain understanding, prioritize resources, influence others and mitigate risk," said an October 2015 report, "The Mission Command Network," produced by the Combined Arms Center and the Army Capabilities Integration Center.
Brigades and division command post systems are essential for sending and receiving orders, spot reports coming from scouts, call for fires and to coordinate medical evacuations.
"Commanders must visualize and disseminate essential information for display on the [common operating picture] to provide timely and accurate knowledge of enemy locations and survivability information at operationally relevant distances. This is critical for executing any form of maneuver in conjunction with direct and indirect fires," the report said.
Crawford said there is money in the fiscal year 2018 budget to begin to address some of the vulnerabilities.
For example, would it be useful to try to reduce the signature of every radio, and tap into some innovative ideas from industry to allow command posts "to hide in plain sight?" he asked. Command post radio signatures would appear to be ambient noise, he said.
"We may not fix 100 percent of the problems, but we want to begin the process of fixing the problems in [fiscal year] '18, then leverage FY '19 to '23 for industry-type solutions," he said.
Electronic warfare and new weapons are of particular concern to the Army. A March 2016 report produced by the office of the chief information officer, "Shaping the Army Network: 2025-2040," warned of advanced capabilities cutting off communications.
"A directed-energy weapon is an example of a potential future system with an unusual application and impact," the report said. "While [such weapons] may broadly target network and physical infrastructure initially, they may also evolve to enable targeting of specific military and commercial communications and network nodes, devices and infrastructure."
The network must also protect against network node and device "micro-targeting," which involves attacking specific echelons, organizations or individual command positions or devices within the operating force, the report warned.
"As these and other technologies continue to evolve into increasingly disruptive defensive and offensive threats, the Army must continue to improve the network's resilience and resistance posture to ensure continuous operations in an increasingly volatile environment," the report said.
One way to make command posts more resilient is to make them more mobile, Crawford said. It currently takes too long to take one down and re-establish communications once a new location is located, he said. It takes 50 hours to break one down and about as long to get one up and running, he said. The posts must be able to move within 30 minutes, or risk being attacked, Crawford said.
Set-up and break-down procedures can be simplified, said Gary Martin, program executive officer for Army command, control and communications-tactical.
Command posts have been fielded with several different variations. There are four main applications each with separate software systems. They all have their own mapping solutions, software infrastructure and training regimen, he said.
The goal is to have all the applications reside on the "new command post computing environment," which will be a simplified version of what's currently used, Martin said.
"We are providing a common infrastructure that they are all going to ride on. So they use the same mapping, security, log-in, authentication. All that will be common to all of them," Martin said.
By late 2018 or early 2019, command posts should have one common operating picture with one app that rides on the infrastructure, he added. That will reduce the size of the command posts and the complexity of setting them up, he said.
There are also wires "going everywhere," he said. Martin is working with the National Security Agency to create a secure WiFi that will eliminate the need for hookups and wires to reduce the "complexity" of setting up the command posts.
Some elements such as server stacks could be bolted onto vehicles so they are always ready to move. Martin said his office wants to reduce the weight of the server stacks from 1,200 pounds to 260 pounds to reduce their size and power consumption so they can fit on the back of a truck.
The command post problem is part of a wider issue that the Army will need help solving, Crawford said. The entire tactical battle network will not survive a concerted attack by a peer or possibly a near-peer adversary, he said.
"I think there have been enough studies. What we need to do now is take a step forward. … We have identified that the network we have now is not going to survive on the modern battlefield," he said.
Meanwhile, the pace of change in commercial sector information-technology development moves too quickly for the Army to keep up, he said. Its acquisition system is geared toward developing large platforms, not IT, said Maj. Gen. John Morrison, commanding general of the Cyber Center of Excellence and Fort Gordon, Georgia.
There are too many organizations within the service generating new info-tech requirements that move up in separate stovepipes. That will be streamlined into one path: from the Cyber Center of Excellence to the Mission Command Center of Excellence to the Combined Arms Center before being approved by senior leadership, Morrison said.
Milley at the conference announced the creation of an Army modernization command, which will take over approval roles previously carried out by Materiel Command and Training and Doctrine Command. He wants the Army to reduce the requirements process from three to five years down to two.
There will be periodic reviews to make sure systems are kept up to date as threats are always changing, Morrison said.
There will also be cross-functional teams of military and industry personnel which will keep the Army informed of what kind of new info-tech the commercial sector is pursuing, Crawford said.
He added: "This fixing of our command post problem is not something you can wish away and assume it's going to go away in a couple years. It's not just that they are very large. They are not survivable."
Topics: Battlefield Communications