Senator Calls for Beefing Up Missile Defenses to Counter North Korea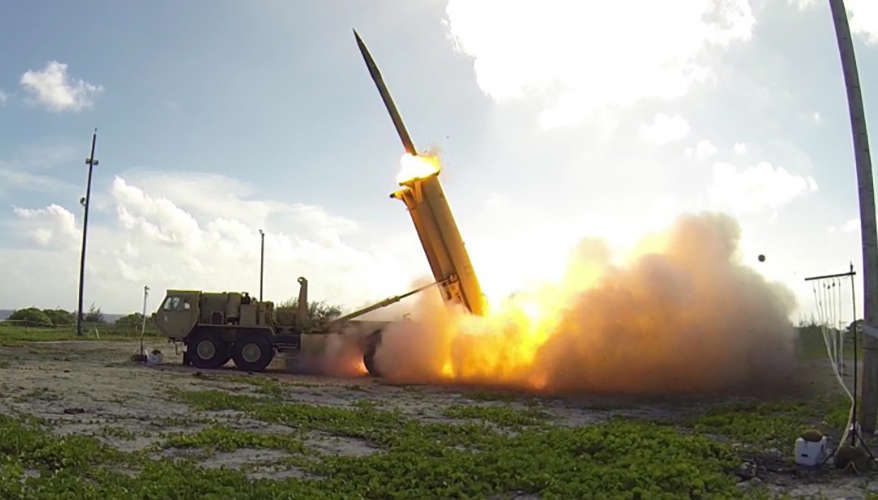 Photo: Missile Defense Agency
A senior Senate Armed Services Committee member is pushing to expand the United States' missile defense capabilities in the face of looming threats by North Korea.

The American people are at risk, Sen. Jim Inhofe, R-Okla., told reporters Dec. 9 during a breakfast in Washington, D.C. North Korea successfully completed an intercontinental ballistic missile test in July, he noted. Pyongyang has also been testing more powerful nuclear weapons.
"I have no doubt in my mind that North Korea is the greatest threat," he said.
The country's leader, Kim Jong Un, is "totally unpredictable," he added. "That's what's scary. And along with that is the capability that North Korea has now."
North Korean missiles might already be able to target a major U.S. city, Inhofe warned.
"They've got the range," he said, while acknowledging they might lack accuracy.
The senator spoke to reporters the day after Senate and House Armed Services Committee members completed conference negotiations for the fiscal year 2018 National Defense Authorization Act. A summary of the compromise bill outlined the lawmakers' intent to authorize $12.3 billion for the Missile Defense Agency, which is over $4 billion above President Donald Trump's initial budget request for the MDA.
The summary of the 2018 NDAA conference bill said the funds are intended to strengthen and expand the ground-based midcourse defense system, terminal high altitude area defense interceptors, SM-3 Block IIA missiles and the network of sensors that contribute to the mission.
Separately, the White House issued a memo earlier this week calling for an additional $4 billion in missile defense funding "to support urgent missile defeat and defense enhancements to counter the threat from North Korea."
Inhofe said he believes industry would be able to keep pace with the increased funding, while adding that Congress' failure to pass appropriations bills on time has created challenges. A lack of defense budget predictability is "the greatest enemy of the industrial base" because it makes it difficult to anticipate demand signals from the military, he said. "That's a problem that they deal with on a regular basis."

The base $626.4 billion Defense Department budget proposed by the committees far surpasses the $549 billion cap imposed by sequestration. "I think we're willing to exceed that," Inhofe said of lawmakers. "Defending America should not be a partisan issue," he added.
Topics: Budget, Missile Defense