Air Force to Test Laser Weapon on Fighter Jet by 2021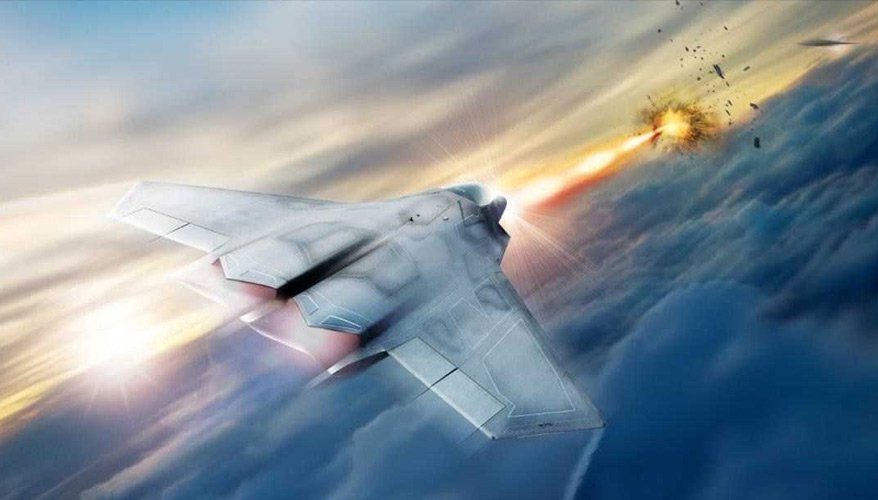 A photo illustration of the Air Force Research Laboratory's SHiELD program
Photo: Air Force Research Laboratory
The Air Force Research Laboratory has awarded Lockheed Martin a $26.3 million contract to design, develop and produce a high-power fiber laser that will be tested on a fighter jet by 2021, said a company executive Nov. 7.
This represents "a significant step forward in the development of high-powered lasers for airborne application," said Rob Afzal, Lockheed's senior fellow for laser weapon systems.
The contract is part of a broader AFRL program known as the Self-protect High Energy Laser Demonstrator, or SHiELD, he said during a phone call with defense reporters.
There are three major components to the effort, including the development of the beam, the beam control system and the pod that would be mounted on the fighter jet. Lockheed will develop the technology under a contract known as the laser advancements for next-generation compact environments, or LANCE, he added.
"The AFRL [has] stated that they were interested in a reliable, ruggedized high-power laser with excellent beam quality and compact design for integration on an aerodynamic structure for use during flight testing on a tactical aircraft for self-defense research," he said.
Afzal declined to specify how powerful the laser would be, but said it would be in the "tens of kilowatts." He also would not say which aircraft the system would be tested on.
The SHiELD program is focused on using lasers for defensive purposes, he said. The Air Force has stated that it would be used to target ground-to-air and air-to-air missiles.
The system will be designed and developed at Lockheed's Bothell, Washington, facility until it is handed off to the Air Force in 2021, he noted.
For the laser community writ large, it has been difficult to develop a system that is sufficiently small, rugged and powerful enough to be used on a tactical platform, Afzal said. The fact that industry can now fit a laser into a pod and mount it on an aircraft shows that the technology has come a long way, he said.
When older systems were tested on an airplane they "had to be loaded inside the whole aircraft and took up large portions of the fuselage," he said. "Now we're talking about not going inside the aircraft, but being mounted on a pod outside the aircraft."
Earlier this year, Lockheed delivered a 60-killowatt laser to the U.S. Army to be installed on a ground vehicle. Afzal said the company would apply lessons learned from that program, as well as its previous work with directed-energy platforms, to LANCE.
"We've learned a lot of valuable lessons from our own investments and demonstrations as well as the Army system that we delivered that we're going to roll into this design," he said. That includes knowledge of how the lasers operate and when certain components wear out, along with lessons about packaging, heat extraction and ruggedization, he added.
Lockheed's fiber laser technology is currently at a technology readiness level five, but will be at level six by the time the system is delivered to AFRL. This program is the first high-power fiber laser the company is delivering to the Air Force, he noted.