ROBOTICS AND AUTONOMOUS SYSTEMS
Industry Eyes Opportunities in Counter-Drone Market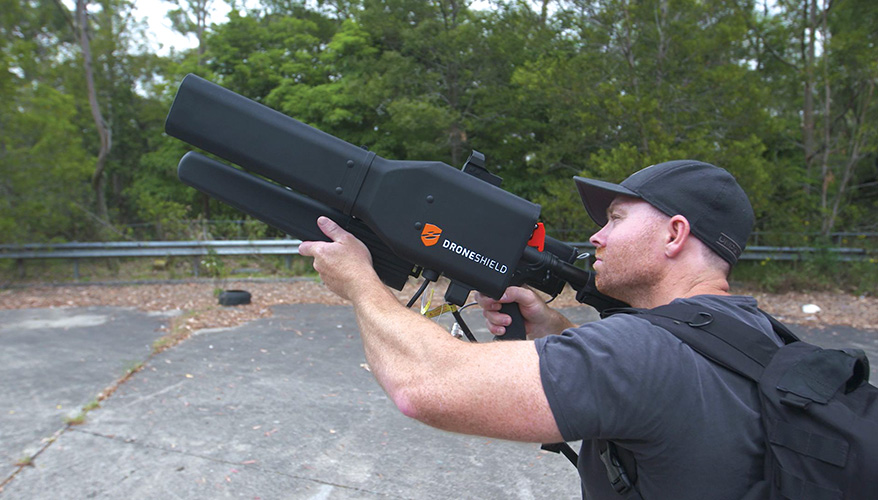 DroneGun
Photo: DroneShield
Unmanned aircraft have become ubiquitous on the battlefield as well as at home. Demand has skyrocketed as prices have fallen and capability has grown.

Simultaneously, the threat of drones being employed for illicit purposes — such as terrorist attacks or spying — has spooked both the military and the private sector.
To counter the use of rogue drones, industry has built a slew of systems that can track, target and neutralize such systems. Companies are trying to sell them to the federal government and private entities.

One such company is San Francisco-based startup Dedrone. The firm, which focuses on the detection and identification and countering of unmanned aerial systems, has its software installed at 200 different locations worldwide, said Phil Pitsky, federal business development lead at Dedrone.

"The product is in the market and a proven value today," he said. "This is not something that we've drawn up on a white board and said, 'We hope it will work and if it doesn't we'll fix it.'"

The company uses a multi-layered approach to detect unmanned aerial vehicles, he said. The first line of defense is radio frequency sensors that can tell when a remote control is communicating with a drone, and what kind of system it is. The RF sensors have a range of about 2 kilometers.

"When I pick up that handset and I turn that controller on and I talk to that drone, it has a very unique transmission protocol," he said.

The company reverse engineers that transmission protocol and builds a library or a catalog of those signatures, he explained.

Dedrone also uses mounted video cameras to spot incoming drones, Pitsky said. Using sophisticated video analytics, the company's software looks for movement or changes in the field of view of the camera.

"When things change in that video … what we're doing is running that through … an analytics server, and saying, 'Does this marry up to things that we've told you look like a drone? Or does it look like a bird? Or does it look like a car or does it look like an airplane flying through the sky?" he said.

Depending on the type of camera employed, that can provide a user with 150 to 400 meters of coverage, he added.

Using information gleaned from sensors, the company's software — which is called DroneTracker — is able to alert users to when an unmanned aircraft is in the vicinity, Pitsky said.

For a time, the company focused exclusively on the commercial sector, but recently opened an office in Sterling, Virginia, to help get its foot in the door in the federal marketplace, Pitsky said.

Dedrone recently entered with Battelle into a memorandum of understanding that paved the way for collaboration between the companies, Pitsky said. Battelle's DroneDefender product is a man portable, non-kinetic counter-UAS platform. The system, which resembles a rifle, can be used to disrupt the control link between a small drone and its pilot.

"We've participated in a few exercises together jointly and demonstrated the capability which has been really, really successful," he said.

Working with a company like Battelle that is already well established in the defeat aspect of counter-UAS is important, he added.

"We need to stay focused on what we do best and what's our core market, and that is detection," Pitsky said. "We wanted to partner with someone that we felt was the market leader in the defeat mechanisms, to be able to provide an end-to-end solution that, one, was cost competitive and, two, provided the best of both worlds for an offering to the U.S." government.

Battelle recently released the second version of the DroneDefender, said Kimberly Stambler, business development and sales leader at Battelle Mission and Defense Technologies.

The original system came with a backpack where the unit's battery and electronics were kept. Now "everything is contained in the rifle so [there are] no more wires," she said. Additionally, "we've added some capability, increased its effectiveness and … incorporated some feedback that we received from our existing customer base and other customers that are interested in it."

The company will begin taking orders for the system in the coming months, with deliveries slated to commence by the end of March, Stambler added. DroneDefender is targeted toward government customers because the Federal Communications Commission regulates the frequency bands that the DroneDefender disrupts to bring down a UAV.

Battelle also recently released a virtual reality trainer system, said Dan Stamm, manager of the company's counter-UAS programs division. It offers a fully immersive, 360-degree environment. Many of Battelle's customers were having difficulty training with the DroneDefender because of FCC regulations.

"You can't just take the DroneDefender outside and shoot down drones" whenever or wherever you want, he said. "So we developed a virtual reality training system to try to help with that training time."

Users can complete 80 or 90 percent of their training using the virtual system and then move outside for the last piece of live training, Stamm said.

DroneShield is another competitor in the counter-UAS market. The company has three main products — DroneGun, DroneSentinel and DroneSentry — and has worked with customers such as the Boston Police Department, said Oleg Vornik, the company's CEO and managing director.

A new version of the company's DroneGun — which was unveiled during a major defense show in London in September — was scheduled to undergo evaluations with the Spanish military and law enforcement departments in October.

DroneGun is a rifle-shaped device that sends out a jamming signal that blocks the connection between a drone and its controller.

The system "makes the drone either go back to where it came from or land on the spot, and it works with swarms of drones as well," Vornik said.

Another system known as DroneSentinel employs data pulled from five different types of sensors — acoustic, radar, radio frequency, and thermal and optical cameras — to alert users if there is an unmanned aircraft in the vicinity, he said.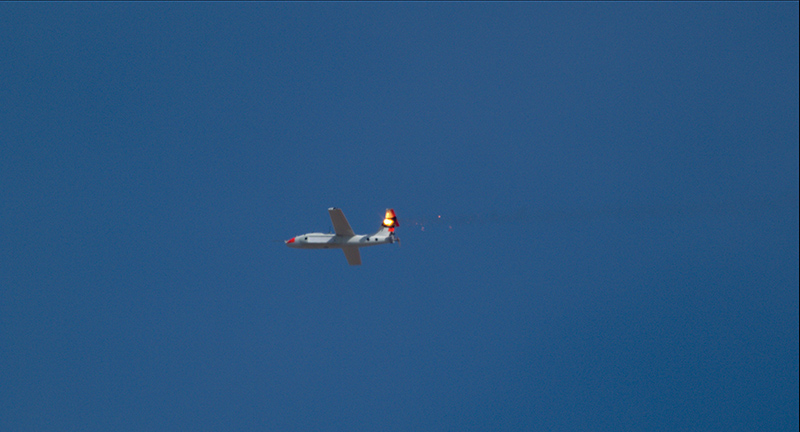 In a live-fire demonstration a 30-kilowatt laser weapon system brought down five unmanned aerial vehicles. (Lockheed Martin)

"[We] decided that multi-sensor was the best way of doing it as that minimizes false alarms and improves the probability of detection," he said. The product debuted earlier this summer, and demonstrations took place at the company's office in the fall.

The company recently offered an end-to-end detection and neutralization solution, DroneSentry, that combines the technologies behind DroneGun and DroneSentinel, Vornik said.

The system is essentially a stationary version of DroneGun, he said. "Instead of looking like a rifle, it basically looks like a box and we'll place that on the Sentinel so that when the detection sensor … [sees that] a drone or a swarm of drones is coming from a particular direction, it sends a signal to the jammer and the jammer switches on and neutralizes the drone. So you don't necessarily need to have a person waiting there to press the button."

The company is considering new ways of employing the technology, including mounting the system on a vehicle, he noted. "The industry is evolving quite quickly, so we're moving with it," Vornik said.

Lockheed Martin is also offering products that could be used in both the defeat and destroy aspect of counter-UAV technology, said company officials.

Rick Herodes, Lockheed's director of counter-target acquisition radar systems, noted that the company's Q-53 radar could be used for counter-drone missions.

The Q-53 radar is capable of being a counter-UAS and short-range air-defense and air surveillance radar for the Army, he said. The radar is designed to see rockets, artillery and mortars in flight, to localize the launch position, localize the impact position and provide warning information to soldiers on the battlefield.

The system has performed reliably and effectively in combat since 2010 in Iraq and Afghanistan, he said.

Additionally, Lockheed's advanced test high energy asset, or ATHENA, system recently was tested for counter-UAV missions at the Army's White Sands Missile Range in New Mexico in conjunction with Army Space and Missile Defense Command, said Iain Mckinnie, business development lead for laser sensors and systems at the company's mission systems and training division.

"The ATHENA system was tested at White Sands over the summer and did successfully shoot down several UAVs," he told National Defense.

The system — which is ground-based and transportable — employs a 30-kilowatt laser. ATHENA was able to knock out fire systems including an Outlaw unmanned aerial vehicle at the range, according to Lockheed.

As companies continue to improve their technologies, industry is looking toward new sales opportunies with the military.

The U.S. armed forces have been vocal about their desire to pursue counter-UAS systems. They have hosted Black Dart for a number of years, an exercise where the military invites industry to show off some of its best equipment.

In October, the Army awarded Leonardo DRS a $42 million contract for a counter-drone system.

Leonardo DRS is the lead systems integrator of a two-vehicle counter-UAS capability that includes a mast-mounted surveillance and battlefield reconnaissance equipment system, and Moog's reconfigurable integrated-weapons platform turret. The systems will be integrated onto a mine resistant, ambush-protected vehicle.

"Drones are becoming an increasingly dangerous threat against our forward-deployed soldiers," Aaron Hankins, vice president and general manager of DRS Land Systems, said in a statement.

The award followed a similar contract the Army awarded Leonardo over the summer. Leonardo declined an interview request to discuss its counter-UAS offerings.
Pitsky said that militaries around the world often look to see what the United States is doing first before they make big investments.

"As the U.S. continues to try new technologies and spend money, the international market is paying very close attention," he said. "But the fact of the matter is that the U.S. really hasn't settled on a solution that they believe is the right one."

Because of this there is some hesitancy in the global market, but eagerness as well, he noted.

Dedrone is currently finalizing a contract with the German army for its system. The company has also had a number of conversations with the United Kingdom's Ministry of Defence.

One area of opportunity is the Middle East, he noted. Nations in the region are concerned about a drone being employed during a terrorist attack and are looking at fielding counter-UAS systems, Pitsky said. Another market is the Baltic regions and Eastern Europe as they face threats from a resurgent Russia, he added.
Topics: Robotics and Autonomous Systems, Robotics