As Budget Deadline Looms, Top Lawmaker Sees Congress Heading Toward a 'Brick Wall'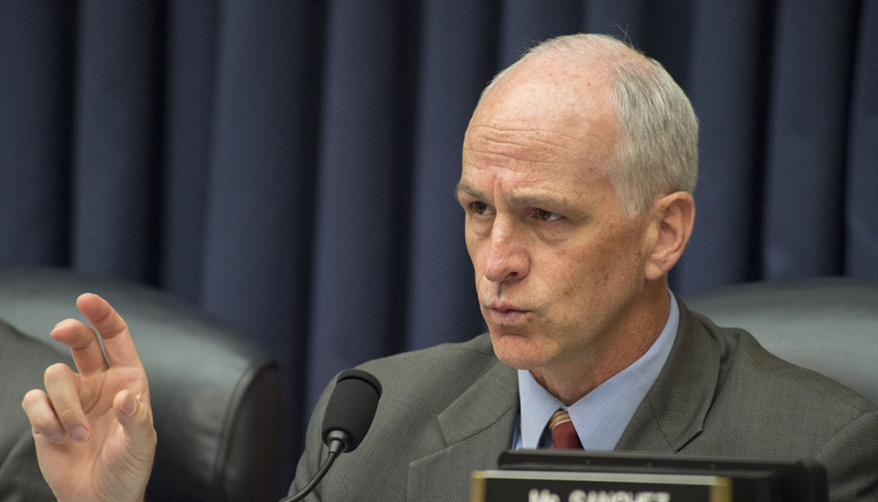 U.S. Rep. Adam Smith, of Washington, the ranking member of the House Armed Services Committee, asks a question during a 2014 committee hearing.
Photo: Petty Officer 1st Class Daniel Hinton
The ranking member of the House Armed Services Committee expressed doubt that Congress will reach an agreement on fiscal year 2018 appropriations before the latest continuing resolution expires.

The temporary spending measure, which requires the government to operate under the previous fiscal year's funding level, is set to run through Dec. 8. Absent a bipartisan budget agreement, Congress will have to pass another stopgap funding bill before then or face a government shutdown.
Much of the current political impasse stems from lawmakers' reluctance to vote either for a full-year appropriations bill or an additional CR for fear of political backlash, said Rep. Adam Smith, D-Wash. The top Democrat on the HASC predicted that lawmakers will run into a budgetary "brick wall."
"I would imagine . . . the government will shut down for about 24 hours until we go, '[expletive] that's not popular either,'" he said Nov. 30 during a meeting with reporters in Washington, D.C. Even if lawmakers pass another short-term CR to buy time, "that brick wall is still going to be there. And then I don't know" what's going to happen, he added.
The latest continuing resolution was passed in September, giving Congress another three months to approve a fiscal year 2018 spending plan. But lawmakers have yet to do so.
"Basically what they're trying to do is figure out how to successfully blame somebody else for the [budget] disaster," Smith said. However, "the disaster is coming. We know we don't have any way to prevent it. So ... we want to make sure that somebody else is to blame for it," he said of his colleagues.

Defense spending accounts for the majority of the federal government's discretionary budget, he noted. Operating under a long-term continuing resolution would be "the worst thing for national security," he said, pointing out that it would be disruptive to multi-year acquisition programs. Defense Secretary Jim Mattis in September outlined the consequences of a three-month CR in a letter to the Senate Armed Services Committee, saying that many of the services' new-start programs would be impacted and the induction of 11 Navy ships would be delayed.

Facing the prospect of another CR, Congress recently passed the fiscal year 2018 National Defense Authorization Act. The policy bill authorized nearly $700 billion in defense spending, and it is awaiting signature by President Donald Trump. The proposed funding level would exceed the caps set by the 2011 Budget Control Act by about $80 billion. Analysts and other observers are skeptical that lawmakers will pass an appropriations bill that matches the amount authorized in the NDAA.

"As far as I can tell, there has been no progress whatsoever towards figuring how to resolve the budget cap problem," Smith said.
Topics: Budget, Defense Department, Government Policy, Government Collaboration