Industry Unveils New Training and Simulation Products at I/ITSEC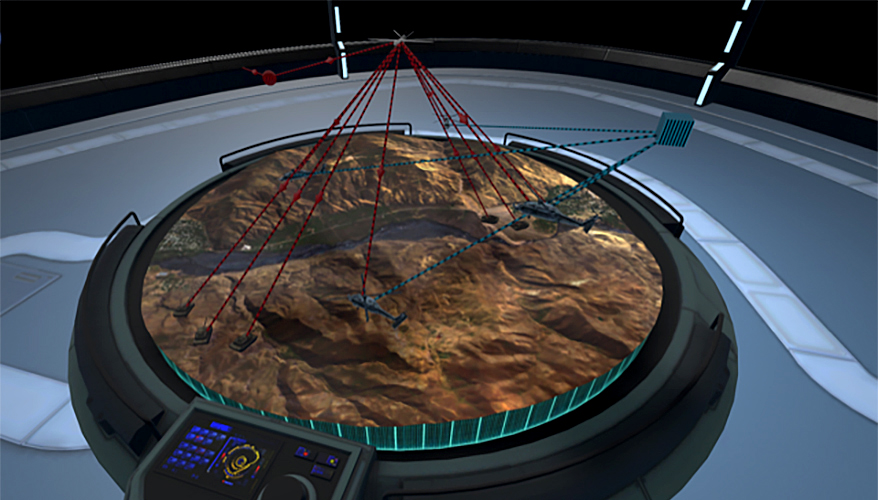 Raytheon's virtual training classroom
Photo: Raytheon
ORLANDO, Fla. — On a busy show floor, several contractors unveiled new training and simulation products this week during the annual Interservice/Industry Training, Simulation and Education Conference in Orlando, Florida.

At the Raytheon booth, company executives showed off a new immersive virtual classroom where it can train cyber warriors anywhere in the world.

"We built this virtual classroom ... where they can do training, they can do exercises, after action reports — all in a virtual environment," said Howard Miller, capture manager for business development at Raytheon's intelligence, information and services division.

The company plans to offer its virtual classroom for the Army's forthcoming persistent cyber training environment program, Miller said during an interview at the conference which is hosted by the National Training and Simulation Association. NTSA is an affiliate of the National Defense Industrial Association.

The Army — which is facilitating the contract on behalf of U.S. Cyber Command — is currently collecting market research, he said. Right now, "they're saying … 'what is the art of the possible?'"

While the Army is the lead for the project, cyber specialists in the Air Force, Navy, Marine Corps and Coast Guard will also use the persistent cyber training environment, he noted.

A formal request for proposals is expected by the end of next year, he said. The program is important to the military and to lawmakers because there is no persistent environment to train cyber warriors as there is for ground forces at locations such as combat training centers, Miller noted.

Users can employ virtual reality glasses, tablets or smartphones to enter the new classroom, he said. It pulls in real-world cyber attacks to increase fidelity.

"If you think of cyber training as a whole, it's very stove-piped," he said. "We are bringing in … artificial intelligence into the training environment and we're also bringing in machine learning so over time it learns and it's more adaptive."

While Raytheon is focusing on the U.S. military, it could also sell the virtual classroom to allied nations, he noted.

"For us, this is really the starting point," Miller said. NATO allies "may take this and build up a cyber academy to support their" missions, he added.

The company could also sell the training system as a commercial product, he said.

"From a Raytheon perspective, our cyber portfolio is … commercial, DoD and international," he said. "This will support all of them."

Bohemia Interactive Simulations unveiled a new image generator known as VBS Blue IG, said Otakar Nieder, senior director of development for the company.

"We are capable of … rendering the whole globe," he said. It can create high fidelity and high-performance visuals in simulators, including virtual reality and augmented reality. It can support a variety of mission areas including the land and air domains, he noted.

John Burwell, the company's vice president of business development, said VBS Blue IG's whole-Earth rendering engine allows a user to train anywhere and everywhere.

"If there is a flare up in a certain part of the world, or if you are going to go fly in a certain theater, you already have the data all there with you. You can just go ahead and jump in and train," he said.

The company also announced that it had sold an augmented reality training system to TRU Simulation + Training, a Textron company.

Troy Fey, vice president for technology at TRU, said it would integrate Bohemia's augmented reality system into training platforms such as its V-280 Valor tiltrotor aircraft simulator.

Bohemia Interactive Simulations has developed an augmented reality visual system for TRU Simulation + Training, a Textron company. (Bohemia)

"The intent is to really generate some excitement about what's in the realm of the possible as the technology matures for the helmet-mounted displays," he said. "It brings in together the real world — so the cockpit, the flight controls. ... You can see your hands pressing buttons."

Augmented reality offers an engaging and integrated environment, he said. TRU incorporates out-of-window visuals, including terrain, flying entities and ground entities, he added.

"It integrates that virtual world with the real world and provides a much more immersive environment," Fey said.

It also reduces the footprint of a simulator, he said. It is mobile and can be launched at the point of need.

While TRU has integrated it with the V-280 simulator, the product is agnostic and can be integrated with any flight-training device, he said.

TRU demonstrated the product at I/ITSEC and Fey said he has received positive feedback.
Topics: Training and Simulation, Simulation Modeling Wargaming and Training