Contractors Offer Simulators to Address Pilot Shortages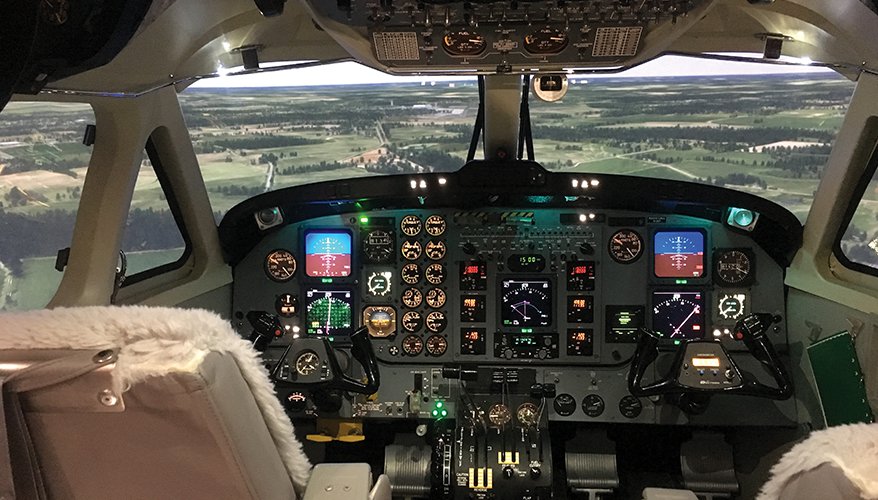 Inside of a CAE 7000XR Series C-12 Huron full-flight simulator
Photo: Yasmin Tadjdeh
As the military looks to industry to provide it with more training for its pilots and aircrews, companies are developing new and expanded services to meet the growing demand.
CAE, a Canadian simulations technology company, is currently providing Army and Air Force pilots with C-12 Huron training at its new facility in Dothan, Alabama. The Army is the primary customer at the 79,000 square-foot center, which is located 30 miles away from Fort Rucker.
For the Army, the company offers pilots the initial entry fixed-wing C-12 course that includes classroom, simulator and aircraft training. It also supports the aviator qualification, instructor pilot and aviator refresher courses for the aircraft.
The schoolhouse at Dothan — which is located on the grounds of the town's regional airport — supports seven courses, four for the Army and three for the Air Force, said Todd Conyers, the program manager of the facility.
The company is looking to expand its work with the Air Force.
"The Air Force is openly soliciting industry for concepts that could offload some of their undergraduate pilot training needs," said Raymond Duquette, president and general manager of CAE USA.
Should the Air Force choose CAE for that, the company could decide to expand the facility.
Service leadership, including Secretary Heather Wilson and Chief of Staff Gen. David Goldfein, have noted the challenge of retaining enough pilots. A lack of training aircraft is part of the problem, they have said.
"Pilot retention continues to be a significant concern," Wilson and Goldfein said in shared testimony before the Senate Armed Services Committee in the summer.
The service was 1,555 pilots short at the end of fiscal 2016 — which includes 1,211 fighter pilots — and the deficit is expected to grow, according to Air Force documents.
And the issue is not limited to just the United States, Wilson said. "There's a demand for pilots and it is a global demand," she added.
Duquette noted that the Air Force has had trouble meeting its training requirements as the service faces pilot shortages.
Meanwhile, for the Army, CAE won its contract — which includes one year plus six additional option years — in 2015 and it began building the center after months of protests and subsequent legal proceedings by the incumbent company FlightSafety International, Conyers noted. The facility officially opened in March 2017. It includes 10 classrooms, 28 debriefing rooms, multiple simulators, a cafeteria, lounges and a gym, he added.
"The Dothan Training Center is … just what the Army was looking for," Conyers said. Instead of having to travel back and forth between Fort Rucker and CAE's building, a student can spend the whole day onsite learning how to pilot the multi-mission turboprop C-12 aircraft.
When a "student comes here in the morning, … he can stay here all day long," Conyers said. "He can walk into the door, he can eat breakfast, he can go to the gym, … he has his classroom stuff in the building … [and] he has the simulators."
The only reason a pilot would need to go outside is to complete live training. This consolidation makes the facility efficient, he told reporters during a CAE-sponsored trip to the center.
The company only provides coursework and simulator training to the Air Force for C-12 pilots, he said. Once they finish their courses at Dothan, they go to Edwards Air Force Base, California, for live training, he said.
Ten Army-owned C-12s are located at the facility, along with six CAE-owned Grob G120TP aircraft that are used for training. The facility is also equipped with four CAE 7000XR Series C-12 Huron full-flight simulators, two of which have a roll-on/roll-off cockpit design that allows the company to swap out different systems, along with two Grob G120TP flight training devices.
More than 600 Army and Air Force pilots will be trained at the facility annually, according to CAE.
The company has plans to eventually expand its services in Dothan, Duquette said.
The Dothan facility is not at 100 percent capacity, so it could easily take on additional pilot training, he said. The location, while on the airport grounds, abuts peanut fields.

A user participates in an aerial gunnery training session while wearing a virtual reality helmet display. (Kratos)
If necessary, "we could expand right off the facility and build more bays," he said.
The bigger issue from an aviation and live training standpoint would have to do with the airspace, he said.
"The expansion would be limited by what the airspace could handle. You don't want to oversaturate the airspace because obviously you can only have so many airplanes in the sky at the same time," Duquette said.
CAE is also interested in opportunities to train Navy, Marine Corps and National Guard C-12 pilots, Duquette said.
International allies also fly the aircraft and could be potential customers, he noted.
"A lot of international customers desire to get trained by the U.S. forces, so they'll go to mainly the U.S. airports or to the U.S. Navy … and the Army" for training, he said. However, "the U.S. forces are finding that they don't have the capacity to meet their own throughput requirements. So that's putting a little bit more pressure on these international customers looking for alternative solutions."
Some of these countries complete their pilot training in the United Kingdom or Australia, but even those nations are reaching capacity, he added.
Because of that, "we've had multiple customer interactions and multiple countries that we've been talking to about training here at Dothan," he said. The Middle East and Southeast Asia are two major regions of interest.
Conyers said the current Army and Air Force programs would not be negatively affected by any potential expansion.
Kratos Defense and Security Solutions, a San Diego-based company, is also offering new training packages to the military using mixed-reality systems.
The company is providing an unnamed U.S. military command with back-of-the-aircraft training for its aircrews, said Jose Diaz, senior vice president of training solutions.
The training takes place at Kratos' facility in Orlando, Florida. It focuses on rotorcraft such as the H-1 and H-60 platforms, he added.
"It's all of your rear crew individuals performing gunnery missions, hoist operations, crew coordination," he said. "The simulators themselves employ … immersive reality technology and specifically virtual reality and mixed reality."
Mixed reality — which combines elements from both the physical and virtual environments — is one of the newest forms of simulation and one that Kratos has been investing in, Diaz said.
It provides not only cost effectiveness to the customers but also much greater realism and immersion for users within the simulator, he said.
The company plans to increase its simulation services to other rotary wing aircraft such as the CH-47, CH-53 and V-22, he added.
Wade Coch, vice president of training services, said Kratos is also looking to develop new capabilities.
"There is a wide variety of weaponry that we train on and are expanding into," he said. "There is the rescue hoist mission [and] … the cargo sling missions, or the external lift missions."
The military is looking to industry more often now to provide them with training services, Diaz said.
The services want "cost effective solutions and rapid technology infusion," he said. "From a DoD perspective, the acquisition cycle is long and it can get expensive to introduce new technologies into the training systems," he noted.
However, by offering training as a service, companies are able to more quickly inject new technologies into their offerings, he said.
Kratos has plans to expand its center not only for aircrew training, but for pilot training as well, Diaz said. That way they "can operate in the training center as a complete air crew."
Although they may be operating in separate simulators, they would be linked together, allowing them to fly on the same virtual aircraft, he added.
The company is looking for new domestic and international customers, he said.
"We are seeing more and more tactical platforms being approved by Congress to be sold overseas to … allied countries," he said. "Those countries are obviously expressing great interest in the aircrew training side."

— Vivienne Machi contributed to this report

Topics: Simulation Modeling Wargaming and Training, Training and Simulation