Air Force Program Office Trying to Cut Through Acquisition Red Tape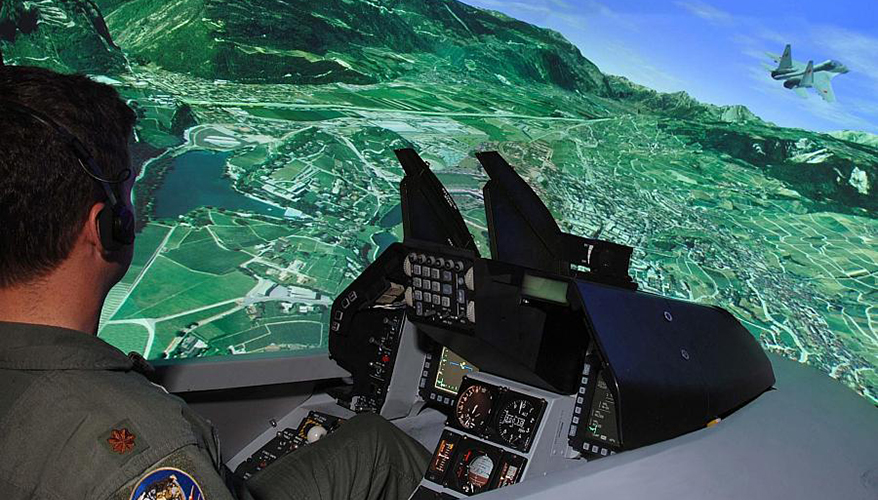 The Air Force is working to consolidate its multiple F-16 fighter training system variants.
Photo: Air Force
ORLANDO, Fla. – The Air Force's program executive office for agile combat support has made efforts over the past three years to scale back its cumbersome acquisition procedures, with positive results, its director said Nov. 28.

The office — which handles the service's simulator roster — has successfully delegated over half of its programs authorities down from the executive level, eliminated several independent review teams and made it easier to work with small businesses, said Lynda Rutledge, program executive officer and director for agile combat support at the Interservice/Industry Training, Simulation and Education Conference in Orlando, Florida.

Rutledge's portfolio includes simulators, human systems, automatic test systems, electronic warfare and avionics technologies, which means her programs "cut across all platforms," she said. The Air Force and Defense Department writ large are not currently structured to plan or budget for programs set up in that fashion, she said. "It makes it extremely challenging."

Since she took over the directorate three years ago, Rutledge has worked with her PEO counterparts to develop a set of initiatives to try to cut through the service's red tape, she said during a briefing at the annual I/ITSEC conference. The event is hosted by the National Training and Simulation Association, an affiliate of the National Defense Industrial Association.

"Back in April 2016, I was tasked with ... [determining] what could we do in the Air Force to move as quickly as" Special Operations Command when it comes to acquisitions, she said. "What I knew going in was there wasn't that much that the DoD could change or that frankly, legislation could change. It was stuff we had done to ourselves in the Air Force."

One of the biggest changes that Rutledge directed was to lower the delegation of acquisition category III milestone decision authority down from the PEO level to the senior materiel leader level, she said. She now has approval authority for 61 projects instead of 199, and 339 projects are now approved at the senior materiel leader level, up from 201, she noted.

"That freed up some of my time and senior staff's time to be able to go through and focus on more strategic efforts," she said. "That's hard to do when you're bogged down with every decision at my level."

PEO agile combat support is leading a prototype effort to streamline the business clearance authority cycle and bring approvals back down to the program manager level, she said. Over time, approval authorities had become convoluted to the point that managers "didn't think they were responsible for any of it and didn't, frankly, get that involved," she added.

Since the program office has refined that process, Rutledge has seen positive feedback from senior Air Force materiel leaders, she noted.

The office has also increased contract approval authority discretion, and reduced the number of multi-functional independent review teams from five down to two, which "has really, really taken a lot of length out of our process," she said.

Rutledge also worked with the Air Force Small Business Office to allow program executive officers to forecast small business goals based on actual opportunities, rather than an arbitrary percentage
system, she said.

"The last thing I want to do is have a small business sign up for something that's too big" and then be unable to complete the project, she said.

The program executive office still has work to do to divest specific systems or end items, Rutledge said. "We keep taking on more and more and we don't get rid of anything."

It's difficult to modernize if the Air Force continues to use resources to sustain duplicative systems rather than replace them, she added. PEO agile combat support is currently working to consolidate its multiple F-16 fighter training system variants to attempt to fix that, she said.

Another goal in progress is improving contract award cycles, Rutledge said. "I committed to that in 2015 ... [but] it's still not where I want to be," she said. "Each year, we're trying to pick off a little bit of what is prohibiting us from moving more quickly through that RFP contracting cycle time."

More communication between the program office and industry partners is needed, she noted.

She called on industry to look internally within their own organizations to see where they can make their own changes to internal program processes. "Large contractors are every bit as bad as we are, having multiple people having to touch every single product along the way," she said. "When you add us together, it's an absolute nightmare," she added.

However, progress in reforming the acquisition system over the past few years is evident, she said.

"I do feel the system's a little lighter a year later as a result of being able to get rid of some of that fodder … that's really, really inhibiting us from getting things done in our acquisition system," she said. "We have a long way to go, but if we can't get some of this stuff off our plate, we don't have time to think."

PEO agile combat support is also moving forward with an effort to establish a common architecture for Air Force simulators aimed at improving cyber resilience and responsiveness, while minimizing costs, Rutledge said.

The simulator common architecture requirements and standards, or SCARS, will attempt to move all of the service's systems into a common framework to prevent stove-piping, she added. The program was first announced at last year's I/ITSEC conference, she noted.

The office has made progress on the SCARS timeline, she said. A draft request for proposals for the program is expected in April 2018. A final RFP could be released by the third quarter of fiscal year 2018, with a contract award slated for fiscal year 2019, according to the Air Force.

SCARS is one area where the new acquisition processes are being utilized as much as possible, Rutledge said. "I very much hold and flow down that accountability to the folks on the team so that we actually move and meet those dates."

PEO agile combat support is also expecting to award over a dozen simulator contracts with a collective value of more than $3.4 billion from April 2018 through December 2021, Rutledge said.
Topics: Air Force News, Simulation Modeling Wargaming and Training, Training and Simulation