Military Leaders Request More Flexible, Interoperable Training Systems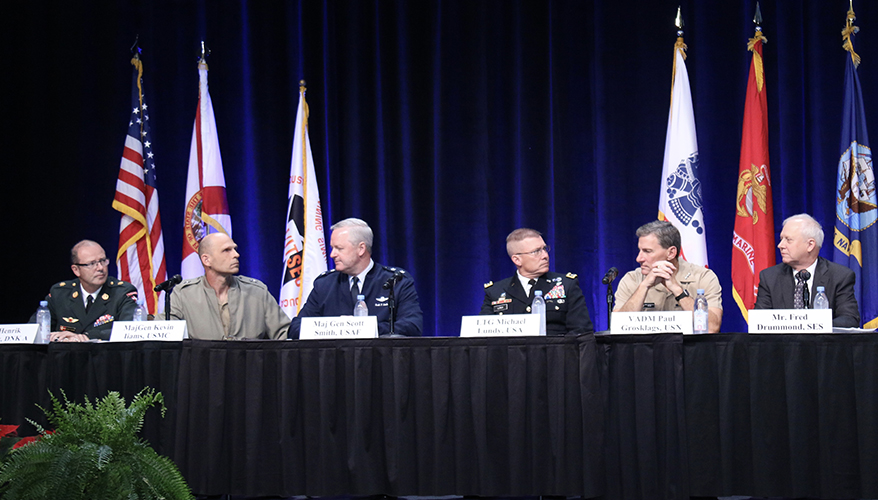 Danish army Brig. Gen. Henrik Sommer, Marine Corps Maj. Gen. Kevin Iiams, Air Force Maj. Gen. Scott Smith, Army Lt. Gen. Michael Lundy, Navy Vice Adm. Paul Grosklags, Charles "Fred" Drummond
Photo: Melanie Yu / NDIA
ORLANDO, Fla. — The Defense Department is looking for training assets that provide flexible and realistic scenarios and enhance interoperability, military leaders said Nov. 28 at the Interservice/Industry Training, Simulation and Education Conference in Orlando, Florida.
Officials from the U.S. Army, Air Force, Navy and Marine Corps as well as NATO, called on industry to produce systems that will help their forces train together for a future conflict against peer adversaries and non-state actors in the land, air, sea, space and cyber domains.

Lt. Gen. Michael Lundy, commanding general of U.S. Army Combined Arms Center, said there should be more of an emphasis on joint training. "We're actually further along with the multinational discussion than we are with our joint [service] partners" when it comes to training capability development and systems interoperability, he said at the conference hosted by the National Training and Simulation Association. NTSA is an affiliate of the National Defense Industrial Association.

The U.S. military and its allies must prepare to combat peer adversaries that can deploy advanced weapons across multiple domains, he said. Preparing for counterinsurgency or counterterrorism operations "is very, very different from how we train and prepare for wars and combat operations against a peer threat in a contested environment," he added. Such preparation will require all of the forces working together, but there has been a decrease in large joint exercises in recent years, he noted.

"We've been joint at the squad level ... [but] I would argue that we're probably more disjointed right now because we haven't had an exercise with muscles," he said.
Any new training systems must be interoperable across U.S. and allied forces, officials said.
The Army and Marine Corps share similar training requirements, "but we also have a lot of crossover with both the Navy and the Air Force," Lundy said. "I think there's tremendous utility in building a joint program."

On day one, a new system should be easily integrated and interoperable with other technologies needed to conduct a given mission, said Vice Adm. Paul Grosklags, Naval Air Systems Command commander. But that's not how systems are designed today, he said. "We don't put out requirements, we don't fund and we don't build acquisition programs for ... integrated capabilities."
New training systems should also be easily updated, Lundy said.

It should be simple for the services to "modularize those capabilities so you don't have to go in and rebuild this entire machine," he said. "We're starting out at least one update behind our simulations and progressively get more behind. … We have got to make systems that are very easy to update."
Danish army Brig. Gen. Henrik Sommer, assistant chief of staff for capability, engineering and innovation at NATO Supreme Allied Command Transformation, noted that it is much cheaper to build interoperability into a system from the beginning.

"It's very expensive to add interoperability into a system when it's already fielded," he said. "So we are trying to make it easy for the nations to have interoperability on time."

The U.S military and its allies want to continue to harness the benefits of live, virtual and constructive training technology at higher fidelity rates and with more "real-time" scenarios, officials said.

The Marine Corps is continuing to build more infantry immersion trainer complexes, such as the indoor/outdoor area at Camp Pendleton, California, said Maj. Gen. Kevin Iiams, commanding general at Marine Corps Training and Education Command.

"We see that we need more blended and immersive training venues," he said.

The service has invested $25 million to enhance the live, virtual and constructive training capabilities at Camp Lejeune, North Carolina, including adding an indoor training component, he noted.
Live training is becoming cost-prohibitive, Iiams said. As the service builds out its infantry immersion trainers, it should be looking at how it will replace the current role players who act as aggressors with avatars and other simulated entities, he said.

The Marine Corps and other services also need systems that allow their forces to perform training "sets and reps" in order to refine their tactics, training and procedures and "build that combat muscle," Iiams said. "Repeat, repeat, repeat until mastered, without putting the unnecessary wear and tear on our very valuable [fifth-generation] assets," he added.
Charles "Fred" Drummond, who serves as deputy assistant secretary of defense for force education and training, acknowledged that the Defense Department has been too slow to take advantage of technologies such as virtual and augmented reality, artificial intelligence and machine learning.

"It's a challenge we're all going to continue to face and ... work through," he said.

The services and the defense industry need to work better together in order to build training capabilities that meet the U.S. military's needs, officials said.

Today, the Pentagon often has "a somewhat adversarial relationship" with industry, Grosklags said. "We have to figure out how to get novel contracting strategies in place that allow industry and the Navy to adapt in stride during contract development," he added.

Maj. Gen. Scott Smith, Air Force director of training and readiness and deputy chief of staff for operations, said the Defense Department and industry partners each have improvements to make.

"Industry has to get to the point where it's not about owning every aspect" of its platforms or capabilities, he said. "For our part, our acquisition process is antiquated and lethargic. … We can't respond swiftly enough."

Despite the training challenges ahead, the U.S. military continues to enjoy an advantage over its peer competitors, Smith said.

"The United States has ridden a long time – and the Air Force in particular – on just the world's greatest technology, and I think that still holds," he said. "But that gap is closing."

Even as countries such as Russia and China acquire fifth-generation weapon systems that could compete with the United States, "we're still winning every day and on Sunday, because our training environment is a lot more intense and a lot more robust," he said.
Topics: Training and Simulation, International, Global Defense Market