The Future of Training and Simulation: Preparing Warfighters for Tomorrow's Battlefields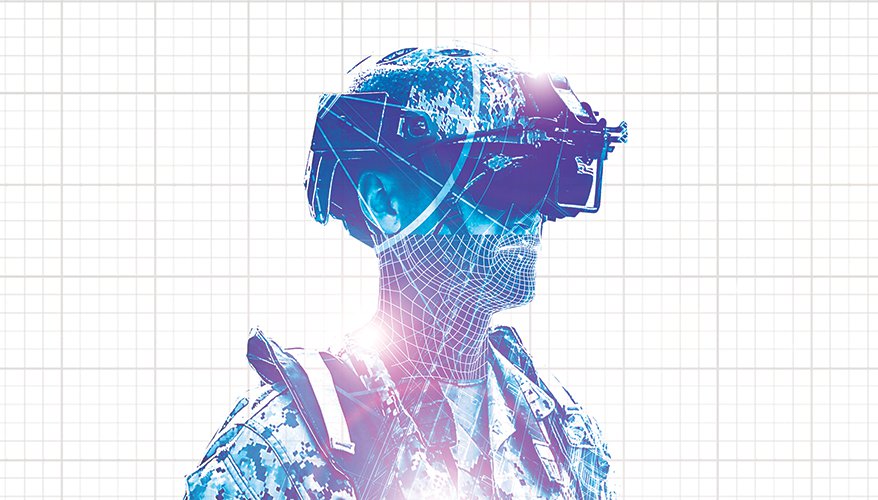 Photo-illustration: Defense Dept., Getty
Over the next 20 years, the face of global military conflict will rapidly change. U.S. troops will fight simultaneous battles on the ground, in the air, at sea, in space and in the cyber realm, against adversaries that may be human or, increasingly, machine.

In order to adequately train for this new reality, the Defense Department will leverage advancements in robotics, cognitive science and mixed reality systems. Many of these tools may still appear more science fiction than real life, but their influence is expected to grow swiftly over the next few decades, experts and industry leaders said.

National Defense asked experts to look five, 10 and 20 years into the future to see what trends may help prepare tomorrow's warfighters for the complex scenarios they may face.

Training and Simulation 2022

James Canton, CEO and chairman of the Institute for Global Futures in San Francisco, said gaming technologies will continue to become fairly ubiquitous within the next five years.
The popular game "Pokemon Go" — where players use their phone's GPS to track nearby Pokemon that are superimposed over the camera's imagery — heralds the future training scenario, he said.

The U.S. military has been investing in live, virtual and constructive technologies — such as the Army's synthetic training environment initiative. However, those technologies will become "a lot more dynamic and kinetic," Canton said.

Military leaders are already incorporating more mixed reality technologies in training sites, such as the infantry immersion trainer at Marine Corps Base Camp Pendleton in California.
Mixed — or blended — reality is the result of combining elements of the physical world with the digital world. A recent book by Robert Scoble and Shel Israel titled The Fourth Transformation: How Augmented Reality and Artificial Intelligence Change Everything, predicts how advances in augmented reality and artificial intelligence will lead to so-called "smartglasses" replacing smartphones. Enhanced lenses would mix the real world with computer-generated images, which may appear so natural that they are barely distinguishable from reality.

The training facility at Camp Pendleton includes an indoor and outdoor complex spanning nearly 150,000 square feet of mock villages for training uses, with several areas that are capable of supporting mixed reality technologies, according to the Marine Corps.

Greg Welch, a professor and Florida Hospital endowed chair in healthcare simulation at the University of Central Florida, said the service has begun experimenting with computer-generated humans to address a significant training issue.

Typically, the services employ role players to act as adversaries during training scenarios, but under law, they cannot employ child actors, he noted.

Welch, who is also a professor of computer science and co-director of the Synthetic Reality Laboratory at the Institute for Simulation and Training at UCF said: "Children are important from a military perspective, because if you're on patrol and you walk into a village and all of the kids are missing … that's often a sign that something bad is going to happen."

The ability to incorporate a mixed reality child into the scenario would help the training feel more realistic, he noted.

Businesses have been working to apply virtual and augmented reality technologies to training over the past 25 years, said John Burwell, U.S. business development director for Bohemia Interactive Simulations, an Orlando, Florida-based global software company that provides simulation training solutions for defense and civilian organizations.

"What is new now is you have some big players in the space, like the Facebooks and the HTCs and the Sonys … who are putting in big money to build these commercial augmented reality and virtual reality technologies" for the video game industry, he said.

Bohemia began in 2001 as a video game development company that specialized in tactical combat-oriented online games, Burwell said.

The company signed a contract with the Air Force Academy this past summer to provide several of its simulation products for use in the school's military strategic studies course.

This will help roughly 250 cadets a year gain exposure to remotely piloted aircraft and air power operations training through customizable scenarios based on the latest tactics, techniques and procedures, according to the company.

"What they wanted to do was provide [cadets] with simulations of that capability, so that they would understand what those jobs were as part of a career path," Burwell said. RPA pilots are currently one of the Air Force's biggest areas of need, he noted.

Cost-effective mixed reality systems that provide immersive, real-world simulated environments will continue to grow in military use over the next five to 10 years, Burwell said.

Improvements in image fidelity for head-mounted displays will make the products even more appealing for training purposes, he added.

"Previous generations [of displays] didn't have enough resolution, so things just didn't look good enough to provide a realistic environment," he said. And while image fidelity has improved, "it needs to get better," he added.

The industry is moving toward 4K ultra-high-definition screens, which could be widely used within three years, Burwell said. Emerging technologies such as enhancements that target the fovea, a small depression in the back of the retina that provides sharp focus on a given object, could be available within the next year, he added. Foveal renderings would allow systems to track a user's eye movements, and provide much higher resolution in specific areas of visual focus, rather than across the entire display, he said.

Canton said that not only will the military use more sophisticated systems to mimic battlefield surroundings, but personnel will increasingly rely on implantable or wearable technologies that could enhance a user's cognitive functions. These can include external devices that can be hooked on or inserted into a trainee's head to instantly enhance the wearer's agility or velocity in training.

It could also entail new combinations of nootropics — substances used to enhance cognitive functions, also called "smart drugs" — such as amphetamine or caffeine.

The U.S. military has used so-called "go pills" containing powerful chemical stimulants, and nicotine and caffeine products have long been widely used across the world's population. But these products are "fairly primitive" compared to new combinations of cognitive-enhancing drugs that are being developed, Canton said.

The Defense Advanced Research Projects Agency's biological technologies office is in the middle of a four-year program that aims to identify methods of non-invasive neurostimulation that can enhance skill learning.

Through the targeted neuroplasticity training — or TNT — program, researchers will investigate the basic mechanisms that link peripheral nerve stimulation to its effects on plasticity in the brain, said Tristan McClure-Begley, TNT program manager.

Synaptic plasticity is a natural process in the brain that involves the strengthening or weakening of the link between two neurons, and is pivotal for memory and learning functions.

"By the end of the planned four-year program, DARPA hopes to demonstrate that TNT methods and technologies can yield at least a 30 percent improvement in learning rate and/or skill performance over traditional training regimens, with minimal negative side effects," an agency spokesperson said in an email.

DARPA is funding eight efforts across seven teams from academic and military institutions that could determine how non-invasive stimulation might benefit acquiring skills such as imagery analysis, marksmanship and decision-making. It anticipates investing $60 million into the program over four years, McClure-Begley said in an email.

He noted that enhancing certain cognitive components would not completely replace training, but act as a supplement "to increase its pace and effectiveness."

One key example is language training, "where failure to meet requirements following standard training is common, and TNT-augmented training may improve the percentage of proficient service members," he added.

One San Francisco-based company has developed a product that attempts to stimulate the parts of the brain responsible for memory and learning, to improve strength training and target acquisition.

Elite military units have started using Halo Neuroscience's Halo Sport headset prior to workouts. The device is worn like a set of headphones with spiky-looking rubber primers running down the connecting band. It uses transcranial direct-current technology that sends an electrical stimulation to the motor cortex, executives told National Defense at a conference earlier this year. For the next hour after use, the user's brain is in a state of "hyper-learning" that helps to accelerate the process for acquiring skills such as weightlifting or target shooting, said Mark Mastalir, Halo's chief marketing officer.

Canton said these types of technologies could help the U.S. military considerably speed up its training timelines.

"If I need to analyze a particular bit of technology or ordnance, I don't have three weeks or 30 hours," he said. "I may only need three minutes because I have the right" cognitive modifications, he added.

While some of these technologies are already in motion within the Defense Department, others may still seem on the verge of science fiction. But Canton believes many of these advancements are within 10 years or less of being widely used in the commercial world, and when that happens, "they should be applied to the military."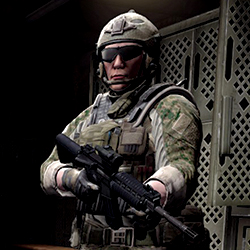 Training and Simulation 2027

Artificial intelligence capabilities will also rapidly improve within 10 years. Canton sees intelligent machines who operate both in the virtual realm — via gamification, bots and mixed reality technologies — and in the physical realm with advanced humanoid avatars, as key to training the military of tomorrow.

Instructors will no longer be exclusively human, but "digitally engineered personalities" that can be designed on demand to adapt to real-time simulations, he said. "Whether we're training the warfighter, the analyst, you name it," these advanced avatars will be able to instantly switch between languages or skill sets as needed to fit the situation, he said.

"Every individual serving will have a handful of collaborators that are both physical and virtual," he added.

Those digitally engineered personalities will help the soldier, sailor, airman or Marine move through training grounds that are increasingly developed with sophisticated blended reality technologies, where instructors can quickly change the environment to realistically mimic any given scenario, Canton noted.

Welch and other experts are also working on ways to make augmented reality entities responsive to real-world sounds and events.

Currently, such an entity can only respond to situations that have been programmed into the system, he noted. For example, it would not react to a siren going off in a nearby area.

"If somebody fires a session round … then all of the [augmented reality] units that are nearby should be aware of it and act appropriately," he said. "They should be aware of everything, including people who are not part of the simulation."

This type of sophisticated augmented reality is at least five years away from being usable, and may be closer to 10 or 15 years away when accounting for budget constraints, Welch said. But fielding could accelerate as the technological infrastructure, including headsets and software, becomes more prevalent and economical, he noted.


Training and Simulation 2037

The U.S. military must begin to train for a conflict that includes fully autonomous systems, Canton said. Artificial intelligence, big data analytics and additive manufacturing are increasingly changing the battlespace, and the services are currently grappling with efforts to incorporate more unmanned systems into their ranks.

Already, machines equipped with artificial intelligence are competing against each other in financial markets, he noted. Bloomberg reported in 2016 that quantitative funds managed via computerized systematic trading strategies — or investing bots — are the fastest growing category of funds, accounting for about 60 percent of all equity assets.

It's not a far stretch to see that technology translate to the military domain, Canton said.

"We're now talking about a completely different [type of] warfare that we need to be prepared for," he said.

Currently, Pentagon officials emphasize that a human operator will always remain in the kill chain loop, and that machines will not become decision-makers or fire on targets without a human pulling the trigger.

But adversaries in the future may not have the same compunctions about the ethics of robot warfare as the United States, and the military must prepare for that possibility, Canton said.

"What happens when countries like North Korea decide that having a fully autonomous navy fleet" is in their best interest, he asked, adding: "We should be training for those kinds of scenarios."

Canton predicted that 20-plus years from now, cognitive modifications will enable humans to connect more directly to networks via artificial intelligence. This will entail a "merging of AI and me," he said, resulting in "a multi-dimensional consciousness where I have my original personality, and then I have a stack of deployable AIs that I can deploy beyond me through external networks."

This would allow troops to interact more closely with autonomous weapons or surveillance systems for seamless connectivity for data transfers and communications, he added.
People are already connected to many devices, such as smartphones and watches, to perform day-to-day tasks, he noted.

Advancements in quantum computing — involving systems that use quantum bits to process a greater number of calculations than current super computers — over the next 20 years will also have a significant impact on many sectors, including simulations technology and additive manufacturing, Canton said.
Topics: Training and Simulation, Simulation Modeling Wargaming and Training