NATO Leaders Express Confidence in U.S. Commitment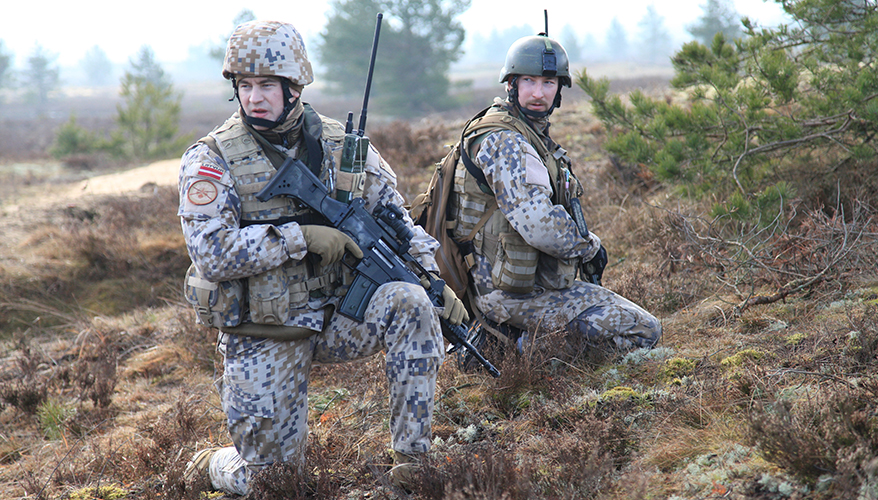 Latvian and Canadian soldiers participate in live-fire training during a NATO exercise.
Photo: NATO
HALIFAX, Nova Scotia — After Donald Trump was elected president of the United States on Nov. 8, 2016, analysts and foreign officials expressed concern that the new commander-in-chief touting an "America First" strategy would push for a retreat from NATO. But one year later, leaders of the collective defense alliance said they are assured that the United States will continue to provide support as member-nations work to deter Russian aggression in Europe and perform counterterrorism activities in Afghanistan.
"When we talk about security and defense, I am absolutely confident that the United States — also with President Trump — is committed to NATO and to the trans-Atlantic bond," Secretary-General Jens Stoltenberg said Nov. 17 at the annual Halifax International Security Forum in Halifax, Nova Scotia.
The United States has increased its presence in Europe with more troops, more equipment and more exercises for the first time since the end of the Cold War, Stoltenberg noted in a discussion with Canadian Defence Minister Harjit Sajjan and international security analyst Robin Shepherd.
"This is not only about words, but also concrete actions," Stoltenberg said.
Sajjan echoed that sentiment. "What we have seen in action [by the United States] is actually a great commitment" to the alliance, he said.
American leadership in global security affairs has been one of the core issues guiding the Halifax International Security Forum's discussions since its first annual event nine years ago, Shepherd said in an interview with National Defense. Last year's conference took place just days after Trump's election victory over former Secretary of State Hillary Clinton, and the election outcome and its potential implications dominated the conversation.
During his presidential campaign, Trump criticized the uneven balance of burden-sharing between the United States and its NATO allies with regard to defense spending.
"Either they pay up, including for past deficiencies, or they have to get out. And if it breaks up NATO, it breaks up NATO," Trump said in an April 2016 interview with the Washington Post.
Despite Trump's fiery criticism of the alliance, the United States has not reduced its involvement in NATO's efforts in Europe or the Middle East, said Shepherd, who serves as a senior adviser to the Halifax forum.
"There was obviously a certain amount of fear during the election campaign because of the rhetoric of then-candidate Trump, but actually there's a lot of continuity" from previous U.S. foreign policy, he said. "I think people are actually starting to … calm down that America is not going to disengage."
NATO nations pledged to commit 2 percent of their countries' GDP to defense spending by 2020, though there is no penalty for failing to do so. Six members currently meet that goal — the United States, the United Kingdom, Greece, Estonia, Poland and Romania, according to NATO. Many of the other 23 member-nations have begun to boost their defense spending, even if they do not yet meet the 2 percent benchmark.
Shepherd, who is British, said: "I think Americans … are absolutely right to say that other countries should step up" and contribute more to collective defense. Trump's election might have "frightened these countries into action," he added.
But the recent increase in defense spending could also be in response to the new realities of Europe's security situation, he noted. "If you're a Baltic state or Poland, you are going to be worried about Russia," he said.
Kay Bailey Hutchison, the U.S. ambassador to NATO, said the United States is encouraging its allies to increase their military spending "sooner rather than later."
"We need the financing to do the projects we're taking on," she said in an interview with National Defense. NATO is focusing on deterring Russia by building a forward presence in the Baltic region and Poland, as well as boosting defense capabilities in Bulgaria and Romania. The alliance is also boosting its counterterrorism efforts against the Taliban in Afghanistan and the Islamic State in Iraq, she said.
Hutchison, who served as a U.S. senator from Texas from 1993 to 2013, said the call for European nations to spend more on defense was not a new development. For many decades, "every president … every secretary of defense has said, 'you need to do more,'" she noted.
Even though the United States currently bears a disproportionate spending burden, "it's better than not having an alliance," she said. "It is in our interest to have … 29 countries that are coming together for mutual defense."
The European Union is also calling for beefing up the continent's military capabilities. Earlier this month, the EU signed a pact with 24 union members, agreeing to integrate military funding, weapons development and deployment of forces.
The plan, which includes a $5.8 billion fund for procurement, operations and research, prompted some observers to wonder if the European Union would finally develop a massive army that could be at odds with the NATO alliance.
Stoltenberg said he's not worried and he welcomed the new EU initiative. "We should be happy that the Europeans are doing exactly what we wanted them to do for many years," he said at the Halifax forum. "We have been asking the Europeans and calling on them to invest more in defense. And when they start to do so we are concerned? ... I can't understand that."
"It's impossible to think that the European Union can replace NATO," he added.
Canada has also increased its role in the alliance, its defense minister said. The country is leading a campaign in Latvia to counter Russian aggression, has sent 200 troops to Ukraine and has stepped up its air policing, among other efforts, Sajjan noted.
"As the saying goes, you cannot be an island of stability in an ocean of turmoil," he said. "Canada will always contribute where its resources [and] where its expertise is needed."
Stoltenberg lauded Canada's renewed presence in NATO. "Having Canada and the United States back in Europe — it's not a sign of fracturing," he said.
Topics: Internation Cooperation