LOGISTICS AND MAINTENANCE
Transportation Commander Calls for Improving Tanker Maintenance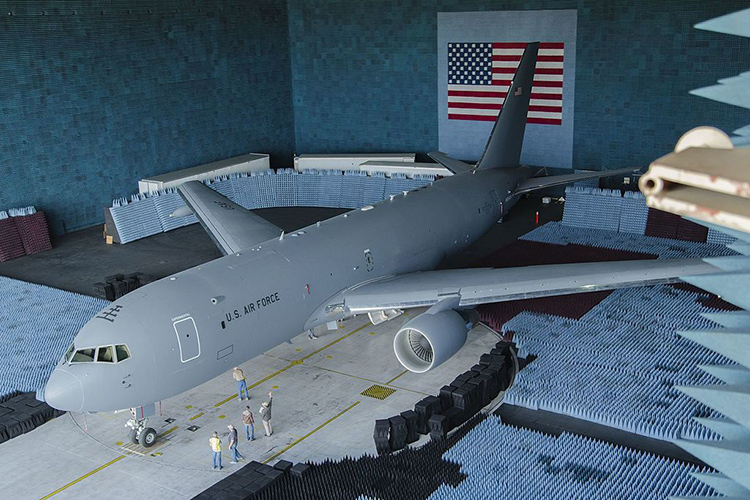 A Boeing KC-46 Pegasus is towed into the Benefield Anechoic Facility
Photo: Air Force
As the Air Force continues its effort to replace its aging tankers, one senior official is sounding the alarm about the need to improve maintenance to keep the aircraft flying.

Replacing the current fleet of KC-135 Stratotankers is one of the Air Force's top modernization priorities. The service in 2011 awarded Boeing a contract to develop the KC-46 Pegasus aerial refueling tanker. Officials are also mulling a potential follow-on program called the KC-Y.
However, ongoing maintenance challenges must be addressed, Air Force Gen. Darren McDew, commander of U.S. Transportation Command, said Nov. 15.
"Right now, our maintenance reliability for the tanker is at one of the lowest rates I've ever seen," he warned during an Air Force Association event in Washington D.C. McDew was previously the commander of Air Mobility Command.
If the situation doesn't improve, it will put the fleet in jeopardy even as the Air Force begins to receive deliveries of new KC-46s, he previously told the Senate Armed Services Committee during a May hearing.

"If we're going to go after 12 airplanes a year of the KC-46 recapping, that's going to produce risks long term as these [legacy] airplanes continue to age as we recap," McDew said in testimony.
The Air Force plans to buy 179 new tankers. The first batch of 18 aircraft are now slated to be delivered next year, after the program experienced delays.
The low maintenance rate for tankers is due to "hard choices" the Defense Department has had to make when operating under a constrained budget, McDew said at the November event. Due to a stream of continuing resolutions, "every service has taken risks over the last few years in logistics," he said.

"It's not because they're bad people. It's because we have had a Congress that hasn't done their job for over a decade and passed the national budget on time," he added. "When you have to make hard choices, there are consequences."

More clarity about mission requirements is needed in order for the services to better prioritize their overall equipment needs, he said. The Pentagon is focusing more on fighting the "high-end adversary," but the implications of that have not been fully fleshed out, he said.

"From the top down, the government needs to decide what does it want from its military," McDew said. "If you ask me the question, 'do we have enough [aircraft],' the answer is 'maybe.' But what do you want me to do?" he asked.
Topics: Air Force News, Aviation, Logistics and Maintenance